Can-Am Cars In Detail Publishes This Month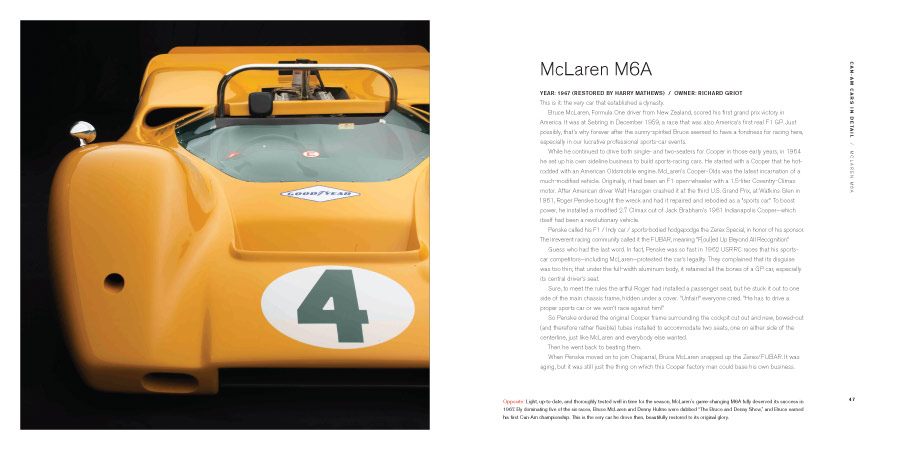 We're starting our holiday wish-list a little early this year. Can-Am Cars In Detail, a book by Can-Am journalist Pete Lyons, will be out later this month.
Detailing 22 of the series' most stunning and important cars, the book features 157 color photographs. The book focuses on the melding of art and innovation in racing, as well as the history of the short-lived Canadian-American Challenge Cup series, and how it transformed motorsport. The Table of Contents includes:
1. Chaparral 2E
2. Lola T70-Ford
3. Genie Mk 10B
4. McLaren M6A
5. Honker II
6. Caldwell D7
7. McLeagle
8. McLaren M8B
9. Ferrari 612 P
10. Ford 429'er
11. McKee Mk 10 "Wedge"
12. Chaparral 2H
13. AVS Shadow Mk 1
14. Porsche 917PA
15. Chaparral 2J
16. McLaren M8F
17. Lola T260
18. Porsche 917/10K
19. McLaren M20
20. Lola T310
21. Porsche 917/30
22. Shadow DN4
The 244-page book will cost $99.95 from David Bull Publishing. Bibliophiles (that's us) and collectors (that's us, too) will enjoy the special Publisher's Edition, autographed by five Can-Am constructors and five drivers, which will sell for $395.