Cadillac CTS Vsport Laps Nürburgring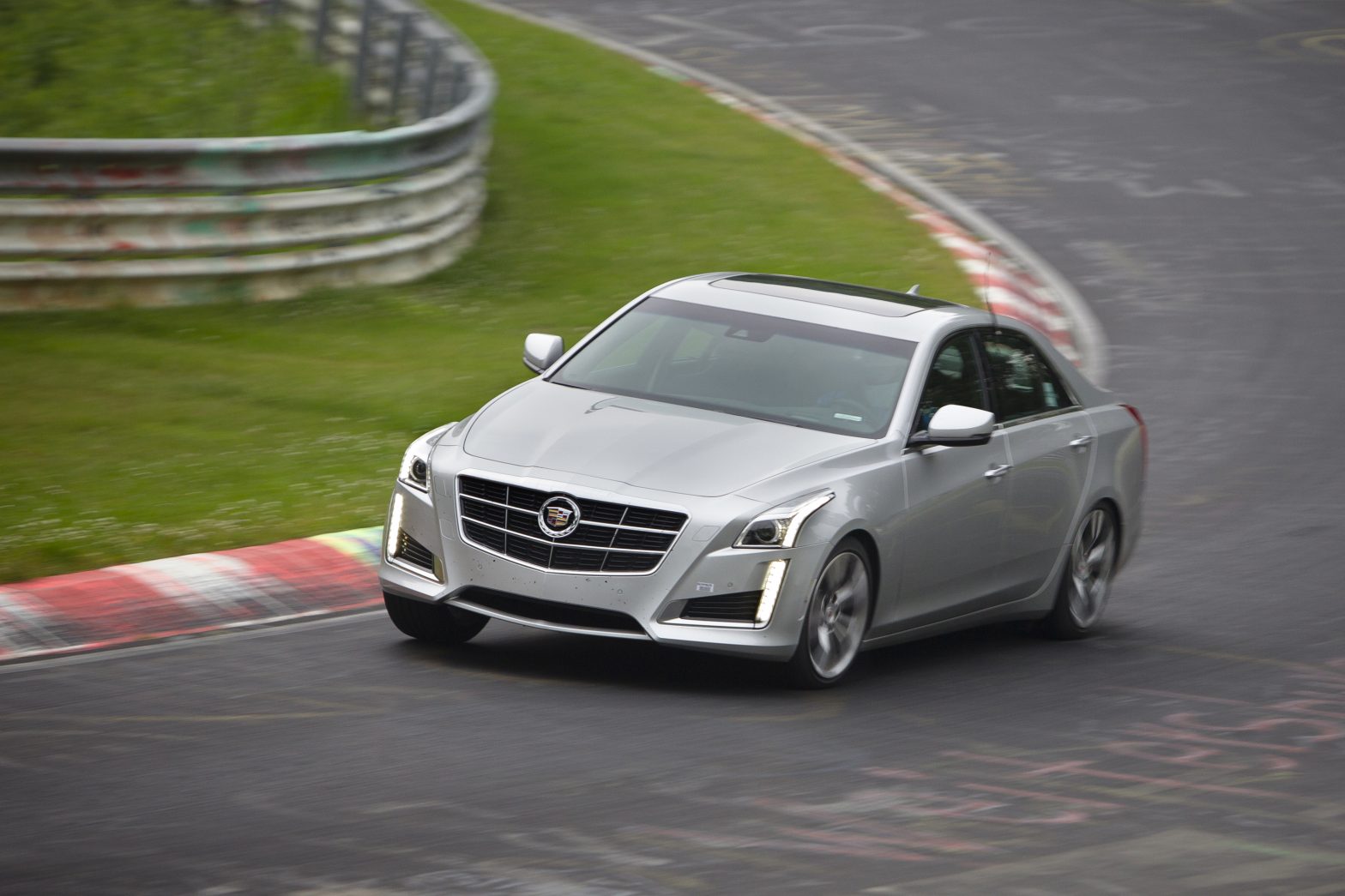 8:14.10 is the time it took a 2014 Cadillac CTS Vsport to tackle the Nürburgring's 12.9 miles and 154 turns.
The CTS Vsport is powered by a twin-turbo 3.6-liter V-8 producing 420 horsepower. That force is put to the rear wheels via an eight-speed automatic transmission.
With the Ring under its belt, Cadillac feels confident in the CTS Vsport's performance credibility, as its speed around the infamous track is a testament not just to its power, but to its handling, suspension, and powertrain cooling.
The time of 8:14.10 is nearly six seconds faster than the V-8-powered first-generation CTS-V around the same loop.
Scroll down past the video for more information in the press release from Cadillac.
All-New Cadillac CTS Drives Challenging Nürburgring
Vsport model records lap time of 8:14.10 at world's most-demanding test track
DETROIT – Cadillac validated its all-new 2014 CTS midsize luxury sedan and power-packed CTS Vsport at the world's most-demanding test track – Germany's Nürburgring – and recorded lap times to enhance the nameplate's reputation as a driver's car.
Notably, the 2014 CTS Vsport, featuring Cadillac's first Twin-Turbo engine and eight-speed transmission, recorded a lap time of 8:14.10, almost six seconds faster than the first generation CTS-V recorded 10 years ago with a larger V-8 engine.
Nürburgring validation certified that all CTS suspension packages are capable of handling the extreme conditions and unlimited speeds of Autobahn driving. CTS development included Autobahn and track calibrations of the steering system, shock absorbers, chassis controls and powertrain cooling.
"The Nürburgring's extreme conditions allow us to push cars to the limits of stability, steering, braking, ride and handling," said Dave Leone, CTS executive chief engineer, Performance Luxury Vehicles. "The new CTS models had a lot to live up to considering the nameplate's history of outstanding performance, and we were not disappointed."
Measuring 12.9 miles (20.8 km) and including some 154 turns, the Nürburgring's Nordschleife ("north loop") is widely considered the world's most-demanding course for vehicle validation. Cadillac vehicle dynamics performance engineer Kevin Zelenka and Jeff Grabowski drove full production models of CTS and CTS Vsport with no performance modifications, validating all-new 2014 CTS sedan that goes on sale this fall.
"The new CTS was an absolute riot to drive on the Ring," said Zelenka. "It's more athletic and refined, and the Vsport proved extremely capable. If a car performs well on the Ring, it will perform well on any road in the world."
The CTS has been the centerpiece of Cadillac's portfolio for more than a decade. The third-generation CTS is one inch lower, five inches longer and more than 200 pounds lighter than its predecessor. The new car also has lower curb weight, greater structural stiffness and more horsepower than its primary competitors.
The all-new CTS is engineered from the ground up to deliver a driving experience that combines sport-tuned handling with world-class comfort. Its segment-exclusive Magnetic Ride Control and electronic limited slip differential constantly monitor rear-wheel rotation to ensure optimal handling in a variety of road conditions.
The 2014 CTS standard model will start at $46,025, including $925 destination. Three collections of option packages – Luxury, Performance and Premium – will be offered with either the 2.0T turbocharged four cylinder or 3.6L naturally aspirated V6 engine in either rear- or all-wheel drive. The CTS Vsport model starts at $59,995, including $925 destination, and features the new Cadillac Twin-Turbo 3.6L V6 (420 hp) in RWD only with an eight-speed transmission.