Bryan Herta Autosport Ups the Ante In IMSA Michelin Pilot Challenge TCR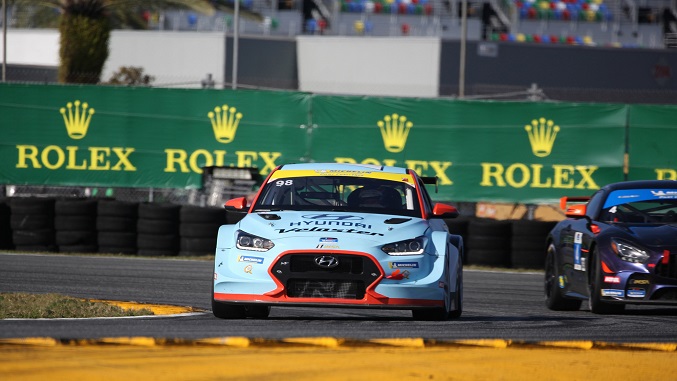 bryanhertaautosport.com
Bryan Herta Autosport, Hyundai N's factory go-to team in IMSA Michelin Pilot Challenge TCR, has expanded their space on pit row to now handle three Veloster Ns for the 2020 season. Drivers Gabby Chaves and Ryan Norman will get behind the wheel of the #88, while Michael Lewis will claim the #98, and the #21 will be split between 2019 season top finishers Mason Filippi, Mark Wilkins, and Harry Gottsacker.
Chaves brings solid, valuable experience to the team: the Columbian won the 2015 IndyCar Rookie of the Year title. Norman also comes from the open-wheel realm, and is no slouch himself: he finished fourth in the Indy Lights Championship in 2018 and 2019 racing for Andretti Autosport. The connection shared by both racers is Bryan Herta himself, either as a previous team boss or mentor.
With a triumphant end to the 2019 season under its belt, and two highly skilled open-wheel drivers joining in, BHA is in a position to really clean up this year in TCR. 2019 was the year of the Veloster in the FWD hot hatch realm, both on-track and on the street (we got a kick out the street version); we're excited to see what N Division develops next. This is certainly reminiscent of a similar arc Mazdaspeed started on in the mid-aughts, and in some regards hasn't eclipsed yet.
What are your thoughts on TCR this year in North America? Let us know below!