BMW Launches Free M Power Meter iPhone Application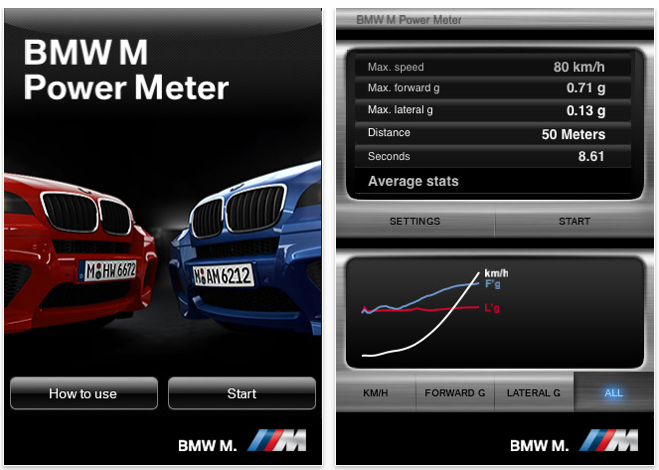 BMW launched the M Power Meter iPhone application, which measures and charts g forces, speed, and other stats using the iPhone's movement sensors.
The free app can be set to measure acceleration to different speeds (0-60 mph, for instance), or over a certain distance. It also saves your last ten results.
While we haven't used it in a vehicle yet, we did run it around the office. We were excited about our 33 mile-per-hour top speed on foot, until we read the following:
"Before you start to measure your driving pleasure, please note the following when using the BMW M Power Meter to ensure your measurements are taken as accurately as possible:

– The vehicle must be stationary to start recording the measurements
– The measurements should be recorded on a straight road without steep inclines
– The iPhone should either be upright (e.g. in a holder) or laid flat facing the exact direction you are driving in to ensure the measurements are accurate
– To start recording the measurements press "Start" and accept the conditions screen by pressing "Accept"
– When starting to record the measurements please accelerate until you have reached the target speed or until you have covered the specified distance"
We'll have to try it out again following the proper mounting instructions before we can give it an honest review, but in the meantime, feel free to give us your initial thoughts on the free BMW M Power Meter app. If anyone can compare it to their own measurements, say from the onboard setup in Chrysler's SRT vehicles, please share your comparisons in the comments, below.