BMW Introduces High-Speed E-Bike To Spark "Conversation"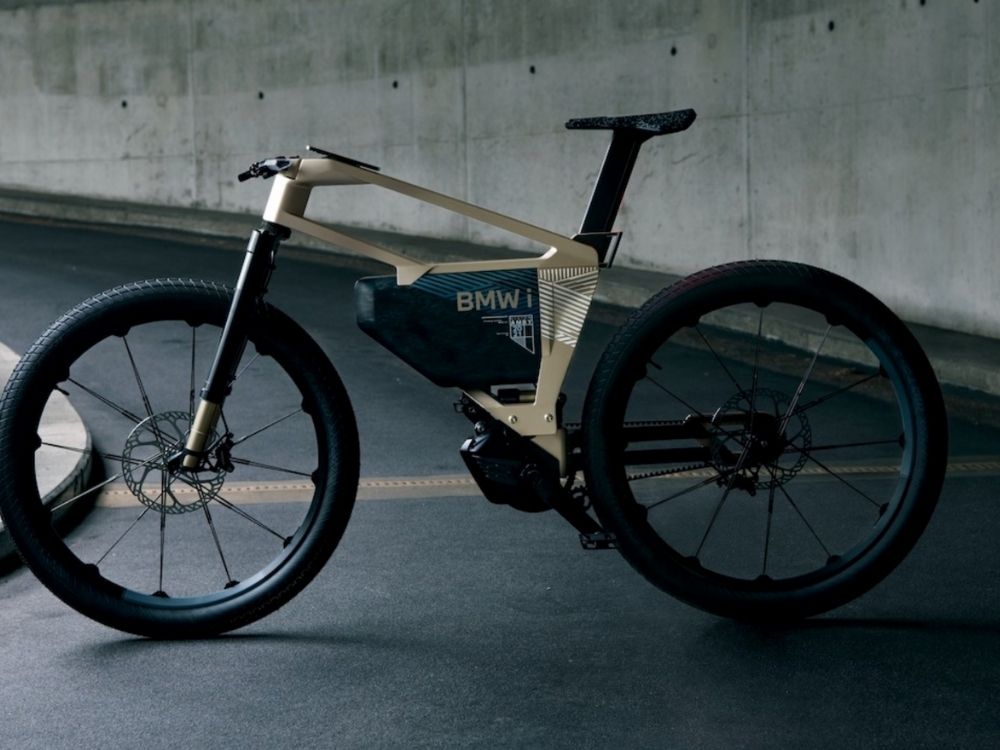 At the IAA Mobility show, BMW has shown a new concept of what an e-bike could be in the near future. It has some brilliant features and even more is being promoted as a way of starting a "conversation" about what e-bike legislation and products should look like going forward.
Before we get into the key product BMW showed, the iVision Amby, let's review. Currently in the US, powered bicycles are designated as Class 1, Class 2 or Class 3. These classes were initiated in the early 2000s and seem at least a bit odd. Class 1 and Class 3 bikes only supply power when pedaled. Class 1 bikes can only apply electric boost up to 20 mph, while Class 3 bikes can be boosted up to 28 mph. Both can be ridden at any speed you like with pedal power alone. Class 2 bikes can have throttles and thus can run on electric power only, with a top speed of 20 mph. Class 2 bikes are essentially slow motorcycles or mopeds. The rules in different states make Class 1 or Class 3 applicability somewhat complex.
Europe uses a different system, which caps boosted speed with pedaling to 15.5 mph. There are other subtleties in various places including the type of road/trail where the bike is being ridden.
Into this mix we have the iVision Amby concept bike. It is significant because it is being shown by a huge automotive and motorcycle company which takes legislation seriously, but is a major employer and has the funds to work with the political system. That is the real "conversation" and the real significance of this bike. The bike is also rather cool in our view.
The iVison Amby should generate conversation because of some key features. While it shares similar suspension components to some other high-end bicycles (a Gates-style carbon belt drive, suspension fork and traditional wheels), it is also quite different.
The differences start with a very high-power motor and gigantic 2,000 Wh battery. The motor allows the Amby enable to go beyond even Class 3 speeds and get up to 37 mph in its highest power setting with an estimated 47 mile range. The big battery (about 4X a typical class 1 mtb) also yields range estimates for the iVision Amby of up to 186 miles in its lowest power mode.
Using an accompanying smartphone app, riders can choose between the European legal 15.5 mph pedal/assisted top speed, a second mode that reaches the Class 3 28 mph pedal/assist speed, and that high-speed pedal/assist speed of 37 mph. BMW plans to have those speeds be modifiable in real time based on geo-fencing, meaning you could have your assisted top speed be lowered automatically when getting on a trail and then enable to bike to provide boost to a higher speed on, say, suburban roads.
BMW clarified their intent, saying:
"In the absence of any existing legal framework for a vehicle of this kind with a modular speed concept, the "AMBY" Vision Vehicles set out to prompt the introduction of such legislation and, by consequence, developments of this nature."
We would add that a conversation is needed about e-bike legislation because the current weird and incomplete rules seem to stifle innovation. At the same time, the lack of licensing and registration seem to cap what legislation there is at a ridiculous level. The 15.5 mph Euro speed is just about useless except for commuting and 20 mph is only slightly better. Our view is that the lack of licensing means the authorities have elected to cripple pedal e-bikes. This works against recreation and transportation uses, which in turn doesn't help with congestion or global warming or freedom. The lack of registration means cyclists are not really at the table when infrastructure is planned, leading most cities to have thousands of bridges to nowhere. Bad + Bad = Very Bad.