BMW Debuts The New M4 GT3 And… We Dig The Front End?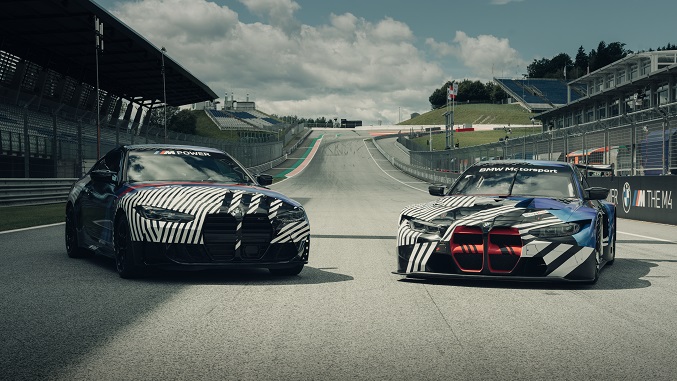 press.bmwgroup.com
BMW premiered the new M4 GT3 race car as well as a mildly-camouflaged, road-going M4 earlier this week at the Red Bull Ring ahead of the MotoGP BMW M Grand Prix of Styria in Spielberg, Austria.
For the street, the new M4 will sport the new S55 M TwinPower Turbo straight-six engine, producing 480 horsepower in one variant, and 510 horsepower in a higher-tier, Competition variant. So far it looks like a 6-speed manual gearbox will only be available in the lower-horsepower variant. The full unveiling of the M4 Coupe is set for some time in September.
BMW's plan is to promote the M4 GT3 through the rest of the year, and have it debut next year in various GT series around the globe campaigned by BMW M Customer Racing Teams. We're anxious to see what Turner thinks of it, as well as what their livery will look like. It will be fully replacing the ol' faithful, tried-and-true M6 GT3 as their top-tier M Customer offering by 2022.
The Balk of the Town
Ever since the front-end of the new G82 M4 was leaked earlier this year, automotive enthusiasts have taken to social media to express their disgust over its buck-toothed, inflamed kidney, Sea Lamprey-lookin' front grille in droves. We must admit, we were concerned when we saw the photos. We expressed a little relief about what the new M4 would be like as a whole when BMW posted some in-car track footage.
press.bmwgroup.com
Hot take comin' at you: we think the front grille looks much better in race car form. Well, maybe this isn't that hot of a take; all aspects of car exteriors always look better in race form. While the grille is a bit huge on the production car, it looks much more reserved on the GT3 car, thanks to its wider fenders, accents, and substantial splitter. The gigantic rear swan-neck wing also kind of balances it out… ok we didn't attend design school, but we swear it helps.
Perhaps it's a case of huge helping balance out huge, but regardless, we dig it. We think it matches the newer, aggressive LED BMW headlights quite well, and it helps that they pulled out the horizontal grille pieces, too.
The livery in these images is quite dashing as well, and if they highlighted the new grille in red to troll all the haters, all we can say is: respect, BMW, respect.
press.bmwgroup.com