Beijing 2010: 2011 Hyundai Verna Is Chinese For Accent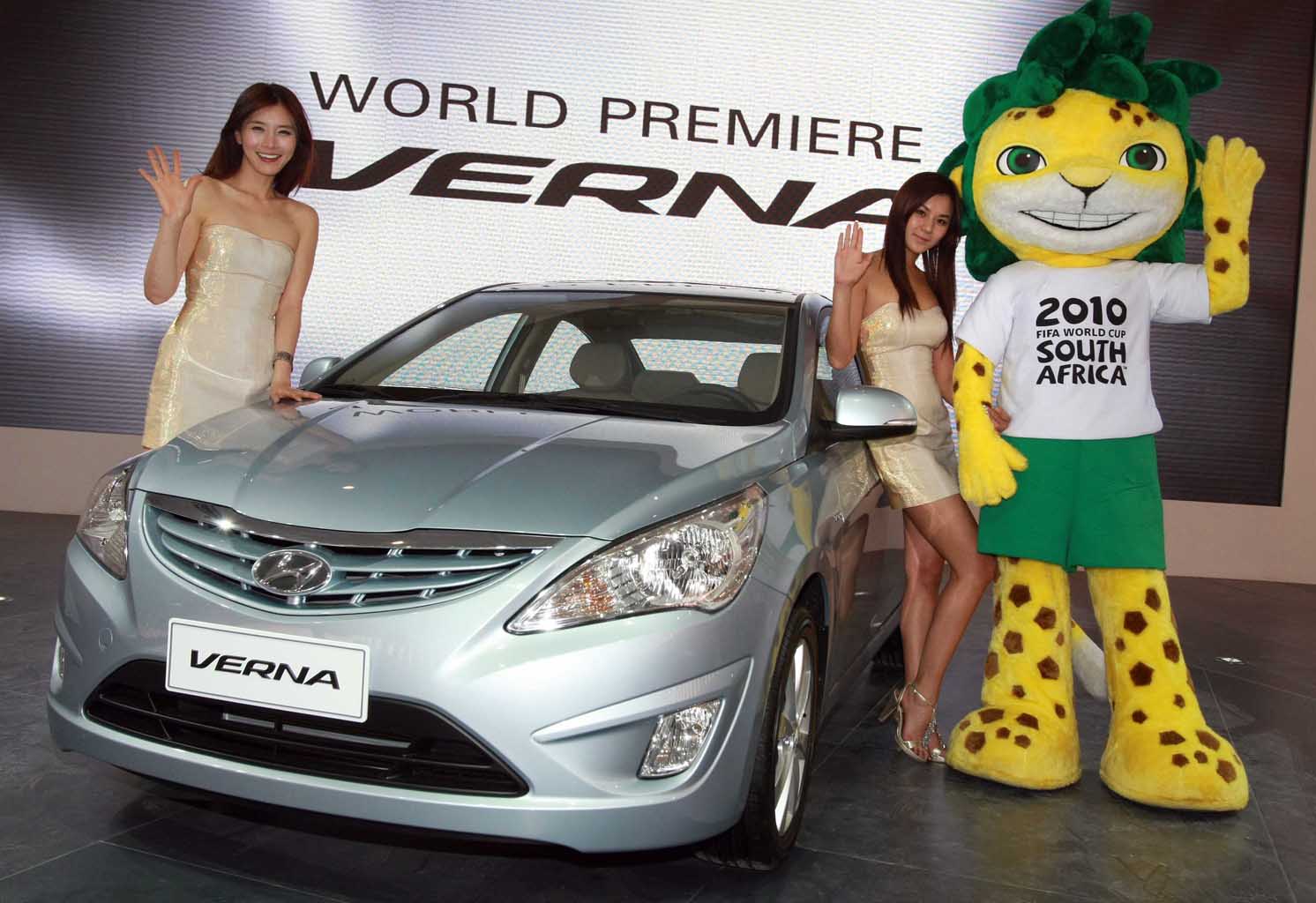 Don't be fooled by the name, this Hyundai Verna is the new Hyundai Accent that we have been seeing spy shots of for some time.
The new Accent has a very Mini-Me design to it, borrowing heavily from the handsome Sonata mid-size sedan. It features the same fluid design language of the Sonata, starting at the front with the grille and headlights. The similarity continues down the sides of the body, with an almost four-door coupe profile. Out back, the taillights are the same general shape as big brother Sonata.
If anything, the design proportions of the Accent look more natural than they do on the Sonata, but we will have to wait until we see it in person to come to a final conclusion.
Motivation for the Chinese model that we see here comes from either a 1.4-liter or 1.6-liter I-4, producing 105 horsepower and 121 horsepower respectively. A five-speed do-it-yourself transmission is available on the 1.4 liter, while a four-speed auto also available. The 1.6 puts power down through a four-speed automatic.
The current Accent is a fun, little car to chuck about. We will have to see if that holds true for the new model.
Please scroll down for official Hyundai press release.
Hyundai Unveils All-New Verna at Beijing Show
All-new Verna is Hyundai's 3rd China-exclusive model
Hyundai holds world premier in China
(Beijing, China) Hyundai Motor Co. staged the world-premiere of its all-new Verna at the 2010 Beijing Automotive Exhibition today. With its eye-catching sloping roofline, the new sub-compact, Hyundai's third China-exclusive model, projects a coupe-like dynamic image that is at once sporty, stately and futuristic.
Developed over a five-year period expressively for the Chinese market, product planners conducted exhaustive market research of Chinese consumer tastes and trends to ensure every detail meets local requirements. Built on an all-new platform at the company's highly automated plant in Beijing, Verna is targeted at China's strategically important C1 segment and fully reflects Hyundai's philosophy of quality.
"Today is a really special day for us, not only because we're launching a new car, but because it's one of the very few times we've done a world-premiere outside of Korea: And we chose to do it right here in China because it's our way of recognizing how important our Chinese customers are to us," Euisun Chung, Vice Chairman of Hyundai Motor said today at the Beijing auto show.
"In 2009 we posted a 94 percent Y-o-Y growth in China and have sold over 2 million cars since arriving in 2002. We are not losing any momentum, continuing to expand our lineup in China with our most stylish and advanced models like the all-new Verna and our compact SUV "ix35."
To minimize fuel consumption without sacrificing performance, Verna is powered by the new generation Gamma gasoline engine, featuring multiport fuel injection. Verna delivers best-in-class fuel economy, in keeping with Hyundai's pledge to be the industry's eco-leader. And it fully satisfies China's Step 3 fuel economy regulations — two years ahead of schedule.
Featuring all-aluminium construction for weight-saving, the 1.6L DOHC Gamma delivers [email protected] and 155Nm of peak torque @ 4200rpm through a smooth-shifting four-speed automatic transmission.
For cost-conscious car buyers, the base Verna is offered with the 1.4L DOHC edition of the Gamma which puts out [email protected] and [email protected] and comes with the choice of a five-speed manual gearbox or four-speed automatic. Fuel economy is rated 5.7ℓ/100km with the manual; 6.2ℓ/100km with the automatic (1.4L with Fuel Economy Package).
Such impressive performance was made possible by a variety of enhancements to the engine including Continuously Variable Valve Timing, a smart alternator and air conditioning compressor plus the adoption of motor-driven power steering.
Verna hugs the ground with a new low-floor platform and a sloping roofline both of which contribute to Verna's impressive aerodynamics and superior fuel economy.
Special ultra-high tensile strength steel has been applied to the car to enhance the overall stiffness of the body structure for superior crash protection: Verna achieves best-in-class safety, aiming to satisfy the CNCAP 5★ rating. Thanks to the highly rigid body, the suspension is more securely anchored thus enhancing ride and handling characteristics and eliminating vibration and booming noise.
Verna's wheelbase—longest-in-class—and its low overall height, give it extra stability and a very stylish look but without incurring a penalty in cabin size. In fact, the overall cabin dimensions are bigger than any rivals. And the trunk, measuring a spacious 454L can easily accommodate as many as four golf bags plus three small tote bags. So not only does it look great, but it's very practical.
The Verna will be built at the company's highly automated Beijing plant from July and will go on sale in the second half of this year. Hyundai will launch it in the Chinese market first, then gradually introduce it to other regions.
About Hyundai Motor Co.
Established in 1967, Hyundai Motor Co. has grown into the Hyundai-Kia Automotive Group which was ranked as the world's fifth-largest automaker since 2007 and includes over two dozen auto-related subsidiaries and affiliates. Employing over 75,000 people worldwide, Hyundai Motor sold approximately 3.1 million vehicles globally in 2009, posting sales of US$41.8 billion (including overseas plants, using the average currency exchange rate of 1,276 won per US dollar). Hyundai vehicles are sold in 193 countries through some 6,000 dealerships and showrooms. Further information about Hyundai Motor and its products are available at www.hyundai.com.
Beijing Hyundai Motor Company (BHMC) is a 50-50 joint venture between Hyundai Motor and Beijing Automotive. Founded in 2002 and expanded to produce 600,000 units in 2008, BHMC posted sales of 570,309 units in 2009, a 94 percent Y-o-Y growth from the previous year.