Audi RS 3 LMS Ready For Pirelli World Challenge 2017 And Beyond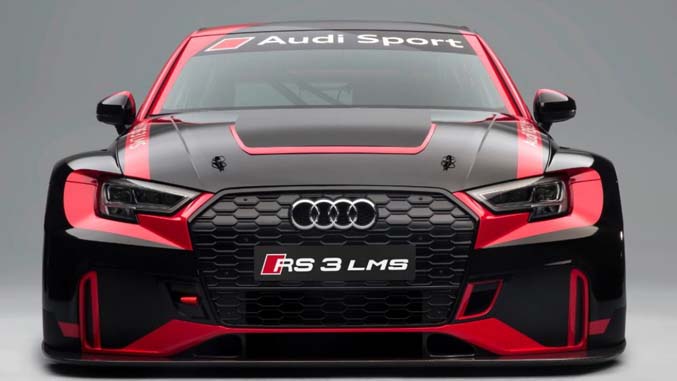 Audi Sport Customer Racing has unveiled the Audi RS 3 LMS TCR DSG PWC for the 2017 Pirelli World Challenge series. While possibly setting a record for the longest acronym-based model name in history, there is a method to Audi's madness. The RS 3 LMS can be used to compete in 2017 in Pirelli World Challenge TC class. Then, in 2018, when PWC welcomes a range of TC-R cars to the grid, a simple brake upgrade and software switch converts the RS 3 LMS to TC-R spec.
TC-R is a new class, currently getting established in Europe, that features 4 door, FWD race cars built by OEMs. The cars have about 330 hp and weigh about 2900 lb. with driver. As a result, TC-R cars should have a somewhat (perhaps 10%) higher power:weight ratio than TC cars and thus probably will be the front of the PWC touring car field in TC-R trim. In TC trim, the power:weight will be somewhat lower, obviously, as PWC is a Balance Of Performance series.
The RS 3 LMS in PWC TC trim will feature a paddle-shifted DSG gearbox, sans the luscious lever-shifted sequential system shown in the photos. The engine is a 2L turbocharged inline four cylinder. The car comes with AIM MXG data, air jacks, adjustable dampers, adjustable brake bias, FIA seat and FIA fuel tank. There are also some serious bodywork mods and aero parts.
Price is expected to be under $140,000.
Winding Road Racing will be supporting Touring Cars in Pirelli World Challenge via our Arrive & Drive Services division. If you are interested in discussing TC-A, TC and/or TC-R programs with us, please contact [email protected]. For additional information on our other pro series offerings, please visit https://store.windingroad.com/arrive–drive-p1039.aspx