Aston Martin Offers Special Edition Carbon Black DBS And V12 Vantage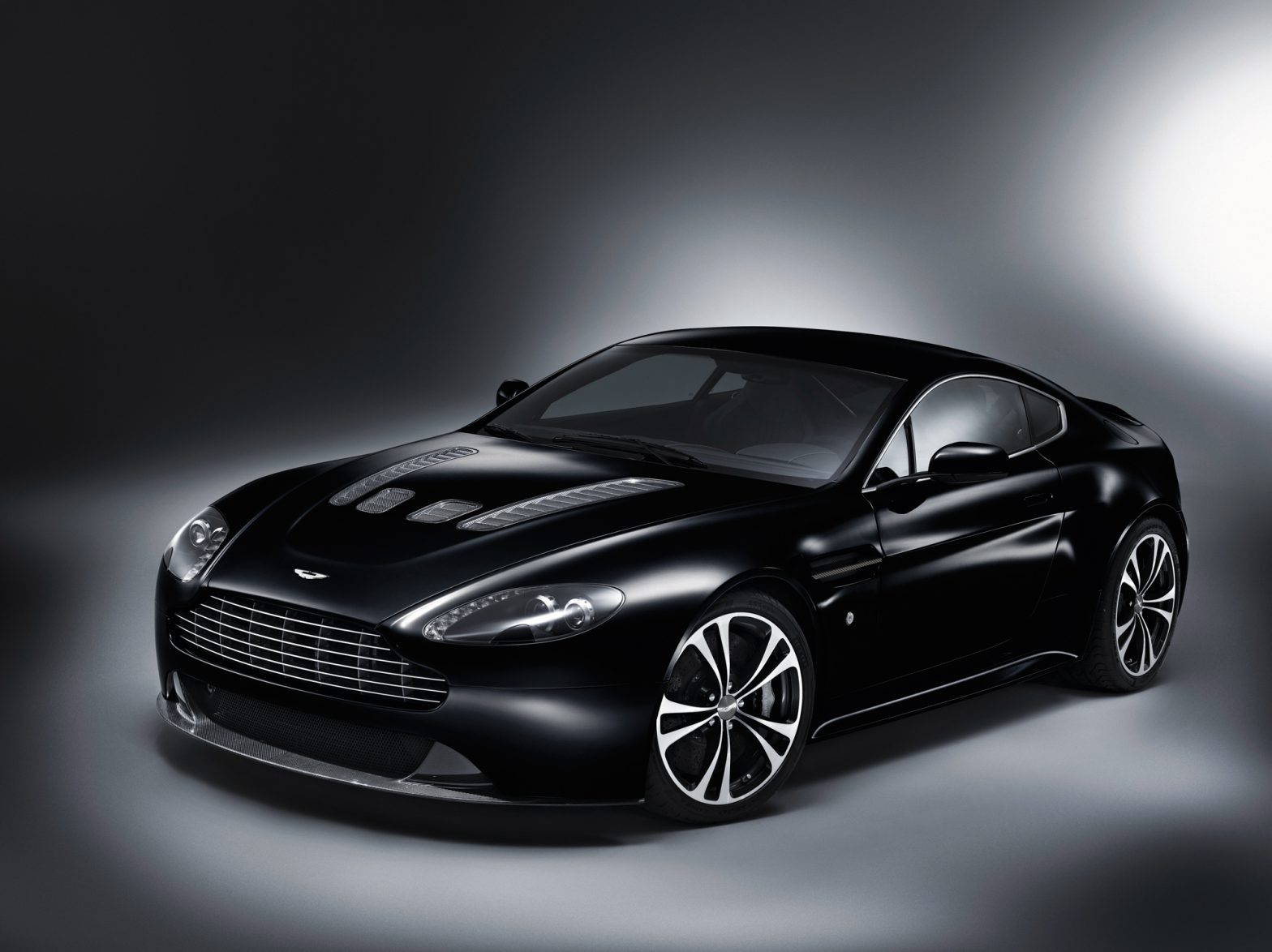 Aston Martin has created special editions of two of its best performers in terms of sales, the DBS and the V12 Vantage. As a way to make even more money celebrate surpassing their sales goals, the two models have undergone the Carbon Black treatment.
The Carbon Black editions are hand-painted (a 50-hour endeavor each) with metallic black paint. The signature Aston side strake is made of carbon fiber, and the cars are fitted with black, ten-spoke wheels.
The interior of each vehicle is loaded with a hand-stitched black leather interior with piano black trim, and black tread plates and door sills. The V12 Vantage gets Aston Martin's premium audio package, and the DBS comes with a Bang and Olufsen Beosound system.
Carbon fiber seats lower the weight of each car by 37 pounds.
European buyers of the Carbon Black Edition V12 Vantage will be treated to Aston Martin's Performance Driving Course.
Pricing hasn't been released, but is expected to be five percent greater than the standard models.
See both models in the gallery. Press release follows.


Aston Martin Carbon Black Special Editions
Gaydon, Warwickshire. 18 December 2009. Aston Martin's two top-of-the-range sports cars; the DBS and V12 Vantage have undergone a unique Carbon Black makeover to create a highly desirable special edition.
Celebrating the enormous success of the DBS and V12 Vantage which have surpassed all sales expectations since launch, the new special editions add a typically understated flair to these acclaimed models. Featuring bespoke Carbon Black metallic paint especially formulated with a subtle metallic twist to create a deep rich patina. Each car will undergo 50 man-hours of hand painting followed by stringent quality checks. For the V12 Vantage the iconic Aston Martin side strake has been fashioned from real carbon fibre backed by a black mesh and complimented with gloss black 10 spoke diamond turned alloy wheels. A bright finished grille and front parking sensors (normally an option) complete the exterior detailing.
Inside, owners will be greeted to swathes of Obsidian Black leather highlighted with a contrast silver coarse stitch all hand stitched by the craftspeople at Gaydon – Aston Martin's global headquarters in England.
Lightweight seats formed from Carbon Fibre and Kevlar saving 17 kg over the standard seat also feature together with Piano black facia trim, centre stack and centre console, anodised black tread plates and unique sill plaques build on the carbon theme. The Aston Martin 700w Premium Audio System is delivered as standard in the V12 Vantage while the DBS boasts the Bang & Olufsen Beosound DBS audio system as standard.
Customers who order a Carbon Black Edition V12 Vantage will have the opportunity to experience Aston Martin's renowned Performance Driving Course (UK and Europe only) free of charge which offers a memorable day helping customers to equip themselves with the skill sets to enhance the enjoyment of their Aston Martin on the track.
The Carbon Black Editions are available to order from the official Aston Martin dealership network with final pricing (expected to be approximately 5% over current base prices) to be confirmed in the New Year.
About the DBS
The DBS was launched in 2007 and is Aston Martin's ultimate GT sports car. Benefitting from weight saving materials including aluminium and carbon fibre; the DBS offers dynamic and aesthetic purity, an exquisite interior and a driving experience unsurpassed by any other car in its coupe and Volante forms. Its hand built V12 engine produces 380 kW (510 bhp / 517 PS) making it one of the most powerful production cars Aston Martin has ever made. In 2009, the DBS 'Volante' (Aston Martin's nomenclature for convertible) joined the DBS line-up
About the V12 Vantage
Launched in 2009, agility and outright performance form the basis of the design of the V12 Vantage creating the most exciting incarnation of the Vantage line-up to date. The V12 Vantage subtly hints at its sporting intent with its controlled aggression and lower, purposeful stance. The naturally aspirated 6.0- V12 engine provides the driver with instantaneous access to high levels of power and torque at all engine speeds, while Aston Martin's class-leading, all alloy VH (Vertical Horizontal) architecture provides exceptional strength and rigidity.