Announcing Winding Road Showroom (Beta)!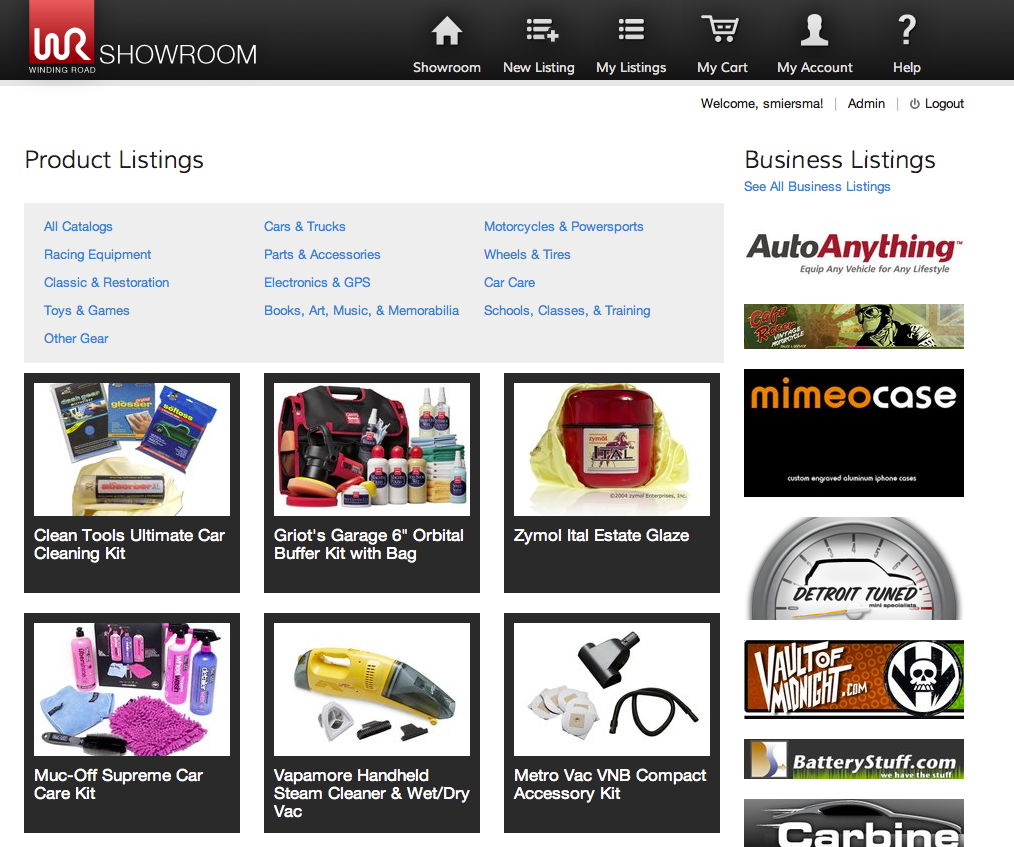 Winding Road Reader,
We are so pleased to be able to tell you that, as of today, Winding Road's newest venture, Showroom, is open for business. We have great hope that you'll find the Showroom entertaining to browse and effective to use. Here's what it's all about.
– Promote Your Business To Our 250,000 Readers
– Leave Feedback To Improve Showroom Beta
Browse Your Favorite Catalog
We've organized our Showroom content into a variety of rich and interesting product catalogs. Divvied up by product type and customer interest, these catalogs provide an assortment of products and services (from guys like you, mostly) as well as stuff that the editors of Winding Road think you're going to love.
Sell Stuff To Car Guys
Got something to sell? In less than the time it takes to enter a new destination into your navi system you can create a free Product Listing on the Winding Road Showroom page.
What can you sell? Cars, trucks, motorcycles, Scalextric sets, vintage stopwatches, five-point harnesses, floor jacks, and car-themed neckties. That's it. Just kidding! You should list and sell anything and everything will find a receptive audience among our discerning, well-to-do, mostly male, car-crazy readership.
Buy Stuff From Car Guys
Hey, did you hear about all those car-themed neckties and floor jacks that the guys above are selling? Get in on it!
We've aimed to make Showroom a great place to find the obscure car stuff you've been looking for, hear about terrific deals on stuff you use all the time, or just browse for things that you didn't even know that you couldn't live without.
Promote Stuff To Car Guys—More Than 250,000 Of Them!
Maybe the coolest part of Showroom, is that it gives you instant access to all of the marketing power of the Winding Road empire.
Do you run a business or offer products and services that may be of interest to the automotive-minded? Create a Business Listing (for free), and then choose one of our simple and effective promotional tools to get the word out. You can save a space in Winding Road digital magazine, buy a bunch of banner ads on WindingRoad.com, or reserve a slot in our weekly email (that reaches 250,000 gear heads, just like you). Heck, you can even go Pro, and contact our smiling sales staff (we call him Jeff) about having the WR team craft a custom story around your sweet business, or a custom catalog featuring all of your products.
Kick The (Pre-Production) Tires
We'll be honest, the Winding Road Showroom you see today isn't quite as fully featured as it will be in the weeks and months to come. We've got a lot more coolness lined up already, but we really wanted to include our sharp-eyed, techy readers in the launch of this Beta version.
Poke around the catalogs, create some listings, and get the ball rolling. Don't be scared to sell and buy right away, we've got security locked down. And don't be nervous to give us your honest and full feedback. Email any notes, requests, bugs you've found, or other suggestions to us at
[email protected]
. And, look for a brief survey about Showroom in the near future, too.
Ultimately, we're building this product for you and we want to tailor it to meet your needs as exactly as possible.
So, what are you waiting for? Go ahead and get in the Showroom right now. We'll be clearing a space in the basement for our new Scalextric reproduction of Monza.