Announcing The Launch Of WindingRoad.com!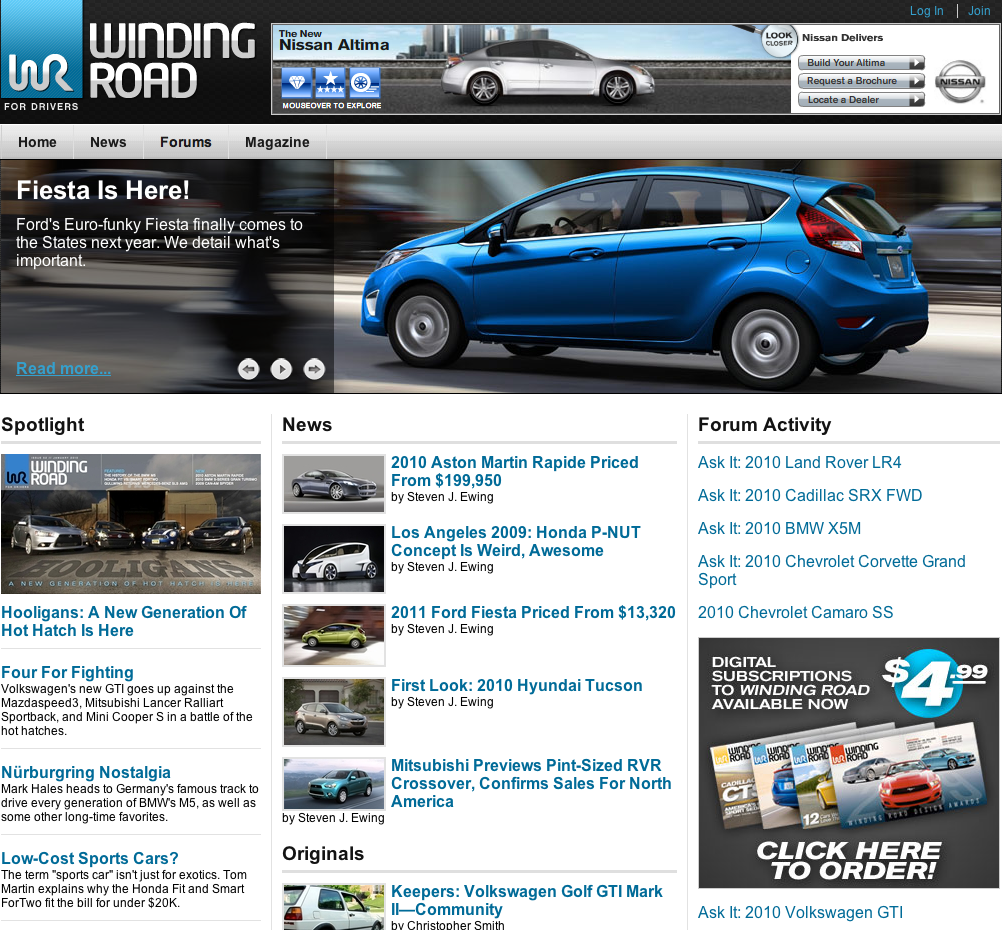 Since the inception of Winding Road as a digital magazine in 2005, our editorial staff has availed itself of every tool in our online toolbox to deliver as rich an automotive experience as possible. As many of you know, for the last two years, one of our primary delivery vehicles has been NextAutos.com.
From its launch, the goal of NextAutos has been to provide a fresh and diverse cross-section of the motoring landscape, with content that is both timely and insightful. We've learned a lot from developing NextAutos, and we're excited to have translated those lessons into the all-new WindingRoad.com .
Why The Name Change?
Winding Road magazine has always been our most visible and highly regarded digital content medium. Our goal has been to expand the design sensibility of the magazine onto our daily website, so choosing the name WindingRoad.com seemed to make a lot of sense, too.
WR.com will still offer all of the same content that you've learned to expect from NextAutos—fresh-from-the-seat driving reviews, industry news and notes, original list and editorial content, Ask It forum threads, and more—but the package that it all comes in has been greatly streamlined and beautified.
Getting Started

The first thing you're likely to notice on WR.com is our big feature bar, front and center. Click through any of the scrolling articles you see here to be taken directly to one of our freshest and most exciting new reviews or stories.
Starting from just below the feature box, you'll find you can quickly navigate to articles within the current issue of Winding Road, by either selecting a headline (or cover image) from Spotlight on the left rail, or by clicking the Magazine tab on the top navigation bar.
In the center of the page, you'll find links to the very newest articles of three distinct flavors: News is simply an aggregate of everything we publish on the website (analogous to All News on NextAutos). Originals selects from the best content with an editorial slant—lists and blogs are highlighted here. Reviews will offer up all of our Driven first-drive articles, Buyer's Guides, comparison tests, Ask Its, or any other content type that has us reporting in after driving new metal.
Finally, Forum threads take up residence on the right hand part of the screen (or by accessing Forums on the top nav bar). All new Forum threads will cycle through this display on the main page, allowing you to see, in a glance, which new discussions are taking place. Get involved!
Don't forget, you can always click on the Home button of the top nav bar to get back to the WR.com home page.
Registration
All registered NextAutos users have had their usernames migrated to WindingRoad.com, meaning logging on is a simple process. You will need to verify a password the very first time you log on, but then your registration process for the new site will be complete. New users shouldn't worry, either. Just click the Join button at the very top, right-hand corner of the page, provide your username and email address, and you'll be ready to roll.
Inside
Once you've mastered the home page (uh, this should take about 27 seconds), please feel invited to poke around and see what we've done with the place. Bigger, faster scrolling galleries abound. Disqus commenting is hassle- and spam-free. Quicker page loading times, easier-to-use Forum threads, and more.
Find something that doesn't work as advertised, or not at all? Have some otherwise constructive and enlightening feedback to make? Let your voice be heard. You can tell us what's up with WR.com from the user's perspective by commenting in the Feedback and Discussion forum, or by emailing us at [email protected].
Thanks for reading,
Seyth Miersma
Editor-In-Chief
Winding Road