Acura NSX Prototype Running Debut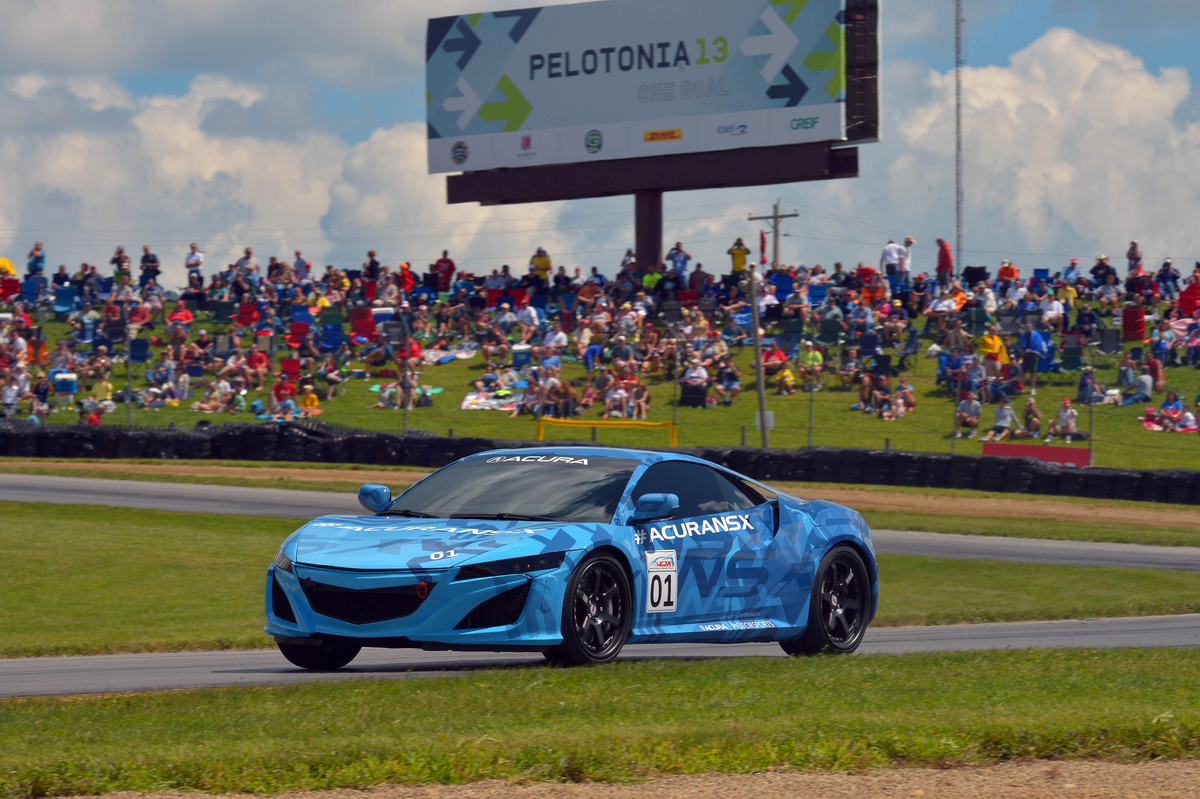 Acura
had been teasing
the NSX prototype up until its first live lap at the Mid-Ohio Indy 200 race on August 4. Now we can see more photos and videos from that running debut.
The NSX prototype is another step toward its actual
production beginning in 2015
. It is powered by a Hybrid V-6 motor, plus two additional electric motors, with power going to all four wheels via a dual-clutch transmission and torque vectoring all-wheel drive.
Click through the image gallery, check out the videos below, or scroll past it for more details in the press release.
ACURA NSX PROTOTYPE EXCITES RACE FANS WITH DEMONSTRATION LAP AT HONDA INDY 200
A prototype Acura NSX has lapped the Mid-Ohio Sports Car Course in Lexington, Ohio, just prior to the running of the Honda Indy 200, exciting fans in the state where the NSX is being developed and will be produced, and showcasing the steady progress being made toward the planned 2015 launch of Acura's next-generation, mid-engine supercar.
The Acura NSX prototype lapped the 2.4-mile winding road course, driven by a member of the Ohio-based engineering development team. The NSX prototype sported custom graphics that speak to Acura's intention to go racing with the new NSX.
"With leadership from our R&D and manufacturing teams here in Ohio, we are developing a next generation sports car that will be equally at home on the street and on the race track, so it is natural for us to showcase the prototype vehicle here at Mid-Ohio," said Ted Klaus, chief engineer of Honda R&D Americas, Inc. "It is exciting for us to see the prototype running on the track, reflecting the great progress we're making toward the 2015 global launch of the NSX, as we engineer a new sports-car experience for customers around the world."
Targeting next-generation supercar dynamic capabilities with advanced environmental performance, Acura announced in 2012 that the Acura NSX will be powered by a mid-mounted, direct-injected V-6 engine mated to Acura's Sport Hybrid SH-AWD® (Super Handling All-Wheel Drive) system.
Acura's Sport Hybrid SH-AWD® is an all-new, three-motor high-performance hybrid system that combines torque vectoring all-wheel drive with advanced hybrid efficiency through the use of three electric motors – one motor integrated with the V-6 engine and its all-new dual-clutch transmission (DCT) driving the rear wheels, and two independent motors driving the front wheels. The system enables instant delivery of negative or positive torque to the front wheels during cornering to achieve a new level of driving performance unparalleled by current AWD systems.
Global development of the NSX is being led by engineers at Honda R&D Americas, Inc., in Raymond, Ohio. The next-generation Acura sports car will be produced in nearby Marysville, Ohio, using domestic and globally sourced parts, at the newly established, state-of-the-art Performance Manufacturing Center, now under construction.