949 Racing Announces New SoCal-Based Racing Series: Super GT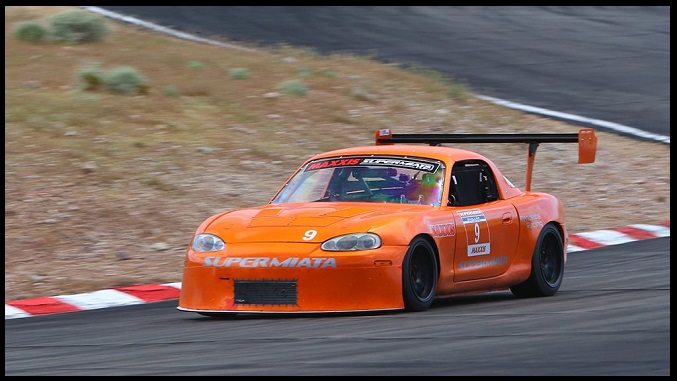 We corresponded with Emilio Cervantes of 949 Racing over a new series they've been working on and just debuted: Super GT. With Speed Ventures as their sanctioning body, Super GT is a new power-to-weight based racing series in California meant to keep costs low and build eclectic fields that will make for awesome racing. Follow along as Emilio shares what SGT is, and the reasoning behind how it is structured.
What was your reason and inspiration for creating this series?
We saw how well the formula worked when it was just the early Miata platform, so we knew it would translate to other platforms. We like simplicity in the rules, and Super GT car prep rules are just two pages. The key items that affect the cost of the build are controlled, the key items that add reliability and lower the cost of consumables are basically open. The basic performance envelope of the car is tightly controlled, so we have affordable parity.
Would you say this is a catch-all for cars from other series that might have lower car-counts and would like more folks to race with?
While we drafted our rules set with crossover in mind, we think that long-term we will have people building cars just for our series. But yes, based on our research there are at least eight classes from five different sanctioning bodies that will cross over with little more than tires, ballast or a remapped ECU.
What are some of the chassis you expect or hope to see in the field of the RWD, FWD, and AWD variety?
As our power-to-weight ratio is 10.5:1, we expect most of the cars to be RWD. But I would really like to see some well-set-up FWD and AWD cars in SGT. Enthusiast favorites like the S550, S197, E46, E90, S2000, 86, and C5 are all cars that could be competitive.
We see a lot of "anys" in the rules (which is certainly appealing!), what is the intention behind this? Is this to avoid headaches with the rulebook?
This is actually a measure of cost containment. For example: when the typical existing build at this power-to-weight already has some form of limited slip differential, it's only going to cost people money if they have to run a specific type. Same goes for the rest of the car really.
Once power-to-weight and power area are locked down, the key parameters to performance are going to be aerodynamics, tire compound, tire size and transmission type. Aerodynamics are expensive and closely regulated in other classes, so we keep a tight rein on that. Sequential transmissions and dog boxes also can be quite expensive, so they're not allowed. These days folks will swap in an OEM synchromesh transmission from another year or platform to get the torque capacity they need. That's always cheaper than throwing in a sequential.
Overall the concept is capping the performance envelope but not the actual parts people can use. This is counter to some sanctioning bodies that require specific parts be used or their dimensions. But they have no cap on the performance envelope. When there are no caps on performance envelope, you get really expensive cars.
We also see that tires must be 100TW or Toyo RRs – this is obviously to be more cost-effective, but what are some other aspects that make this series particularly cost-effective?
By allowing parts and component swaps, plus adequate cooling, SGT make for a reliable race car that's not going to chew through parts every hour. It's cheaper to spend money on huge brakes and good brake ducts once, then have pads that last a few weekends. The opposite would be restricting brake components and ducting so drivers are having to use very expensive pads and rotors then chewing through them two sets per weekend. This goes for every other system on the car. Forcing
drivers to run an OEM component that is not up to the rigors of road racing is a false sense of economy. One and done. Spend $400 doing a good oil cooler and maybe your engine lasts another 50 hours before needing a rebuild. That's a good return on investment.
How are sign-ups and general interest going so far?
As we only recently announced the Super GT ruleset and schedule it's probably too soon to tell. We're certainly getting a lot of likes shares and questions from Facebook and the forums we posted on. As with anything new and somewhat disruptive, it will be a gradual increase over time.
We're glad to see Streets of Willow on the schedule, it should make for great/entertaining racing. Do you foresee doing more events here (assuming Speed Ventures continues booking it)?
We first tried road racing at Streets of Willow several years ago. We were a bit nervous, not sure how the tight and bumpy track would work. Our concern was there wouldn't be any places to pass. In practice, because the turns are so packed together and the track has enough width, it's pretty easy to cross over on people and set them up, even in the slow parts. It's actually harder to pass at Buttonwillow. So yeah, we will run Super GT there.
One of the things that we admire about 949 Racing, is your products are thoroughly tested and proven on-track, time attack/time trial, various wheel-to-wheel series, as well as your own Supermiata series. Is one of your aspirations with this series to be a solid test bed for engineering products for more chassis?
As the saying goes, racing improves the breed. So yes, we use every type of competition as an opportunity to collect data and validate products.
Anything else you'd like to share?
As with our other series, we will have the same standing start race format with inverted grids for race 2, 3, and 4. Race 1's grid is set by qualifying. A typical race weekend sees over 3 hours of track time with all of the practice sessions; the cost-per-hour of track time is quite a bit lower than other race series.
Thanks so much for sharing this information, Emilio! We look forward to seeing how this progresses! For questions, reach out to 949 on their contact page.