2020 McLaren 620R: A Race Car With A Dash Of Road Legality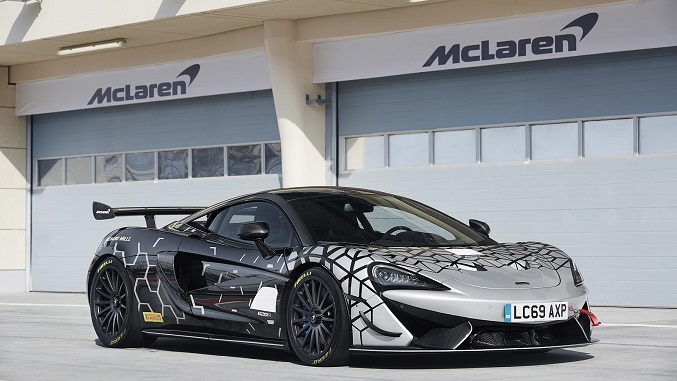 McLaren
It's not too often that manufacturers offer true race cars for the road. Usually, they're rare, low-mileage homologation specials that end up being auction block eye candy 30 years after they roll off the factory floor, or are more majority-street-centric, like the Porsche Cayman GT4.
McLaren has debuted a car that seems to start out life as a race car, and then has a few bits thrown on to make it street-legal. It leans quite a bit more track than daily transit, and its price is somewhere in the sea of figures between a Cayman GT4 and Ford RS200 (or possibly more). Following in the footsteps of the 600LT, 570GT, and 570S: the 620R.
The 2020 McLaren 620R shares the same single-piece, carbon fiber Monocell II chassis as the 570S GT4, an aero package that purpose-built time attack cars pale in comparison to, full-on race suspension, and a whopping 620 horsepower to legitimize its badge. This helps it rip to 60 MPH in just 2.9 seconds.
The more you look over the specifications, the more you realize that it won't exactly be a regular cars n' coffee attendee. Its coilover race suspension is 32-way, manually adjusted (no push-of-a-button performance here), and it comes with stiffer engine mounts, 6-point racing harnesses, McLaren-Senna-derived brake parts, stiffer-than-average anti-roll bars, carbon fiber racing seats, and a lack of air conditioning/carpet/stereo (though they are optional).
McLaren
Cruising around in the 620R would be a heck of a sense of occasion. If Johnny Law doesn't spot the 6-point belts, its standard, barely-legal Pirelli P-Zero Trofeo R tires won't raise any red flags. Plus, the massive rear wing won't mess with DOT rules thanks to its built-in third brake light. Though, forget about going up any kind of driveway (especially in Southern California) as its front bumper and splitter are large enough to add around 150 lbs. of extra downforce on track.
These have been limited to only 350 examples, and production has already gotten underway as of earlier this year. If anyone reading this is lucky enough to get their hands on one, we'd love to do a brief POV video (though we're not sure our insurance would cover it).
             McLaren