2019 Spec MX-5 New Build Pricing, Features Announced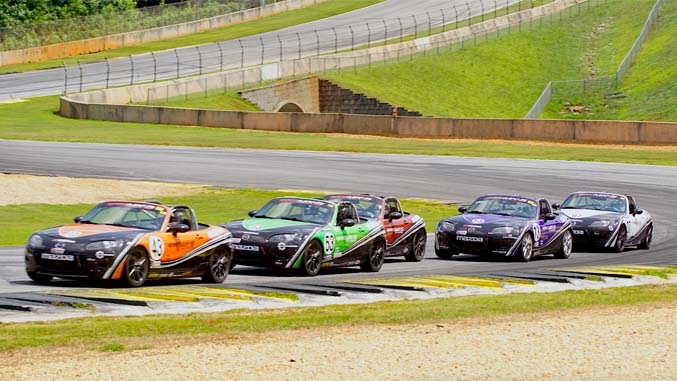 Spec MX-5, LLC, the operators of the Spec MX-5 Challenge Series, have announced specifications and pricing for 2019 new build race cars. The series also described its plans for the car in future years.
Competitive Pricing
New cars will be available for $36,800 from either of the series-approved builders, Atlanta Speedwerks and Winding Road Racing. Buyers will have a range of options to choose from, including seat, harness, and paint to suit driver needs. This pricing is consistent with the other costs of the Spec MX-5 Challenge Series, which are typically mid-way between Spec Miata racing and Global MX-5 Cup racing.
The Spec MX-5 race car is based on the NC-generation (2006-2014) Mazda MX-5. This is different from both the Spec Miata platform (1990-2005 cars) and the current (2016-present) Global MX-5 Cup car. Todd Lamb, one of the Spec MX-5 Challenge principals, observed: "we chose the NC platform because a) it allows a tightly-controlled spec series, b) it allows relatively low-cost cars to be built and run and c) the platform has significant development capability so that it can run in multiple classes."
The Spec MX-5 race car uses the renowned Mazda MZR engine, which has a long history in the Continental Sports Car Challenge and the IMSA Lites program. As currently tuned, the Spec MX-5 delivers about 160 hp. With the race suspension and tires used in the series, Spec MX-5 cars are significantly faster than Spec Miatas and just slightly slower than Global MX-5 Cup cars from 2016-2018.
A complete specification for new builds is available at SpecMX-5.com.
Future-Proofing
In keeping with the goal of making Spec MX-5 racing popular in the long run, at both the club and pro level, Spec MX-5 and other industry officials have also developed a migration path for the car in future years. Tom Martin, Spec MX-5 principal, said "we – together with our partners – think that Spec MX-5 racing at the amateur and pro level will form the next big wave of production-based race cars. We are not just throwing a car out there and hoping for the best; instead, we're building a multi-year joint pro-am car spec, a supply chain for parts, a network of race shops, a supporting pro series and more." Industry players say that making this vision happen requires well-controlled specifications, relatively low build, and run costs, and the ability to run in a variety of events. For example, new 2019 Spec MX-5 race cars will have a simple migration path to the 2020 specification and beyond. The intent is that Spec MX-5 pro racing will continue to be exciting while it is very closely aligned with NASA and SCCA rules. "For the classes built around Spec MX-5 to really thrive over the next 5 years, we need hundreds of amateur racers running the cars. In the present, we've already demonstrated that pro racers running Spec MX-5 cars can put on quite a show, with good car counts, so expanding that is what we're focused on for 2019."
Soup To Nuts Service, Or Just Soup
Buyers of new cars can choose to run them with any of several service packages available from Spec MX-5 Challenge approved race shops:
. Full arrive & drive. Car owners get entry, prep, transport, setup, wheels, tires, fuel, fluids, pads, parts inventory, tools, and trackside repair services.
. Basic DIY. This covers entry and required dry tires, while car owners can do all the work of transporting, prepping and running the car at the track.
To enquire about purchasing a 2019 Spec MX-5 race car, contact:
Tom Martin – [email protected]
Spec MX-5 Videos:
Visit the Spec MX-5 YouTube Channel for more videos.
Spec MX-5 Challenge Driver Application.
Race Photos:
Interested in participating in the Spec MX-5 Challenge, but have questions? Contact us.