2014 Ford Fiesta To Get Three-Cylinder EcoBoost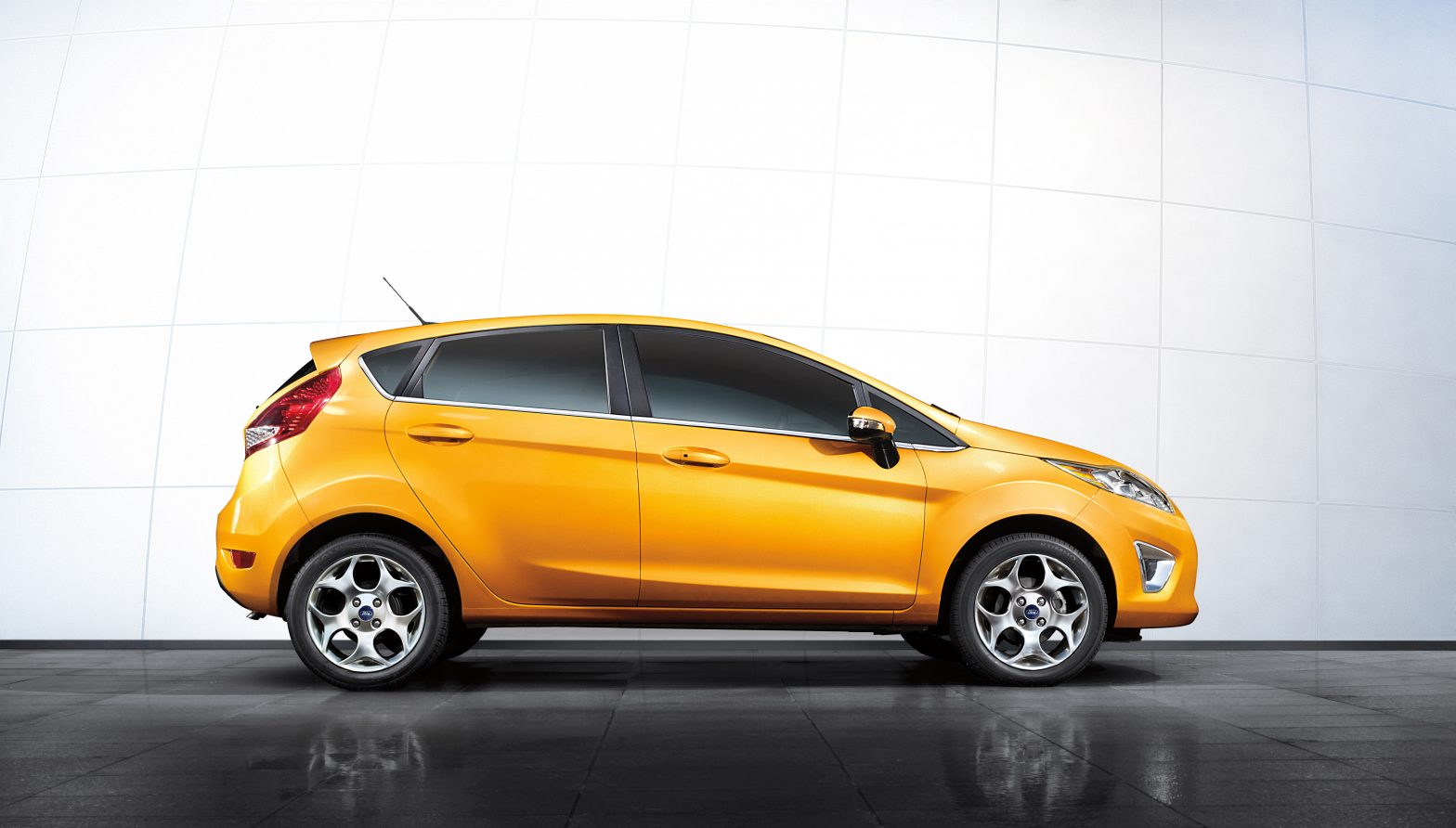 So yeah,
we called this one
. Ford has announced plans to introduce its 1.0-liter, three-cylinder EcoBoost engine to the US market, starting with the 2014
Fiesta
. The engine, so small
it fits in a carry-on bag
, should deliver 123 horsepower and 148 pound-feet of torque. That's three more horsepower and a whopping 36 more pound-feet of torque than the Fiesta's current 1.6-liter four-pot.
With a 25-percent reduction in moving parts, it's expected that the three-cylinder should significantly improve the Fiesta's economy while reducing emissions. In fact, Ford's expecting it to be the most fuel-efficient, non-hybrid vehicle in the US. Based on our drive time of the three-pot, it came across as a quiet but potent powerplant. That was under the hood of a larger Focus, so we're excited to see what it can do with less weight to haul about.
As for pricing, there's no official word, but it's strongly suggested that opting for the smallest EcoBoost won't break the bank. Adding an EcoBoost in most Ford vehicles costs about $995. We'd be quite surprised if the Fiesta's three-pot would cost more than that.
While some Americans might scoff at a three-cylinder, Ford's seen a lot of success with this engine in Europe. 30 percent of all European Focus sales feature the 1.0-liter EcoBoost, while the engine itself has racked up no shortage of awards in the Old Country.
While we know the 1.0-liter EcoBoost will be available in the 2014 Fiesta, we can't say whether that'll happen in the fall of 2013 or in early to mid 2014. We'll have more info as it becomes available. Until then, what do you think of this new engine? We drove it briefly and were quite fond of it, but do you think such a small engine has a chance in the North American market? Let us know in the comments section.
Please scroll down for the official press release from Ford.
Award-Winning 1.0-Liter EcoBoost Engine Coming to North America Next Year in the New Ford Fiesta
Ford's newest EcoBoost® engine is expected to deliver the best fuel economy of any non-hybrid car sold in America
Ford's patented 1.0-liter EcoBoost engine will be the most refined and powerful in its class
Global sales of EcoBoost engines are at 520,000 units and growing fast
DEARBORN, Mich., Nov. 19, 2012 – The new 2014 Ford Fiesta on sale next year will be the first vehicle available in the United States with Ford's award-winning 1.0-liter EcoBoost® engine. Though the car has not yet undergone EPA testing, it is expected to be certified as the most fuel-efficient non-hybrid car available in the United States.
The smallest engine available in its class, Ford's patented 1.0-liter EcoBoost won't be short on power, torque or refinement. The smooth, quiet-running engine is projected to produce 123 horsepower and peak torque of 148 lb.-ft.
"Customers are going to be pleasantly surprised at what the smallest member of the EcoBoost engine family can do," said Joe Bakaj, Ford vice president of Powertrain Engineering. "Most customers are not going to be thinking about the number of cylinders under the hood when they drive the new 1.0-liter EcoBoost Fiesta. They'll notice an extremely smooth and quiet idle, terrific acceleration accompanied by a sporty sound at high revs, and – most importantly – outstanding fuel economy."
The newest member of Ford's global EcoBoost engine family, the 1.0-liter will join the most fuel-efficient lineup in Ford Motor Company's history. Next year, Ford will offer eight vehicles rated at 40 mpg or higher – double today's total, and more than any other automaker. Ford tops Toyota in fuel economy in every segment in which both companies compete.
The 1.0-liter EcoBoost engine in the Fiesta expands Ford's power of choice strategy by giving customers interested in a very fuel-efficient car a new alternative.
Pricing is not yet set, but as with the other EcoBoost engines available across Ford's car, truck, SUV and crossover lineup, the 1.0-liter will be a very affordable option. Adding an EcoBoost engine costs about $995 in most Ford vehicles.
"Many customers would like the fuel efficiency of a modern diesel or a hybrid, but can't stretch their budgets to cover the cost premium," said Bakaj. "That's where the EcoBoost Fiesta fits in. It will offer a highly fuel-efficient alternative at a lower cost."
Newest EcoBoost engine – a game changer
The 1.0-liter EcoBoost engine is unlike any engine in Ford's 109-year history. Not only is it the company's first three-cylinder engine, but it debuts many new technologies never before seen in a Ford vehicle. These include an offset crankshaft; variable oil pump; split cooling system; external-balancing, super-small, responsive turbocharger; and a timing belt immersed in engine oil.
The result of the 1.0-liter's advanced design is a quiet, smooth-running engine that develops roughly the same output as a 1.6-liter four-cylinder. But with about 25 percent fewer moving parts, the 1.0-liter EcoBoost is able to deliver higher fuel economy and lower emissions.
"We really focused on reducing the amount of energy the 1.0-liter EcoBoost engine uses by paying very close attention to such things as bearing sizes, piston ring tension and thermal management," said Bob Fascetti, director, Ford Global Engine Engineering. "For instance, we decided not to use a balance shaft in the engine because it adds weight and increases friction or parasitic losses. So we balance the engine externally with the crankshaft pulley and flywheel."
Super-successful debut
Since being launched in the spring in the Ford Focus in Europe, the 1.0-liter EcoBoost engine has established itself as one of the most noteworthy engines of 2012. In April it was voted International Engine of the Year by a jury of 76 journalists from 36 countries. In June it set 16 land speed records at a racetrack in France. In October the 1.0-liter EcoBoost was given a Breakthrough Award from Popular Mechanics magazine, and this month the engine won the prestigious DeWar Trophy in Great Britain.
In Europe, where the diesel engine is king, the 1.0-liter engine now accounts for about 30 percent of sales in the Focus. The 1.0-liter EcoBoost engine is just now launching in the B-MAX and C-MAX, and will also be offered in the all-new Mondeo.
The 1.0-liter engine is the fourth member of Ford's global EcoBoost engine family. Since launch in 2009, Ford has sold more than 520,000 EcoBoost-equipped vehicles globally and expects volume to grow to 1.6 million in 2013.
Ford has more than 125 patents on its EcoBoost engine technology, and the number of patents continues to grow.
EcoBoost combines turbocharging with gasoline direct injection and variable valve timing to allow a smaller engine to replace a larger one with no loss of performance and at least a 20 percent gain in fuel economy.
"We're extremely proud of the amazing success the 1.0-liter EcoBoost engine has achieved in such a short time," said Bakaj. "We think it will do extremely well here in the United States. With the 3.5-liter EcoBoost engine in the F-150, we learned customers will embrace smaller engines as long as you don't ask them to sacrifice performance. The 1.0-liter will deliver three things that matter most to our customers – value for the dollar, terrific fuel economy and great performance."