2011 Mustang GT Gets RTR Package, Inspired By Formula Drift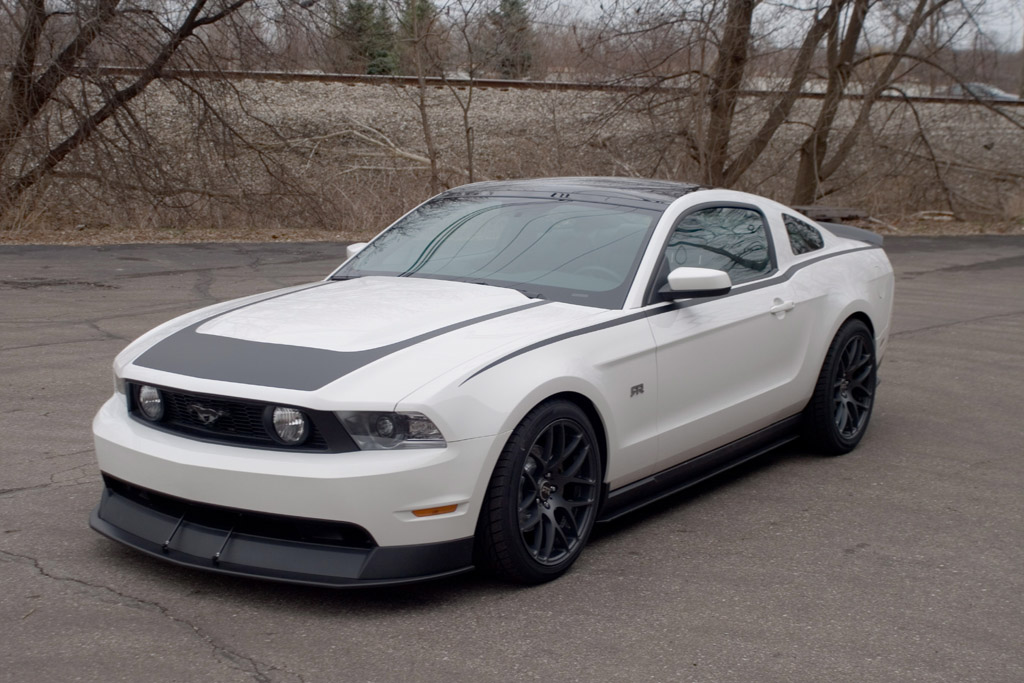 If you want a Mustang that stands out from the crowd, but are afraid or unwilling to dive into the aftermarket, Vaughn Gittin Jr., from the Formula Drift Series might have an answer for you.
Gittin Jr. has teamed up with Ford to introduce the Mustang RTR. A dealer-installed package, this new 'Stang features a nice array of appearance upgrades and mechanical improvements.
On the functional side, super-sticky Falken FK-452 tires are wrapped around nineteen-inch wheels. Said wheels are mounted to a Ford Racing handling pack that features upgraded dampers and springs. An exhaust from Ford Racing gives the RTR a unique sound compared to its standard 5.0-liter brethren.
On the appearance side, a prominent chin spoiler leads back towards a rear diffuser and an aluminum spoiler. A unique stripe package further differentiates the RTR. The interior is adorned with an RTR-specific shift knob, floor mats, and assorted "RTR" logos.
As of right now, the RTR package can only be had on the 5.0-liter Mustang GTs, however a V-6 package should be available in "late 2010." There is no word on pricing yet, but considering it is a dealer-installed package (expect to be charged labor on top of the package price), it probably won't be cheap. Look for the RTR package at select Ford dealerships soon.
Please scroll down for official press release from Ford.
NEW VAUGHN GITTIN JR.-INSPIRED MUSTANG RTR PACKAGE DELIVERS PERFORMANCE, APPEARANCE
SUMMARY
Mustang RTR, a new dealer-installed package for the 2011 Ford Mustang, delivers performance and appearance upgrades for spirited driving. The package was introduced by Vaughn Gittin Jr., driver of the Monster Energy/Falken Tire 2011 Mustang GT in the Formula Drift series.
The RTR package comes complete with Ford Racing Falken FK-452 tires, unique 19-inch wheels, and RTR-exclusive interior details and striping scheme, and is available at select dealerships.
The introduction of Mustang RTR also plays off the success Gittin is enjoying on the Formula Drift circuit. Winner of the season-opening Long Beach event and runner-up in Atlanta, he has a significant points lead in this year's Formula Drift championship.
CONTEXT / BACKGROUND
Professional driver Vaughn Gittin Jr. knows what Mustangs can do – and he wanted to share that knowledge with Mustang enthusiasts who appreciate the car's power and capability. Mustang RTR is Gittin Jr.'s vision for introducing a new generation of owners to Mustang, while catering to traditional Mustang enthusiasts. He helped develop the RTR package, which provides performance and appearance upgrades, to allow pony car lovers to make the most of their driving experience.
DETAILS
The 2011 Ford Mustang is known for its incredible performance and impressive looks, and now there's a new package that takes those qualities one step further – Mustang RTR. The dealer-installed package from Vaughn Gittin Jr., driver of the Monster Energy/Falken Tire 2011 Mustang GT in Formula Drift, and Ford Racing Performance Parts, is aimed toward a new generation of Mustang owners.
The performance upgrade comes with Ford Racing calibration with a high-flow filter and high-performance Falken FK-452 tires, which offer precise handling from five linear ribs and three-dimensional rounded blocks. Stiffer, wide steel belts offer greater tread rigidity, superior grip and high-speed stability, and high-tension carcass and high turn-up construction increase handling response and high-speed stability.
Other performance upgrades include:
Unique Mustang RTR 19×9.5-inch wheels

Ford Racing mufflers

Ford Racing handling pack (performance-tuned dampers and springs)
Mustang RTR commands attention with unique styling that is highlighted by a chin spoiler with splitter and supports, rocker splitters, a rear diffuser and aluminum rear spoiler. A distinctive Mustang RTR stripe scheme adds more distinction. The interior showcases RTR-exclusive floor mats, shifter knob and emblems.
The package was designed and manufactured in partnership with Michigan-based Classic Design Concepts, which has a reputation for quality and style. The Mustang RTR package is available at select dealerships for the 2011 Mustang GT. A Mustang V-6 package will be available in late 2010. For more information on the Mustang RTR package, visit www.mustangrtr.com.
Taking the lead
The introduction of Mustang RTR also plays off the success Gittin is enjoying in Formula Drift, with a significant lead in the championship point standings. Driving the Monster Energy/ Falken Tire 2011 Ford Mustang GT, Gittin took first place at the opening competition in Long Beach, Calif., and most recently placed second at Road Atlanta.
QUOTE
"Vaughn's goal was to introduce an exciting new package to the Mustang world that resonates with both the younger audience and with traditional muscle car enthusiasts as well. By partnering with Ford Racing to develop the Mustang RTR, he has achieved that goal with ease and illustrates how universal Mustang's appeal is."
– Mickey Matus, Ford Performance Group marketing manager
About Ford Motor Company
Ford Motor Company, a global automotive industry leader based in Dearborn, Mich., manufactures or distributes automobiles across six continents. With about 176,000 employees and about 80 plants worldwide, the company's automotive brands include Ford, Lincoln, Mercury and, until its sale, Volvo. The company provides financial services through Ford Motor Credit Company. For more information regarding Ford's products, please visit www.ford.com.
June 11, 2010