2011 Hennessey Venom GT, Chassis #01 Delivered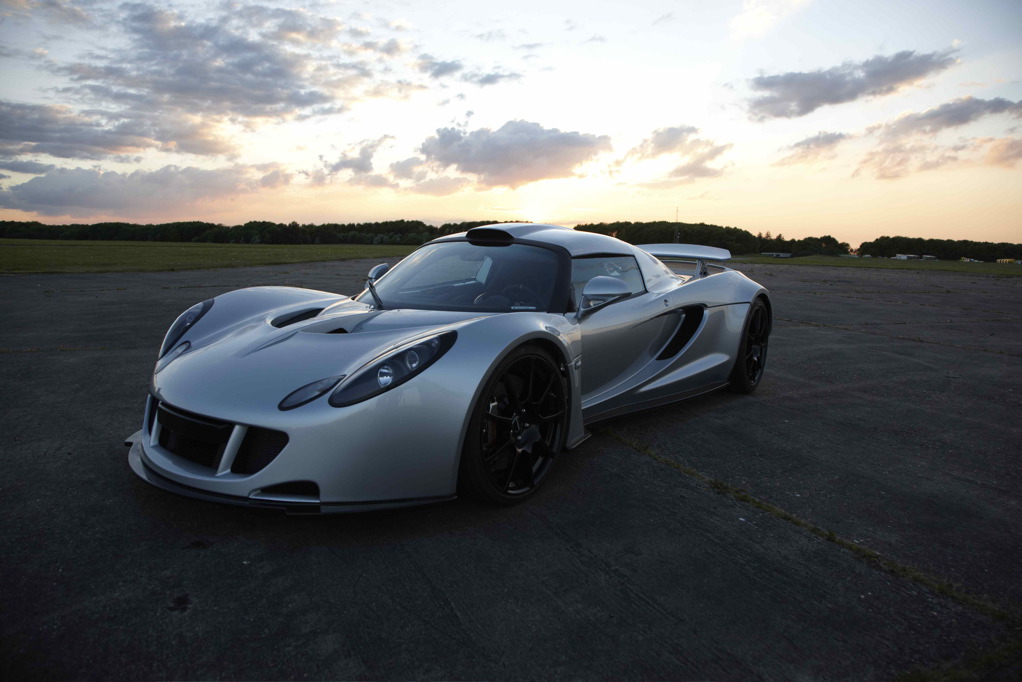 Hennessey Performance announced delivery of the first 2011 Venom GT to a customer in the United Arab Emirates.
Derived from a Lotus Elise, and powered by a Chevrolet engine, the Venom GT weighs just 2685 pounds. It's LS9 V-8 produces 745 horsepower, while biturbo variants produce 1000 and 1200 horsepower. (In case you were wondering, the GT with serial number 01 sold with the most powerful version of the engine.) That mid-engine power is put to the wheels via a Ricardo six-speed manual transmission.
With that sort of power-to-weight ratio, it hits 62 miles per hour in 2.9 seconds, and it does that and more in first gear. It then climbs to an uncanny top speed of 260 miles per hour, according to Hennessey.
Scroll down for all the dirty details in the official press release, below.
SEALY, TEXAS & SILVERSTONE, ENGLAND, June 14, 2010 – Hennessey Performance is proud to announce the delivery of the company's first production-ready Venom GT supercar. Having left its UK production facility, the Chassis Number 01 Venom GT is headed to the UAE where it is to be delivered to its new owner by Hennessey's exclusive Middle East distributor, Al DiMora of DiMora Motorcar.
"This is the fulfillment of a dream that I have had since I was a kid", says company founder, John Hennessey. "But it is also just the beginning as we begin to demonstrate the performance capabilities of the Venom GT in the near future".
The top tier model, the first production Venom is powered by a twin turbocharged Chevrolet LS-series aluminum V8 producing 1,200 hp and 1,135 lb-ft torque mated to a 6-speed Ricardo manual transaxle (the same as found in the Ford GT). Boasting a dry weight of just 2,548 lbs and a curb weight of 2,685 lbs with a full tank of fuel, the car delivers on its promise of an astounding power-to-weight ratio.
Harnessing this power is a chassis that is a far cry from the Lotus Elise which it's derived. Aside from reusing the windshield, doors, roof, floor, dash and various trim components, the Venom GT's design and construction has been engineered from the ground up for a truly unique supercar. An all-new front and rear space frame and suspension is cloaked in a new carbon fiber body, sporting an adjustable rear wing for exceptional high-speed stability.
Production levels of the Venom GT range from the base 725 hp supercharged LS9 V8 unveiled in the original prototype car to 1,000 hp and 1,200 hp twin turbo V8 variants. Each vehicle is painted and its interior crafted to each owner's specification, offering the opportunity for one-off exclusivity.
Each Venom GT is built in Silverstone, England, with power plants sourced from HPE's Texas headquarters. Available in both left and right-hand drive configuration, the Venom GT is an international supercar fusing the power and emotion of American V8 muscle with the refinement of Britain's renowned racing heritage.
For Purchasing Details, Please Contact Our Sales Department at [email protected].
2011 Hennessey Venom GT Specifications
Engine: Chevrolet LS V8
Block: Aluminum
Size: 376 CID (6.2 Liter)
Position: Mid Longitudinal
Compression: 8.8:1
Redline: 7,200 rpm
Forced Induction: Twin Ball Bearing Turbochargers
Oiling System: Dry Sump
Valvetrain: OHV, 2 Valves per Cylinder
Fuel System: Sequential Multi-Port Electronic Fuel Injection
Power
Horsepower: 1,030 bhp @ 6,500 rpm (933 rear wheel hp)
Torque: 972 lb-ft @ 4,200 rpm (874 rear wheel lb-ft)
Specific Output: 166 bhp / Liter
BHP / Weight: 767.23 hp per ton (2.61 lbs / hp)
Boost: 16 psi (1.1 bar)
Fuel: 93 octane
Transmission
Type: Ricardo 6-Speed Manual
Gear Ratios: 2.61:1, 1.71:1, 1.23:1, 0.94:1, 0.77:1; 0.63:1
Final Drive: 3.36:1
Speed by Gear
Redline: 7,200 rpm
1st: 68 mph
2nd: 104
3rd: 145
4th: 190
5th: 232
6th: 260 (6,600 rpm)
Performance
0 – 100 km/h: 2.9 sec
0 – 200 km/h: 7.0 sec
0 – 300 km/h: 14.9 sec
Aerodynamics
Drag Coefficient: 0.36 (rear wing down); 0.43 (wing raised)
Downforce: 1,492 lbs @ 150 mph
Brakes
Calipers: Brembo 6-piston (all 4 corners)
Rotors: 15.0 x 1.34 in Carbon Ceramic (all 4 corners)
Suspension
Type: KW Variant 3 Adjustable Coilover (all 4 corners)
Ride Height: Adjustable by 2.4 inches (60 mm)
Dimensions
Length: 15.27 ft (4,655 mm)
Width: 6.43 ft (1,960 mm)
Wheelbase: 110.24 in (2,800 mm)
Track – Front: 63.46 in (1,612 mm)
Track – Rear: 63.15 in (1,604 mm)
Weight & Measurements
Curb Weight: 2,685 lbs (1,220 kilo)
Dry Weight: 2,524 lbs (1,147 kilo)
F/R Balance: 37/63 (empty); 44/56 (with driver & passenger)
Fuel Capacity: 18.5 gal (70 liter)
Wheels & Tires
Tire – Front: 235/30/20 Michelin PS2
Tire – Rear: 335/30/20 Michelin PS2
Wheel – Front: 8.5 x 20 in
Wheel – Rear: 12.5 x 20 in