2011 Ford Explorer Improves Fuel Economy 30 Percent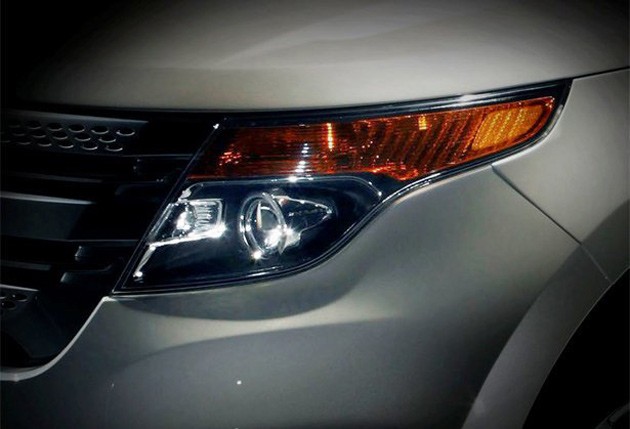 The 2011 Explorer is a big deal for Ford, as it looks to change what was once a gas-guzzling truck-based SUV into a more efficient, unibody crossover. One of the stars of that effort is the all-new 2.0-liter Ecoboost I-4, which is set to take over for the previous generation's 4.0-liter V-6.
The old 4.0-liter motor made 210 horsepower and 245 pound-feet of torque while consuming a gallon of gas for every fourteen miles of city driving and every twenty miles of highway driving. Ford claims the 2.0T will see an improvement in fuel economy of "at least thirty percent" over the outgoing V-6. That means a jump to eighteen miles per gallon in the city, while traveling on the highway should net twenty-six miles per gallon. Those are some pretty healthy numbers, and after EPA testing, they may get better.
Ford is pretty proud of this engine, so expect to see it motivating some other models. It already powers the Euro-market Mondeo and S-Max, while it could also see duty in a base version of the Edge, Fusion, Focus, and (hopefully) a hotted-up version of the Fiesta.
We will have more details on the new Explorer tomorrow when we get our first look. In the meantime, check out our compilation of teaser shots for the new Explorer in the gallery.
Please scroll down for the official press release from Ford.
2011 FORD EXPLORER WITH ECOBOOST LEADS SEGMENT; DELIVERING AT LEAST 30 PERCENT BETTER FUEL ECONOMY
All-new Ford Explorer SUV offers best-in-class fuel economy with technologically advanced powertrains featuring multiple enhancements to improve mechanical efficiency
Explorer offers an optional 2.0-liter EcoBoost™ I-4 engine delivering V6 power with four-cylinder fuel efficiency
Electric power-assisted steering, battery management, fast engine warm-up and the first North American Ford application of a variable-displacement air conditioning compressor all combine to improve drivability, increase efficiency and save fuel.
DEARBORN, Mich., July 19, 2010 – The Ford Explorer has been reinvented to shatter long-held myths about SUV fuel efficiency and performance.
The 2011 model equipped with an optional 2.0-liter EcoBoost™ I-4 engine will be the new class leader in the mid-size SUV segment, achieving at least a 30 percent increase in fuel efficiency compared with the current V-6-powered Explorer.
"The all-new Explorer will give a huge universe of existing and prospective customers the capability they expect and the luxury and convenience they want, all combined with the fuel economy they need," said Mark Fields, Ford president of The Americas.
The new Explorer, due in Ford showrooms later this year, has added comfort and convenience features, while overall vehicle weight is reduced compared to the previous model. Extensive use of lighter and stronger high-strength steels such as boron add durability while saving weight. An aluminum hood is used, while a one-piece composite front bolster – the radiator support between engine and grille – is 65 percent lighter. Lighter weight equates to fuel and money saved.
Sophisticated engine controls and advanced technologies are key contributors to the Explorer's improved fuel economy. Electric power-assisted steering, battery management, fast engine warm-up and aggressive deceleration fuel shutoff all combine to improve drive dynamics and save fuel. Explorer also features the first North American Ford application of a variable-displacement air conditioning compressor that reduces parasitic engine drag.
Powertrain advancements like twin independent variable camshaft timing and six-speed automatic transmissions help Explorer deliver responsive performance when needed combined with low-rpm efficiency when cruising.
SUV buyers placing highest priority on fuel economy can choose the available EcoBoost I-4. Delivering the power of a normally aspirated V6, this advanced engine pairs a turbocharger with direct gasoline injection to provide SUV buyers with projected class-leading fuel economy – pending EPA certification – with no compromise in performance.
Finally, all of these fuel economy enhancements are wrapped in a smooth, distinctive Explorer design that was extensively refined in wind tunnel testing. Designers and aerodynamicists collaborated to reshape sideview mirrors and harmonize the front air dam with the rear liftgate spoiler to significantly increase fuel efficiency on the highway. Reduced wind noise at speed is an incremental benefit.
"Explorer owners told us they want capability with convenience, and improved fuel economy without compromised performance," Fields said. "We believe we've hit the mark with the next-generation Explorer. It has the potential to change perceptions of what a modern SUV is all about."
# # #
About Ford Motor Company
Ford Motor Company, a global automotive industry leader based in Dearborn, Mich., manufactures or distributes automobiles across six continents. With about 176,000 employees and about 80 plants worldwide, the company's automotive brands include Ford, Lincoln and Mercury, production of which has been announced by the company to be ending in the fourth quarter of 2010, and, until its sale, Volvo. The company provides financial services through Ford Motor Credit Company. For more information regarding Ford's products, please visit www.ford.com.