1000-Horsepower Hyundai Genesis Coupe Headed To SEMA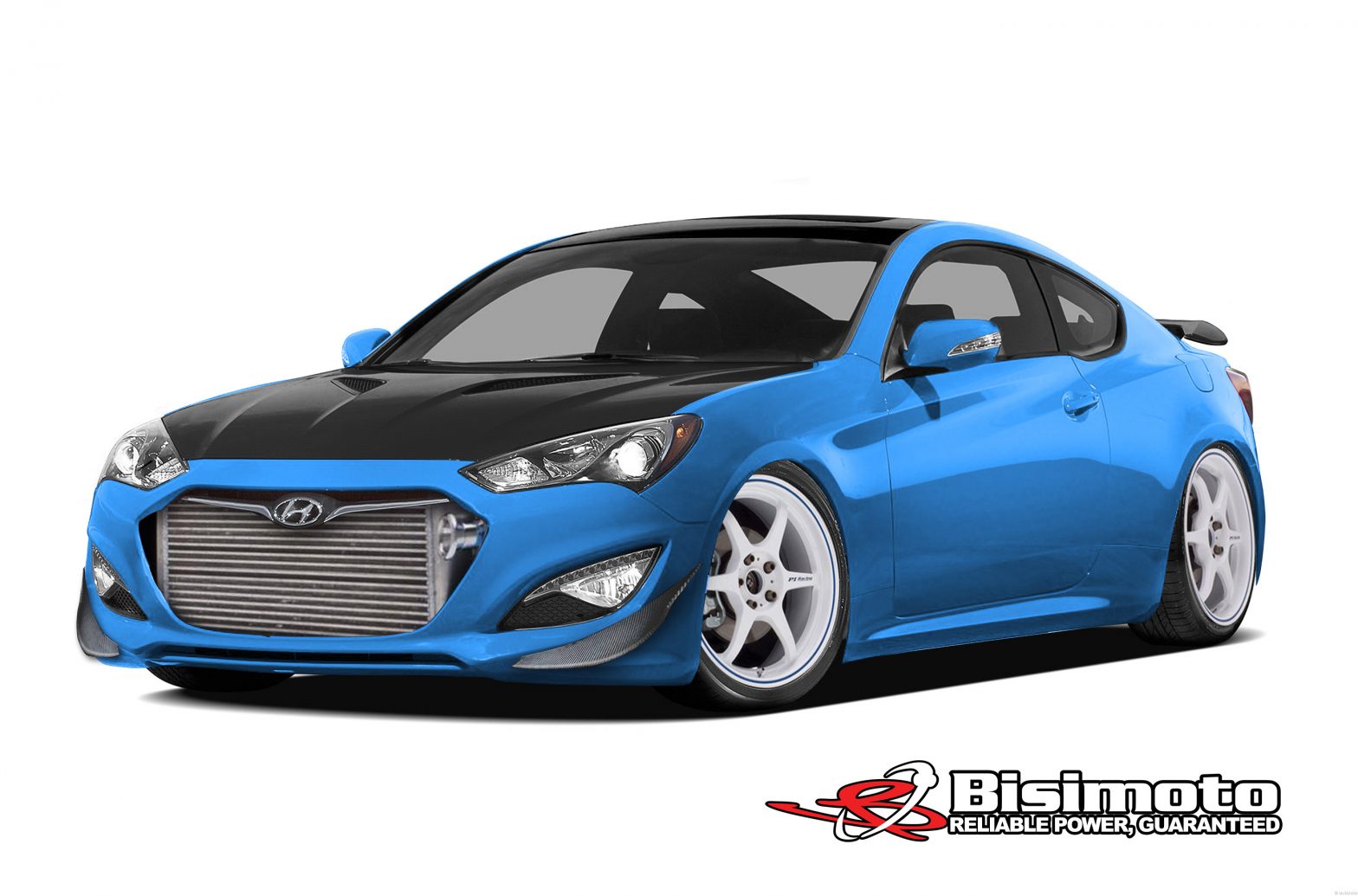 Hyundai is teaming up with Bisimoto Engineering to wring 1000 horsepower out of a Lambda 3.8-liter V-6 in a Genesis Coupe.
To do this, Bisimoto started by adding two turbochargers developed in conjunction with Turbonetics. Bisimoto also added its own steel connecting rods, intake gasket, injectors and camshafts.
Many other components from various sources were needed to make this engine create this power, and to be strong enough to handle it. These include Arias forged pistons, Supertech valvetrain, Magnafuel fuel pump, Spearco intercooler, Griffin radiator, and a lot more.
The engine wasn't the only thing modified, though. This Genny Coupe gets a Bisimoto roll cage, plus a new coilover suspension, axles and drive shaft, wheels, and tires sourced from other companies. Other modifications include a stainless steel exhaust, carbon fiber hood, racing seats with harness, a new dash, braided lines, and a dry cell battery.
The Bisimoto Hyundai Genesis Coupe's official debut is at the SEMA show in Las Vegas, beginning November 5.
Scroll down for more details in the press release from Hyundai.
HYUNDAI PARTNERS WITH POWERTRAIN GURU BISIMOTO TO CREATE 1,000 HORSEPOWER SEMA SHOW GENESIS COUPE
Bisimoto Engineering Leverages the Proven Durability of Stock Hyundai Powerplant to Create Monster-powered Genesis Coupe Variant
COSTA MESA, Calif., Sept. 23, 2013 – Hyundai is again partnering with the engine wizards of Bisimoto Engineering to create a 1,000 horsepower Genesis Coupe for the 2013 SEMA show in Las Vegas. Bisimoto Engineering is known for extracting awesome, reliable power out of production-grade, everyday powerplants, and the Bisimoto 2013 Hyundai Genesis Coupe is no exception, with 1,000 horsepower generated from a turbocharged Hyundai-factory-based 3.8-liter V6 engine. The Bisimoto powertrain uses newly-designed internal parts, using the naturally-aspirated Genesis Coupe 3.8 R-Spec engine as its core building block. The Bisimoto concept is designed for the reliability of a street car but with the outrageous power of a no-holds-barred racer.
"The key to producing reliable, high-horsepower engines goes well beyond the design, engineering and fabrication of performance parts. The core powerplant must be strong enough to withstand advanced modifications. The Genesis Coupe 3.8-liter Lambda engine is a thoroughly robust powerplant, and Bisimoto Engineering is excited to develop it to its full potential for the rigors of competitive motorsport," said Bisi Ezerioha, owner of Bisimoto Engineering.
Complementing the extensive work underhood, Bisimoto created a custom Electric Blue paint, Denmatic design graphics package, ARK hood and Carbon Fiber decklid. From the rear view, a Burns stainless exhaust and Bisimoto rear badge round out the visual impact.
3.8-LITER LAMBDA ENGINE MODIFICATIONS
Stock Hyundai Lambda 3.8-liter V6 engine
Bisimoto-developed internal components:

Steel connecting rods
Intake gasket
Injectors
Level 2.4 camshafts
Twin Bisimoto/Turbonetics BTX6462 turbochargers

Godzilla blow-off valve
Dual RG45 wastegate
Arias forged pistons
Golden Eagle sleeves
WPC metal surface treatment
Supertech valvetrain
Vibrant VanJen clamps and stainless hardware
Magnafuel 750 fuel pump
ARP head, main, and wheel studs
Portflow custom headwork
AEM Infinity EMS
Custom smart ignition coils
NGK Iridium spark plugs
Puröl Elite synthetic oil
Spearco intercooler
Griffin radiator
Kinsler fuel filters
Bisimoto-spec Action Ironman clutch
CHASSIS MODIFICATIONS
Bisimoto roll cage
Progress coilover suspension and anti-roll bars
Drive Shaft Shop 5.9 Axles and driveshaft
Incurve 20×9.5 and 20×11 aluminum wheels
Toyo Tires R888 R-Compound tires
INTERIOR MODIFICATIONS
Buddy Club racing seats and harness
Bisimoto reservoir socks
Racepack IQ3 dash
Bisimoto oil cap
Odyssey dry cell battery
Rywire mil-spec harness
G&J braided lines
HYUNDAI MOTOR AMERICA
Hyundai Motor America, headquartered in Costa Mesa, Calif., is a subsidiary of Hyundai Motor Co. of Korea. Hyundai vehicles are distributed throughout the United States by Hyundai Motor America and are sold and serviced through more than 820 dealerships nationwide. All Hyundai vehicles sold in the U.S. are covered by the Hyundai Assurance program, which includes the 5-year/60,000-mile fully-transferable new vehicle limited warranty, Hyundai's 10-year/100,000-mile powertrain limited warranty and five years of complimentary Roadside Assistance. Hyundai Assurance includes Assurance Connected Care that provides owners of Hyundai models equipped with the Hyundai Blue Link telematics system with proactive safety and car care services complimentary for three years. These services include Automatic Collision Notification, Enhanced Roadside Assistance, Vehicle Diagnostic Alert, Monthly Vehicle Health Report and in-vehicle service scheduling.