WR TV: ZF TechAcademy at Donaldson Air Force Base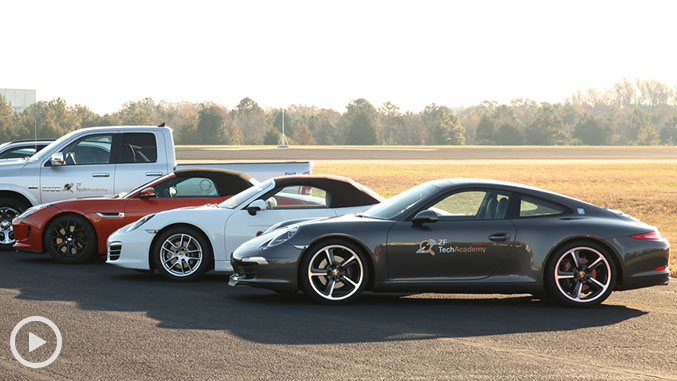 ZF Friedrichshafen AG, also known as
ZF Group
, is an engineering company based in Baden-Württemberg, Germany. Founded in 1915, ZF was initially a producer of gears for zeppelins and other airships. These days ZF designs and builds various parts and components for many auto manufacturers across the industry, including Jaguar, Chrysler, Audi, Porsche and many others. Recently, ZF invited journalists to their TechAcademy media event – a technical showcase of ZF's newest chassis and driveline technologies, both as seen in use in production vehicles and explained in detail through classroom instruction. Here we've collected a trio of videos shot during our stint on the driveline road course, held on the Donaldson Air Force Base in Greenville, South Carolina.
(Driveline road course outlined in red)
The driveline course gave journalists a chance to evaluate each car in a variety of situations, including the wide open throttle sprint offered by the runway that starts the course, and the wide scope of corners offered by the course's progression through various service roads connected to that runway. Perhaps unsurprisingly, the first vehicle we hopped in for the road course evaluation was the 2014 Porsche 911 Carrera.
Coated in Agate Grey Metallic paint and equipped with the ZF-supplied MT11 seven speed manual gearbox, the Carrera's 3.4-liter horizontally opposed flat-six engine makes 350 horsepower at 7400 rpm and 287 pound-feet of torque at 5600 rpm. ZF also supplies the 911's Servolectric electric power steering unit, as well as the CDC electronic damping system used in the optional Porsche Active Suspension Management system, which was fitted to this particular 911:
Next we took a spin in the 911's younger sibling, the 2014 Porsche Boxster.
Equipped with a 2.7-liter flat-six engine making 265 horsepower at 6700 rpm and 206 pound-feet of torque at 4500 rpm, the Boxster offers a substantially different driving experience when compared to the 911, not only because of its mid-engine layout (as opposed to the 911's rear-engine layout), but also because this Boxster is fitted with the seven-speed Porsche Doppelkupplung dual-clutch transmission, also known as PDK.
Co-developed with ZF, the PDK is a legendary gearbox for good reason – it's simply one of the quickest, most responsive, seamless, and near-clairvoyant transmissions available today. Like the 911, the Boxster also features ZF's Servolectric electric power steering unit, as well as other chassis and driveline components from ZF:
For our third evaluation we have the 2014 Jaguar F-Type V6 S Convertible.
By now the F-Type feels like than old friend – read our driving impressions of the R Coupe and V8 S Convertible
here
and
here
. For 2014, all Jaguar F-Type models are equipped with ZF's 8-speed automatic transmission, though next year buyers will have
a few more driveline choices
. The ZF 8-speed is a gearbox we've praised many times in the past – this transmission can be found in numerous vehicles across the industry today, including many Audi, BMW, and Chrysler models. As much fun as the F-Type's 3.0-liter, 380 horsepower supercharged V6 is, it's the F-Type's active exhaust system (and this particular model's optional Sport Exhaust system) that immediately dominates any conversation. See for yourself:
Have you subscribed to the
Winding Road Magazine YouTube channel
yet? We post new videos like these every week, so give us a click if you want to make sure you don't miss any of the latest clips.