Winding Road Racing's Contingency Sponsorship Program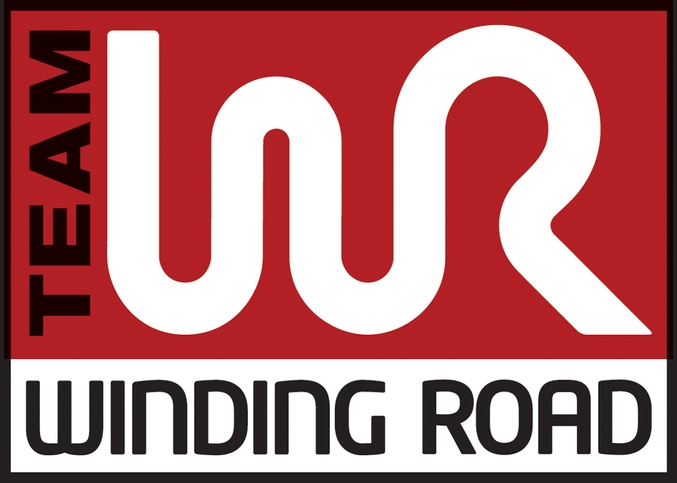 We are excited to introduce the 2014 Winding Road Racing Contingency Sponsorship Program. Our objective, as always, is to support amateur road racing in the United States. And we want to introduce our brand to as many racers as possible.
What We Do For You
We pay you, in the form of Winding Road Racing store credits, when you accomplish certain results. When you win, you get store credits, for example. And, because we know the battle farther back in the pack can be just as intense as it is at the front, you get store credits when you finish 5th or 10th.
But that's not all. We want to help novices, so you earn store credit when you get your license with a new sanctioning body. And to help all racers as they go up the learning curve, we give store credits every time you finish a race.
We also want to publicize your exploits, so we credit your account when you send us a photo of your car (displaying WRR decals, as described below). And we credit you when you
send us footage from your races
.
What You Do For Us
We send you a sponsorship program decal kit to put on your car in specified places. There are two levels to the program, depending on how much of your livery you'd like to devote to WRR. The decals help you help us promote Winding Road Racing at the track and in the media.
We'd also like you to be an ambassador for Winding Road Racing. Tell your racing friends about the program. And be available for pre-race or post-race interviews.
We encourage you to buy your race gear from us as well. And we'd like feedback on products you'd like us to carry or improvements we can make to our customer service.
Details of the program payouts, graphics and administration are below.
2014 WRR Contingency Sponsorship Program

Payout Levels:

1st Place(1)

5th Place(2)

10th Place(3)

Become Licensed(4)

Submit Photo of Decal on Car(5)

Submit Video of 1st Lap(5)

Finish a Race(6)

Level 1 Sponsorship:

$75

$50

$25

$25

$10

N/A

$10

Level 2 Sponsorship:

$125

$100

$75

$25

$10

$25

$10

Contact

Duration:

January 1, 2014 – December 31, 2014

Sponsorship Requirements

Level 1 Sponsorship

1. Requirement: Decals

2. # of decals: 3

3. Decal size: a.) Side: two 5" square decals + b.) Rear: one 20" long text decal

4. Location (run all of the following):

a. Run WRR 20" text decal centered on rear bumper or wing

b. Run 2 WRR 5" square decals on left and right side

Level 2 Sponsorship

1. Requirement: Decals + Patch

2. # of decals: 5

3. Decal size: a) Side: two 5" square decals + b.) Rear: 28" long text decal + c) one 50" (trim as needed) windshield banner or 12" square hood banner + d) one 5" dashboard decal.

4. Location (run all of the following):

a. Level 1 decals in location(s) specified

b. Windshield banner or hood decal

c. Dashboard decal (visible from your video camera)

5. Patch: Worn on suit front

Classes:

All SCCA, NASA, SVRA, PCA, POC, BMWCCA, Chumpcar, LeMons, NARRA, VSCDA, HMSA, CSRG, CVAR, VDCA, HSR, RMVR, WRL, MCSCC wheel-wheel classes. Others by application.

Award Details:

 See Payout Schedule for award amounts

 To claim an award, eligible competitors will need to email a copy of their results (scanned from sanctioning body, MyLaps, or equivalent) with a photo of their car from the event(s) showing the required WindingRoadRacing.com decals in place during the event (within 15 business days of event/3 weeks)

 Awards will be sent via email to eligible participants within 14 business days.

Restrictions:

 U.S.-based racers only

 WRR reserves the right to cancel or change sponsorship at any time

 One claim per car. One Claim per race day

 Credits can be used on full-priced items only (sale items not included)
---
(1) Minimum class car count: 3
(2) Minimum class car count: 7
(3) Minimum class car count: 12
(4) Once per sanctioning body
(5) First-time only (annually)
(6) >80% of winning lap count
We hope you will join Team Winding Road in 2014!