Winding Road Guest Blog: BMW E39 Wagon Wanderings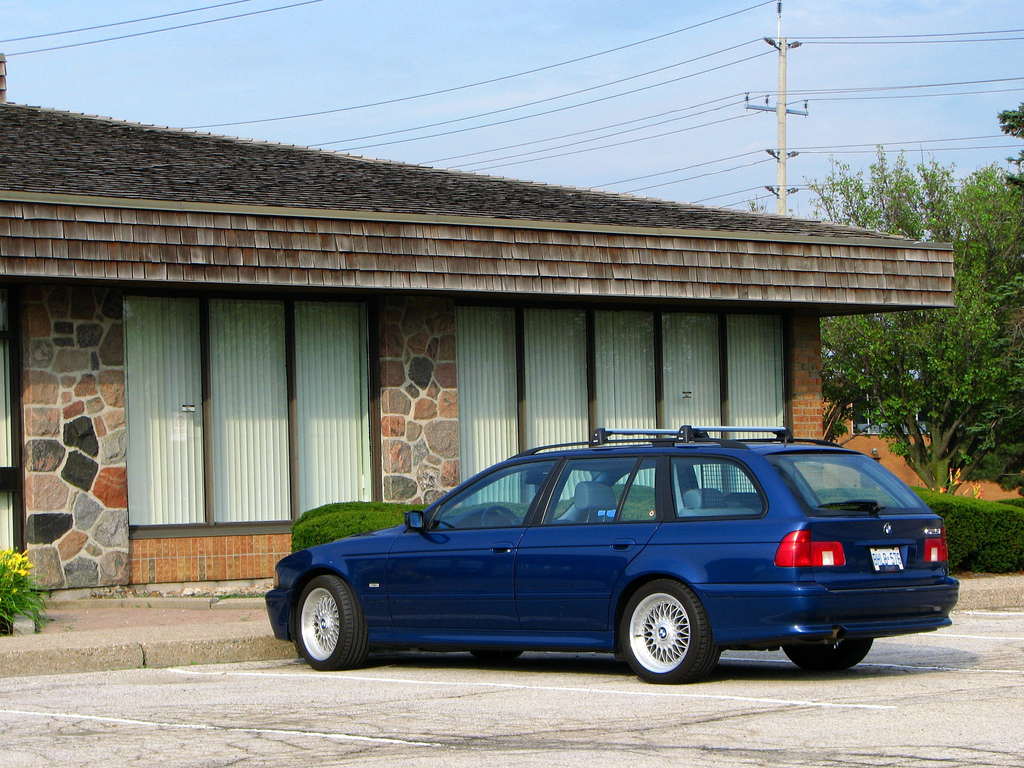 (Photo Credit: MSVG)
We continue our new Guest Blog series with this piece on the search for "soul" in a car that will also haul your kids. If you're interested in becoming a WR guest blogger, check out the details, here, and then send us your best effort at [email protected].
With arrival of BMW's new "F10" 5-Series to the US market, it's become apparent to me that the wagon, or "sport tourer," is in decline. It seems clear that BMW won't offer a wagon for this latest iteration of the 5—oh, we'll get the BMW 5-Series GT, but that's no compensation, nor a wagon in the traditional sense.
A few years ago, when the lease for my most excellent appliance (AKA Honda Pilot) was up, I was looking for something with soul, something maybe German to drive. It had to hold three child seats (I have three kids under the age of ten), the detritus of a triathlete, cost less than $20K, have less than 75K miles on the clock, and could not be an SUV. This would be my daily driver, as my wife had recently taken delivery of an LR3 suitable for the bulk of family hauling duties. I already owned a 2000 Boxster S, so the speed of the new vehicle was less important than was the feeling of driving something with that X-factor, soul.
My prospective group included just two vehicles, I reasoned: an "E39" BMW 5-Series and the "W210" Mercedes-Benz E-Class. Having owned more BMWs than M-Bs (three to zero) in the past, I was inclined to seek out an E39 from the last three years of production and post-mid-cycle refresh. It soon became apparent that the E39 wagon's rear seat had different dimensions than that of the sedan, and, while not as commodious as the Pilot or the LR3, it could accommodate three child seats in a row (in a pinch).
So began the search, casual at first, as I still had eight months to run on the Pilot lease. First up was a 2001 540i wagon with seventeen-inch Alpina-style wheels, and rare sixteen-way, adjustable seats. This was a good-looking, one-owner beauty being sold by one of those rather rare, unaffiliated local dealers with a good rep. While the V-8 was fast, I was apprehensive in the knowledge of the E39's propensity for eating cooling systems, a fact that wouldn't be helped by having this "hot" motor under the hood. I passed on that one and decided to hone in on a BMW straight-six instead.
Post-refresh, the E39 straight-six 2.5-liter wagons came with manual or auto transmissions, and with three basic options packages: Sport, Comfort, and Premium. I set my sights on a manual with at least the Sport package, with its larger wheels and three-spoke M steering wheel. Ha! I might as well have been looking for hen's teeth. In six months I found just one manual-equipped 525i. It was some 600 miles away, and offered none of the desirable options packages—a high-mileage stripper with low-res pictures, too. No way, Jose!
Then, one summer Sunday while my brother was in town, I was perusing Autotrader. One listing showed a local car dealer with a 2002-model-year 525i wagon with the Sport package and an automatic transmission. Worth a gander, I thought. I drove over and—lo and behold—the car was unlocked and had kids toys on the back seat. I correctly guessed that the car was a recent trade-in, and vowed to call first thing Monday.
When I test drove the car, I noted the presence of the heated seats (Comfort package) and walnut trim (Premium package). Unfortunately I fell under the spell of the salesman, who received two calls during the closing from people "enquiring" about the car, thus ensuring I paid all but $250 of the asking price. Bugger!
Thirty months later, the nine-year-old car still regularly seats three kids in child seats. I replaced the front brakes at around 70K miles, and have a plan to overhaul the cooling system and replace BMW's "lifetime" fluids.
So what is it that makes this car so desirable that one would spend six months looking for it, plan on spending a fistful of Benjamins maintaining it, all the while acknowledging its inferior volume vis-à-vis the footprint equation? Is it the pre-Bangle style, the Consumer Reports adoration, the diminishing numbers of wagons on our roads, or the near-perfect ride and handling compromise? Maybe the beautiful materials and restrained taste of the interior, or the knowledge of BMW's finest engine family sitting under the hood? Perhaps it's the fact that a friend and fellow Porschephile would buy a nearly identical car from California sight unseen? It could be any one of those things, or it could also be the presence of a soul. Soul, I think that my E39 wagon has it in spades.
—Bruce Reeves

+ Winding Road Guest Blog: Why Production Cars Are Production Cars