Winding Road Academy Competition License School – December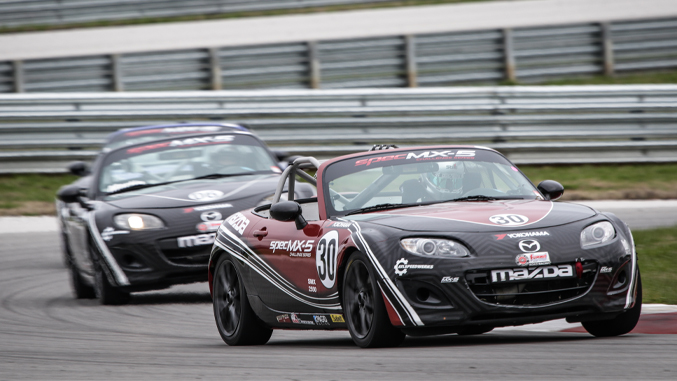 Winding Road Academy, together with National Auto Sport Association, will hold a 2+1 day semi-private licensing school in December 6-8, 2018. The school is held near Austin. The school is a chance to quickly progress from track day driving to wheel-to-wheel road racing. Students who pass the school will earn the certification necessary to gain a NASA provisional license. The school is open to only 4 students, so apply soon to ensure you have a spot.
Details (very important):
Winding Road Academy Competition Licensing School
Seat Time + Expert Guidance = Skills
Purpose: The purpose of this school is to allow students to quickly learn key skills needed to get a provisional NASA competition license for road racing. With a provisional license, drivers may participate in NASA races as rookies and earn, over time, their full competition licenses.
Format: The NASA Competition Licensing School is organized as "2+1" day course. Intermediate drivers may progress over 2 days to gain their provisional licenses. If extra time is needed, the Academy has scheduled an additional day for those drivers who may need more time to graduate. All drivers are welcome to participate in the third day. Each school is limited to 4 students. If fewer students sign up, extra charges may apply. We will contact you if this should occur. A single student school is available for students for whom the group schedule doesn't work.
Goals: The school's aim is to develop drivers in the three critical areas of safety, pace and race craft. Basic achievement in these areas are pre-requisites for licensing and are also useful for track days.
Standards: No student is guaranteed to receive his or her license at the end of the school. All students will receive a development plan to guide their future skill building.
Experience required: minimum of 3 track days
Equipment required: full racing safety gear (helmet, suit, underwear, shoes, gloves, HANS); computer or iPad; digital copy of NASA CCR; NASA membership; NASA medical form uploaded to student's NASA profile and approved; NASA provisional license application submitted
Provided by Winding Road Academy: race car, mechanic, instructor, fuel, track time, lunch
Race Car: Mazda Spec MX-5 (SMX)
Track: Harris Hill Road, San Marcos, TX
Track Time: average of approximately 3 hours on, 4 hours off, per day (time % grows as school proceeds)
Before School
Read NASA CCR
Study track map and video of Harris Hill Road
Basic skills questionnaire
Fitting to car
Day 1 Topics (adjusted based on student assessments)
Car orientation
Track orientation
HPDE etiquette vs. racing etiquette
Point-bys vs. open passing
Line
Basic driver assessment and planning
Car Dynamics
Flagging
Students will be tested on time exiting the car
Day 2 Topics (adjustable)
Using the tire and improving pace
Introduction to data
Rules of passing
What happens when you go off
Side-by-side passing
Passing in corners
2×2 driving
Practice starts
Practice race
Development plan for each driver
Day 3 Topics
Customized by student based on Day 1 and Day 2
Pricing
Each day is priced at $1875.
So, the 2-day school, November 15-16, is $3750 and Day 3, November 17, if needed or desired, is $1875.
To register, visit: https://store.windingroad.com/nasa-competition-licensing-school-p2999.aspx
For more information, contact Jeff Sexton, Winding Road Racing manager of driver development: [email protected]
Students are responsible for all damage to cars from abuse or crashes. This includes over-revs, missed shifts, off-track excursions, spins, contact with barriers, contact with objects and contact between cars. Normal mechanical or electrical wear is covered by the school.

If a student damages a car beyond immediate repair, a backup car may be available. Additional rental fees apply.

Insurance for damage to the school cars is available for $2500 with a $2500 deductible.
About Winding Road Academy
Winding Road Academy is dedicated to helping drivers go up the road racing learning curve. Whether you are a novice or an experienced racer, Winding Road Academy has courses to help you enjoy racing more and improve your safety results. Instruction is offered in Texas, the southeast, and California. Private Coaching and Group Coaching can be customized and integrated with most series and tracks.
If you want to build a foundation of driver skills and improve your race craft, contact us: [email protected].