Why Power-To-Weight Classing Makes For Great Racing: RX-3 Vs. Commodore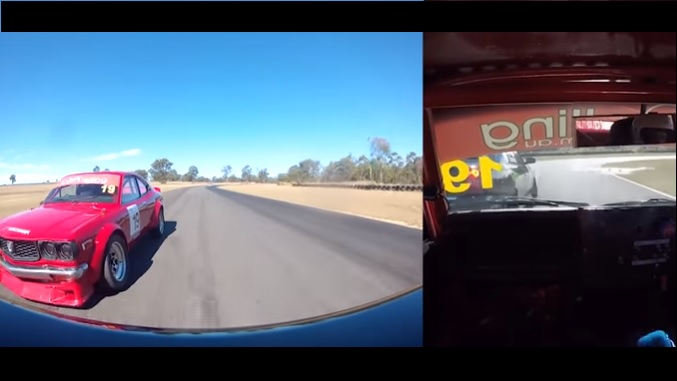 Who doesn't love vintage racing? Who doesn't love vintage racing that contains a good ol' fashion David vs. Goliath scenario? OK, the below video isn't quite vintage racing, its actually Australia's Improved Production Racing Association. But its two wildly different race cars duking it out; a small, mid-1970s Mazda RX-3, and a brutish, early-2000s Holden V-8 VY Commodore. The owner of the RX-3 talks about the history of it and why it's so special in the afore-linked video.
The RX-3 has a little more than a bridge-ported 12A rotary engine under the hood, which was prevalent when these things were regular fixtures at tracks in the mid-to-late 70s. It's got a more powerful bridge-ported 13B that has to make somewhere well-north of 200 horsepower. Combine the high-revving power of the modified two-rotor with a competition weight somewhere around 2000 pounds, and you can see why it was never quite dusted by the mighty, 510 horsepower Commodore. Plus the little rotary sounds so good high up on the tachometer.
Thanks to the way Improved Production Racing down under is formatted, it's possible for the field to be an interesting, rag-tag group of cars going up against each other, making for some truly exciting racing like the video above. One of the core principles in their classing is power-to-weight. NASA has done this for years, and their expansion of the ST classes solidify the chances of some cool battles on track. SCCA's Production classes group similar cars together based on this as well, making fields quite eclectic (like a CRX going up against Datsuns and MGs). GRIDLIFE's Touring Cup that debuted this year mirrors IPRA a tad more than the others, which we're excited to see unfold.
We're certainly hopeful these classes and formats catch on more and give vintage racecars new opportunities to get out there and go door-to-door with their younger counterparts. There is something really cool about two distinctly different race cars, from different eras, battling it out for position, each of which using their own chassis' and engine's benefits to try and strategize their way around their opponent. Plus, with concern about car counts in the future, i.e. getting young Millennials and Gen-Y folks into wheel-to-wheel racing, they might be a strong factor in extending the life of sanctioning bodies.
Do you race in the NASA's ST classes, SCCA's Production classes, or GLTC? If so, what do you find to be the positives and negatives of your respective class?