What IMSA Can Teach Us About Club Racing: What's The Point?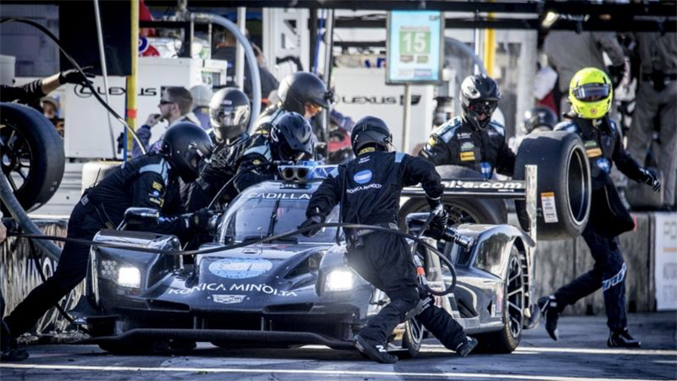 The purpose of this series is to look at televised pro racing events and suggest things club racers can learn from them. So, we're doing thought experiments, not offering opinion on F1 or IMSA or PWC per se. This requires a little bit of logic and imagination on the part of our readers. For example, we might imagine that F1 is run under NASA rules. It isn't, but to learn from other forms of racing it can help to do this. We've seen many drivers do a poor, inverted imitation of what we're suggesting, for example, taking lessons from F1 and then applying them literally to club racing, imagining that club racing is run under FIA rules, with FIA stewards and FIA tech. It isn't, so they get in trouble. We conclude that club drivers have to be able to place racing examples in the correct context. Hopefully, these examples give you a chance to better understand what may happen when you're on track. Good luck and happy mental practicing!
IMSA recently held the traditional season-ending Petit Le Mans event at Road Atlanta. There are many things to like about this event, including a great track, relatively late-in-the-season scheduling, the day/night format and of course the cars and stars. And IMSA did a nice job of honoring the late Don Panoz, who was a key player in IMSA and Road Atlanta.
I guess the race was good. After all, in the prototype class, a pass was made between turns 10 and 11 for the lead on the last lap to decide the overall winner. I mean that's freakin' amazing (as the announcers repeatedly reminded us), right? And not only that, the Mazdas, finally, were both fast and reliable, so we had a long-standing underdog finishing P2 and P3! But wait, there's more, because Wayne Taylor Racing, with social media star driver Jordan "Mullet" Taylor, won its first race of the season. That doesn't, somehow, seem like another underdog story, but at least it was sort of a surprise. BTW, seven cars finished on the lead lap and the P1 to P2 gap was only 5 seconds after 10 hours of racing. And GTLM had 6 cars on the lead lap at the end, with Porsche, Corvette, and BMW standing on the podium, so to speak. Oh, and for Katherine Legge fans (count us in), Alvaro Parente, Trent Hindman, and Katherine put up a heck of a fight to almost claim the GTD championship from Madison Snow, Corey Lewis, and Bryan Sellers.
So, yeah, in classical terms it was at least a very good race. Props to IMSA for again making things tight in a very long race. And this time they did it with almost no full course yellow flags.
But, I wonder, are "classical terms" enough? I mean, did you watch all ten hours? And, if you did, was it worth it? I like racing, and I watched all ten hours, but I came away with the feeling that it wasn't that satisfying. And I think that's because, in the end, I wasn't completely sure what IMSA was measuring. Which is my question today for club racers: do we know what we're measuring when we race and do we like that answer?
Backing up slightly, I think of racing as a sport. I'm not arguing here against the crazy notion that casual observers throw out that goes something like "since I don't work up a sweat driving my Camry to Whole Foods, race car drivers aren't athletes and racing isn't a sport." Well, I sing in the shower, but that doesn't keep opera singers from being artists. Anyway, anyone who has driven a race car knows the skill level required and the competition involved, and they know racing is obviously a sport. The harder question is "what is being measured"?
My discomfort with Petit Le Mans is that it sort of looked like what was being measured was the ability of the teams to back time their pit stops, including guessing about FCYs. After all, the Mustang Sampling car (#5) went from first to fourth by running out of fuel with two turns to go in the race. That is a thing, I guess, in a team sport, but Petit Le Mans is a great event and somehow that element doesn't seem like the showcase skill for such a storied event. Of course, you had to be at the front of the pack on the last lap, and even though they ran out of fuel, the Mustang Sampling team finished ahead of many other great teams (Penske, for example). But it felt a little like penalty kicks in soccer: a sport, but not exactly the sport I thought I signed up for.
All this made me wonder if the "winner take all" element of many races is ideal? Many stick and ball sports have many more measurement points in an event than racing typically does. Take American football for example. A game that finishes 31-24 might involve nine measurement points (seven touchdowns and two field goals). From a fan perspective, this makes each part of the game (e.g. each quarter) interesting. But, even more, from a sporting perspective in racing, a more comprehensive measurement system might measure more of the accomplishments of each team in a race than only considering, say, that WTR finished 5 seconds ahead of Mazda Team Joest at the end of 10 hours because the Mustang Sampling fueler pulled the hose out 1 second too early on the last stop.
A version of the IMSA problem of measuring too much of one (slightly odd) thing is seen in club racing all the time. You could, for example, argue that too much weight is placed on qualifying. For example, in a Spec Miata sprint race of 20 minutes, if I'm on row 4 and you're on row 1, but we're separated by 0.4 seconds in qualifying time, I'd suggest I will almost never win that race. I'm not much slower than you, and I may be a better passer and more consistent and I may make up four places and you move back one and I have the fastest lap of the race, but none of that counts with so much emphasis on qualifying. I'm not so much arguing these specifics as saying club racers and club racing organizations don't seem to think much about their scoring systems and what they implicitly measure. I think they should. That is, we should.