What F1 Can Teach Us About Club Racing: Verstappen vs. Ocon At Brazilian GP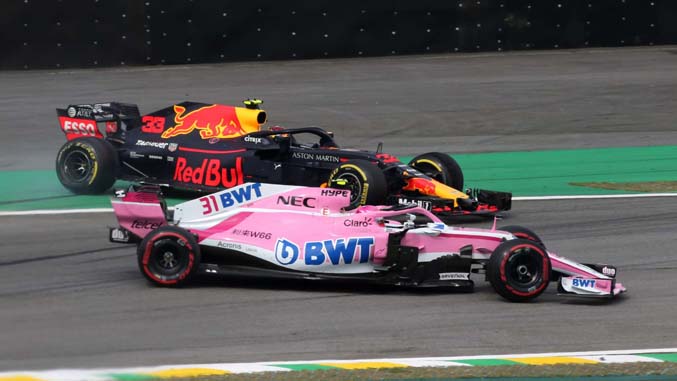 The purpose of this series is to look at televised pro racing events and suggest things club racers can learn from them. So, we're doing thought experiments, not offering an opinion on F1 or IMSA or PWC per se. This requires a little bit of logic and imagination on the part of our readers. For example, we might imagine that F1 is run under NASA rules. It isn't, but to learn from other forms of racing it can help to do this. We've seen many drivers do a poor, inverted imitation of what we're suggesting, for example, taking lessons from F1 and then applying them literally to club racing, imagining that club racing is run under FIA rules, with FIA stewards and FIA tech. It isn't, so they get in trouble. We conclude that club drivers have to be able to place racing examples in the correct context. Hopefully, these examples give you a chance to better understand what may happen when you're on track. Good luck and happy mental practicing!
Let's start this week's episode of What Pro Racing Can Teach Us by looking at an incident from the 2018 Brazilian Grand Prix. In this video, Max Verstappen (Red Bull Racing) is running in P1 and Esteban Ocon (Racing Point Force India) is a lap down. Ocon, on fresher tires, is, apparently, faster than Verstappen at this point, so he attempts to un-lap himself: Watch Video
Now, on to the points for club racers:
1. You need to learn to attempt passes and defenses that have a high probability of success. Neither Verstappen nor Ocon does this. If you crash, it doesn't matter if the other guy gets a penalty, you've hurt your race. Ask Verstappen.
2. You need to learn to attempt passes and defenses that have a high probability of success. Neither Verstappen nor Ocon does this. If you get a penalty, you've really hurt your race. Ask Ocon.
3. You need to learn to attempt passes and defenses that have a high probability of success. Neither Verstappen nor Ocon does this. If you slow your car down, you may have penalized yourself, even if there is no crash and no penalty. Ask someone who runs Spec Miata.
These three points might seem obvious, but if they're obvious, why are there so many drivers who don't do this? So, the point we want to make is that if you want to be able to pull off the above tactics, then you need to practice them. As in "running events or practice sessions with the deliberate motive of practicing passing selection and execution with the cardinal rule in mind". Also, it is wise to review every race with the question in mind "was that a high probability of success passing attempt?"
To this, we would add the standard point that listening to announcers is dangerous. "I think when you're a lap behind, you should not be attacking the leader," said Martin Brundle. This might be sage advice that refers to the three points above. But, honestly, I don't think so. I think it is some kind of "unwritten rules" thing that privileges the leader. Club racers should dismiss the idea that the leader has some special privileges that other racers (and you) don't have.
Let's think this through. Imagine that Verstappen and Ocon are club racers. Much of the public discussion we've heard since the incident focuses on some version of the idea that Ocon should not have been trying to pass Verstappen because Verstappen "was the leader". But why? Maybe because Ocon was unlapping himself, not running for that specific position? But then, are all other positions irrelevant? Because maybe Ocon (or you) could have potentially made a pass for position after quickly getting around Verstappen. So is the logic of "don't pass the leader" that we should have a point in the race where P6-P20 are removed from the race because those positions don't matter? For club racers (and F1 for that matter) this seems like a terrible message. Or should the leader not be passed because he has proven something by being the leader? Well, if the leader is so amazing, then he can drive off into the sunset. If he is so amazing, then he can show some strategic thinking and use DRS to make a re-pass 5 corners later. Or, he can realize that the backmarker is on fresher tires and let him through with no harm.
If the leader is not so amazing at this point in the race, then it would seem to be time to "attack" the leader. And, that is what we would advise club racers to do. But, referring to the three points above, assuming "attacking" means "attempting to pass", it should be done intelligently. The FIA made essentially this point in penalizing Ocon, saying that Ocon "absolutely is allowed to unlap himself" (because so much chatter was going on about this "leader" business). But the FIA also added that it should be done "without fighting". That might be easier said than done, but presumably means on a straight or other very high probability scenario (see points 1-3 above).
Next, look at it from Ocon's perspective, which was close to the right example for club racers: "I have new tires, so I'm faster. I can unlap myself, here, possibly. This is the Brazil, right? So, it could rain, right? And, rain or no rain, there could be a safety car. And if there is a safety car, I could catch a lot of cars. And I have new tires, so that could be huge. And we need points because points are money for the team/me (may or may not apply at the club level). So, the written rules and strategic thinking, they advise attacking, no?" But choose your spot, Estaban (i.e. back out of it between T1 and T2 and set it up a few turns later). The same goes for club racers.
Besides using intelligence in attempting passes with high probabilities of success, for club racers this event may come down to a case study in bullying. Front runners want special privileges and act like they have special privileges because they're front-runners and humans respond to apparent hierarchies. Of course. Everyone wants to be special. But if being special isn't in the rules, then especially if you're not one of the "special" ones, you should be free to ignore the human desire of others to be legislated into specialness.
To emphasize this point, Max acts like a bully. He knows Ocon is there (since Ocon was ahead of him into T1), but he sets up this scenario:
He leaves this much room (just before impact), which, using NASA rules to see how this applies to club racing, is obviously less than the required 3/4 of a car width (a.k.a. "racing room"):
And then he does this:
The main way I can make sense of Verstappen's decision to try a risky/stupid move (what does he gain by preventing an Ocon pass?) is to think of him using a bullying strategy. And to a degree, I get it. You're The Max. You're an amazing driver in terms of physical skils. And you've been coached to be super-tough, so drivers pull off and park their cars when they see you coming. I'm not sure I'd advise Max to do anything different if I were coaching him. Just do it more intelligently.
If you are a club racer, I'd strongly advise ignoring all of this bullying stuff. Hard to do, but it is a game to deter you. To reduce you to a lower status. To make you something less than you are. To reduce racing to a game, not a sport. To make you less than human. I think the bullying motive is detestable, even if it is understandable. But the only one who can deter it is you.