Video: Passing On "Flow" Tracks Can Be Tricky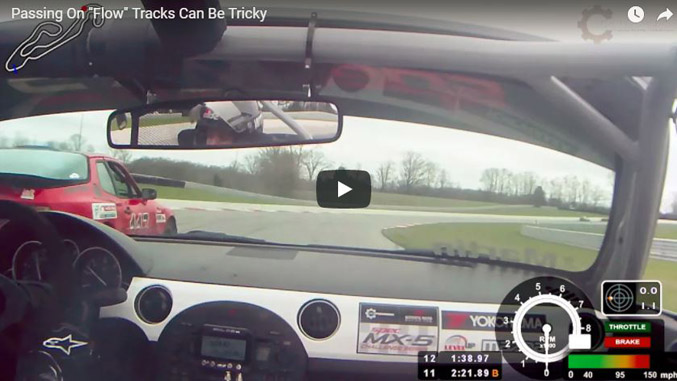 One element of track design that we've notice some drivers key on is something they call "flow". For example, a lot of drivers like Watkins Glen and this seems to be, at least in part, because it has quite a few high and medium speed turns that are connected. You have heavy braking for the bus stop chicane, but other than that you are going up and down gears and using the brake to modulate your speed as you transition from corner to corner. That's rather different from, say, Road America, where there is heavy braking for turns 5, 8, 12 and 14, and more than a tap for 3, 6 and 1. To coin a phrase, we'd say WGI is a "flow" track and Road America is a "rhythm" track.
We were recently at NCM Motorsports Park, across from the National Corvette Museum in Bowling Green, for races 1 and 2 of the Spec MX-5 Challenge Series – Central Region. NCM is a new track that impressed the Spec MX-5 drivers, with lots of complexity (23 corners, depending on how you count) and elevation change. The track has some inch-perfect replicas of corners from the Circuit de la Sarthe in Le Mans, courtesy of Pratt and Miller's engineers who use NCM to test the C7R. But the most noticeable element of the course is that it is very "flowy", with some kind of turn on just about every straight and relatively few hard braking points. This makes passing a bit tricky, as shown here by Spec MX-5 Challenge driver Tom Martin III, who holds off Matt Million for many laps, only to be passed by Harry Voigt when lap traffic appears and slows both Martin and Million. Martin takes few laps to re-pass Voigt, which might not have been possible if the traffic appeared a lap later.
About Spec MX-5 Challenge
Spec MX-5 Challenge is an affordable pro road racing series with a focus on driver development and a top prize of $100,000. In 2018, its ten-race regular season in the Central region will run at NCM Motorsports Park, Circuit of The Americas, Hallett Motor Racing Circuit and NOLA Raceway Park. The ten-race East season will run at Virginia International Raceway, Summit Point Raceway, Road Atlanta and Monticello Motor Club. The top seven drivers from each region will compete at a championship-deciding event at Road Atlanta in November. The twenty drivers selected for the series pay $45,000 and receive full arrive-and-drive services, including transport, entry fees, tires, fuel, mechanical work, engineering and a race car. For more information on Spec MX-5 Challenge, visit:
www.facebook.com/specmx5racing/
https://twitter.com/SpecMX5Racing