Video: BMW M235i Racing Hits the Track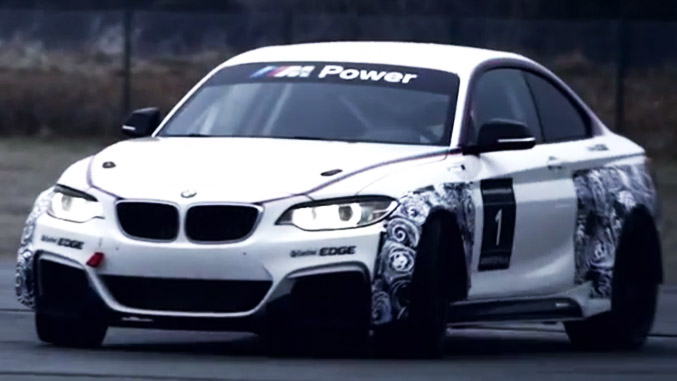 Following up last month's announcement and image rendering of the forthcoming M235i Racing, BMW has just released some footage of the new car getting put through its paces on the track. The new competition-ready 2 series is slated to run in the VLN Endurance Championship and the Nürburgring 24 Hours on the Nürburgring-Nordschleife, as well as BMW Sports Trophy competition.
While the as-yet completed car still sports a smattering of camouflage around the bulging fenderwells, here we're still able to get our first look at the new body kit that the car will wear, which includes new front and rear spoilers, diffuser, and wing mirrors. The M235i Racing will also get a modest bump in power from the twin-scroll turbocharged 3.0-litre in-line six-cylinder petrol engine sourced from the road car, as well as raced tuned ABS and traction control to go along with the mechanical limited-slip differential and FIA-certified safety cell and fuel tank.
BMW Motorsport director Jens Marquardt had this to say of the M235i Racing:
"The production models from the BMW M Performance Automobiles range are already incredibly sporty. Because of this, we did not have to make many modifications in order to get the BMW M235i Coupé up and running as a racing car. BMW Motorsport can look back on a long tradition of allowing ambitious teams and drivers an affordable way into motor racing – and of offering them an absolutely competitive car."
We're still waiting on some addition details for the new track car, including weight and performance stats. However, we do know that the M235i Racing is currently only available in Europe, and that pricing has been set at 59,500 Euros, or roughly $80,000.