Thoughts On Succeeding In National Championships: 2017 Observations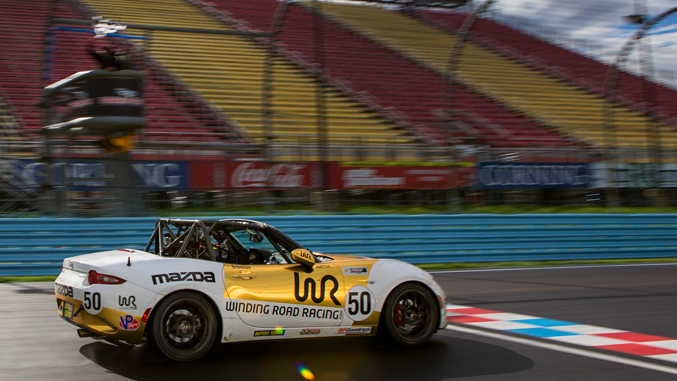 Winding Road had the pleasure of supporting 6 cars in national championship road racing series this year:
2 BMW M235iR cars in Pirelli World Challenge TC, driven by Mason Filippi and Jacob Ruud
3 Mazda Global MX-5 Cup cars in the Battery Tender Global MX-5 Cup series, driven by Todd Lamb, Mark Drennan and Tom Martin, III.
1 Mazda Global MX-5 Cup car in Pirelli World Challenge TCA, driven by Jeff Sexton
We have a few observations from this about your choices in how to compete in these national championship series:
With only a few exceptions, you will be happier competing for some personal goal, like top 10 or top 3, than you will be going for the overall series win. Some drivers don't feel they have a choice except to go for winning the championship, but our experience is that these drivers have less fun.
DNS and DNF results are very costly in terms of points. In PWC TC and TCA, the championship winner finished all the races whereas the second place driver had a single DNS/DNF which made the difference. One of the reasons to have a strong support team is to have a car ready to run in every race. That can't guaranteed, of course, but you can affect your probabilities.
Running for the highest finishing position often works against a driver. The other side of this is to say that scoring consistently good points seems to be a better strategy. The basic difference is crash rate. Tom Martin III, one of our MX-5 Cup drivers, finished in the Top 10, beating a driver who was usually faster, but who had a high crash rate.
To do well, you have to run every race. This sounds obvious, but as an example of the magnitude of this, Jacob Ruud, our 18 year old PWC TC driver, delivered solid results in the races he was able to run (pesky college schedule!). He would have moved up 7 places in the championship for a Top 10 finish if he had just delivered his average results in the 6 races he missed. Of course, more seat time might have helped him finish even higher in those additional races.
It is clear that drivers who know a track based on prior experience perform better on average. The moral of this story is that it is really valuable if you can arrange a test day or two at a track before the event weekend.
Not all of these factors are in a driver's control (or budget), but many are. Disregard them at your peril.