This Generation's BMW Art Car? Jason Whipple's Berg Cup-Inspired 1980 Volkswagen Scirocco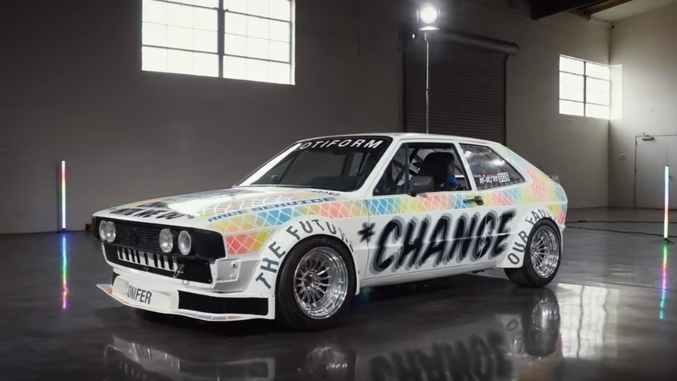 Donut Media recently posted an episode of their show Bumper 2 Bumper which features a vehicle we have a great appreciation for: The Mark I Volkswagen Scirocco. This 'Rocco in particular is more than a cool livery, its packed full of race car engineering to make the most of its svelte weight and fun-sized wheelbase. Owned by Matt Whipple of Rotiform Wheels, it comes with a long history of being built with high-revving and high-lateral-g action in mind, and since he took ownership his build inspiration has come from a European racing series we all know and love: KW Berg Cup. He even dropped in a massaged 4-cylinder engine from the now-defunct US Formula Three Championship, that revs to the moon and has a compression ratio of 14:1. It sounds a lot like the VW 'Roccos, Polos, and Golfs that scream down German and Austrian country roads in Berg Cup.
Check out the video here:
The vibrant livery is quite beautiful; designed by Nico Sclater (Ornamental Conifer) of Race Service, it really reminds us of the BMW Art Car Project that started in the mid-70's. The first car in that series was a 1975 BMW 3.0 CSL which raced at Le Mans that year. Another memorable piece from this era was a BMW M1 Group 4 painted by Andy Warhol, which ran in the BMW M1 Procar Championship towards the end of that same decade.
Memorable, stylish liveries stand out (or in the case of Warhol's design, pop), and often reflect design and cultural themes of their respective eras. What are some of your favorite race car liveries from the past few decades? What are your thoughts on mixing the art realm with motorsports?