The Three Elements You Need To Remain Viable In Motorsport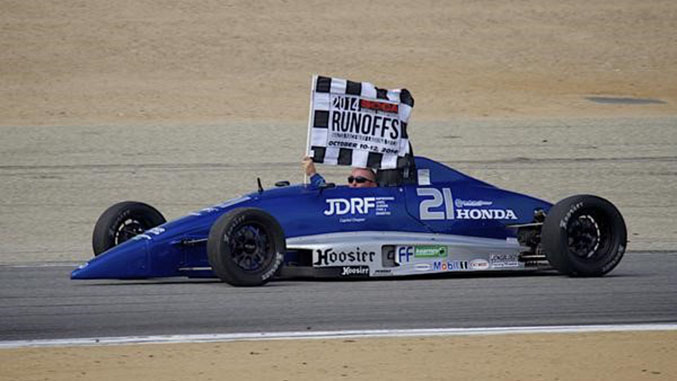 This week we're going to take a look at the "older" or "more mature" driver, and specifically address the issues of how to maintain your driving abilities, the advantages and disadvantages that come with age, and how to know when it's time to stop. Rather than put a number on "old," I'm going to leave it to you to decide whether you're old or not. One thing absolutely for sure, though, is that everyone – even you – is going to be old some day, no matter how you define it. Some may say that getting old sucks, but I always say it beats the alternative!
Like fine wine, many long time racers and particularly those drivers who find this hobby later in life, whether it's driver's education or competitive racing, are consumed with enthusiasm and have the capacity to improve with age.
Driving fast and racing well are mental exercises, sometimes even more than physical ones. The sport attracts smart people. And those who are curious, organized, and thoughtful, not to mention disciplined, often excel. This can go on for years, even decades.
My entire professional career has focused on developing best-practice skill executions and expanding the knowledge base of the "older" driver. The age spectrum for the drivers I work with typically ranges from upper-thirties to mid-seventies, with the majority solidly between fifty-five and sixty-five. I find these drivers to be striving and ambitious, but their approach is tempered with reason (and some wisdom <grin>), born of life experience. They're smart, mature (in the best sense of the word) and eager to absorb every bit of knowledge and experience their resources afford them. They're VERY satisfying to work with.
These "mature" drivers typically fall into two camps. The first are racers who, some time ago, obtained significant club- or entry-level pro racing experience, then took time off to raise a family or grow a profession or business, and are now coming back to participate in club-level, historic, or entry-level pro racing. They were often successful "back in the day," and are aware of the time, attention, thought, and discipline it takes to drive and race at a high level. They're hungry to regain that indescribable feeling of triumph. But they also are keenly weighing risk versus reward…. Most are incredibly fit, integrating healthy diets and exercise as a fundamental part of their lives.
The second group are drivers, not always preoccupied with achieving the highest level of competition, but have been "hooked" late and have become serious students of the sport. They possess the zeal of the newly-converted and, having worked hard throughout their professional lives, are now in a place where their time and resources allow them to pursue a longtime desire of driving and/or racing on track. Many have been competitive or made a serious study of other sports. Not surprisingly, golf is a popular current or former avocation. They, perhaps more than the "veteran driver" group, constantly evaluate their risk exposure. While fitness and diet may not be a religion for some, they're acutely aware of the importance of a sound body and a sound mind and many use this new hobby as motivation towards healthier living.
The common motivating factor for all of these drivers is the quest for perfection in a sport where that very goal is elusive. They have been successful, sometimes wildly so, in every area of their (former) lives. Before they get in the car, they see no challenge that cannot be overcome. Then, reality strikes…. Driving on track or choreographing the outcome of a competitive racing dice in their favor is not only not possible, the very act of trying raises MORE questions, triggers more frequent and compulsive track attendance and, like any huge challenge, can spur on an earnest self-improvement process.
The three things an older driver can do to remain viable, competitive, moving forward in their own development, and to keep the fire burning are:
1) Commit to life-long learning. No one "knows it all" in this sport. The mastery of high performance driving and racing is made up of and assembled from hundreds, sometimes thousands, of individual pieces of knowledge, fundamental skill executions, coordination of the driver's motor controls, vision, and all influenced by the driver's state of mind. In order to move forward, the individual components MUST be broken down and identified, like anyone in business or achieving a high level of competence in their respective profession MUST do to begin to master complex concepts and executions. Often, a driver's growing experience base can allow enhancement in ALL other areas of their driving knowledge and discipline. Constant learning and relearning is key, and the reason why older drivers can remain not only relevant, but competitive with younger, less experienced drivers.
2) Leverage resources. It's often said that every successful business person has a good banker, lawyer, and accountant. Same is true in driving. Rarely does a driver, especially one new to the sport, possess the experience, knowledge or perspective they need to know how to progress in the most efficient manner. It needs to be a team effort. From the shop prepping the car, to the parts suppliers, crew, engineers and/or coach, everyone MUST be committed to the driver's progress, without adding undue or unnecessary risk. It's rare that all these disparate elements and interests coalesce as a cohesive group, but when it does, BIG improvements occur. This contributes to an atmosphere that results in drivers continuing to want to confront the challenge for a long and productive time in this sport. It is the goal, but not often the reality.
3) Embrace technology. Technology has become so pervasive in our lives, it's hard to imagine how we would live without it. A natural progression on leveraging resources, competition cars, and especially modern high performance cars, includes tremendous amounts of information-recording capability embedded within them. Simple apps, like Porsche's TrackPrecision and BMW's M-App offer power and capability far beyond the best data logging systems of even eight or ten years ago; some include high-definition video. If you feel like you are "too old" to adopt technology as a tool to help you or view this as a "tattle tale" instead of as a tool, develop shortcuts to insure "ease of use," or hire someone who can make it easy to understand. This IS the future, and proper use of technology can shortcut many years of trial and error. Years that maybe we don't have….
In conclusion, there are very few sports or hobbies that prize the thinking process, as well as the discipline, to execute these carefully-choreographed thoughts, more than high performance driving and racing. There are myriads of examples of competitive driving careers spanning decades. This is a thinking person's game, and age is just a number….
– Peter Krause