The More Stepping Stones, the Better: HPD Partners With Skip Barber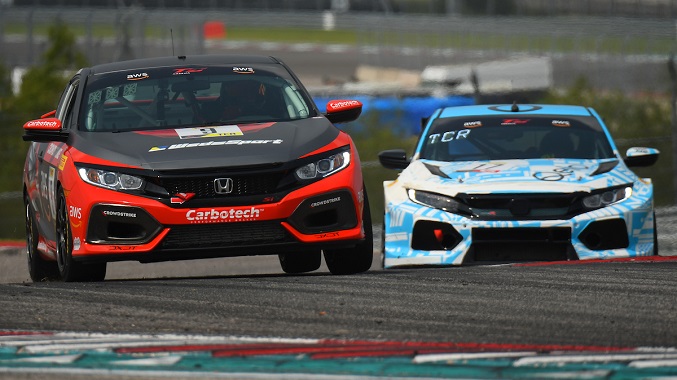 TC America action is where it's at. Photo: HPD
Honda Performance Development (HPD) and Skip Barber Racing School (SBRC) have partnered to include the HPD Civic Si (currently raced in SRO TCA class) and HPD Civic Type R (currently raced around the globe in TCR) in their racing school and track day programming.
Skip Barber's programs allow students to learn and perfect their comp skills, and result in a shiny new license that allows them to race in touring car racing, especially in SRO TC America, which has proven to be one of the best stepping stones into high-level racing.
As an complement to this training, Skip Barber plans to field a team to compete in the 2020 SRO TC America season.
"At SBRS, we are really excited to partner with HPD," said Anthony DeMonte, CEO of the Skip Barber Racing School. "The rich and extensive racing history of both organizations will provide a superior experience for our performance driving program customers, and will offer racers the opportunity to compete on a high level in the SRO TC America series with our race team."
Through this partnership, SBRS will use these HPD Civics to train new drivers to obtain a provisional racing license, as well as help experienced drivers hone their skills with expert instruction from Skip Barber's pool of talented instructors. These cars will also be used in retail Skip Barber Racing School experience programs, which offer motorsports enthusiasts the opportunity to experience these cars on track.
"This partnership will be a great head start opportunity for racers to hone their front-wheel drive racing skills and earn a competition license in the car that competes in the TC Americas series," noted John Whiteman, Manager, HPD Commercial Motorsports. "Our HPD Civic racing line-up is a proven way to move up through the Touring Car levels, and has proven performance at every level."
Honda's HPD has a great method to get racers well-equipped and ready to climb the touring car racing ladder. Through their ladder of turn-key touring cars, starting with the TCA Civic Si coupe, filling out the middle with the TC Civic Type R, and topping out at the pinnacle TCR Civic Type R, racers can learn the ropes in TCA, and as they gain experience, move up to TCR and beyond. All vehicles are based on their showroom-stock counterparts, and feature distinct modifications that allow them to compete in a wide variety of touring car race series in the U.S. and around the world, fitting a variety of different budgets. TCA isn't just for beginners, either; car counts have been growing in the past two seasons, making for great low-cost, low-modification, and tight racing.