The Guide to Road Racing, Part 5: Getting Started – Race #1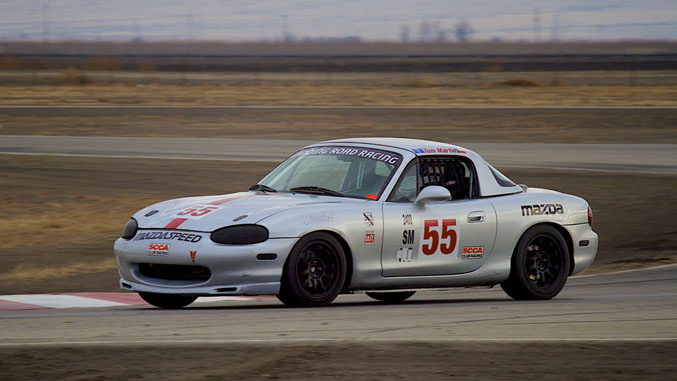 Note for 2020: Cal Club is hosting a racing school and track event on October 24th and 25th, check out the schedule and details here. -Editor
One of the cool things about Cal Club Super School is that it takes place in the two days before the first race of the season. That means we walked into the first day of race school on a Friday with no track experience and by Sunday morning we somehow found ourselves prepping to take our qualifying laps for the race later that day. Our instructor kept reminding us to "think about it like it's another practice", but that's certainly easier said than done. For us, the simplest way to stay relaxed and focused on the task at hand was to eliminate the logistical guesswork ahead of time so we had an idea of what to expect when the green flag dropped and things got real.
What is the sequence of events on race day?
Cars are divided into groups based on the classes they compete in, and each group is provided a 15-30 minute practice session in the morning. After all the groups have had their session and a short break, each group is sent back out on the track again to run their qualifying laps.
Qualifying sessions last about as long as the practice session does and your fastest lap during qualifying will determine your position on the grid for the race.
After qualifying, teams break for lunch. Once lunch is over, each group's race is held in the same sequence as practice and qualifying. Once all the races have concluded, the awards ceremony for each class takes place. Glory is savored, defeat is accepted, cars are trailered, and the teams head for home.
Are you racing only with students who just graduated from school or are more experienced racers there?
There's a mixture of both. In our Spec Miata group we ran against 13 other cars, four of which were fellow students from race school – although some students also had previous racing experience in other disciplines. The rest of the field was comprised of racers who had raced in the SM class previously.
What is the format of the race (classes, number of cars, length of race, pit stops)?
The Spec Miata class had a large number of entrants, so SM class ran in its own group, which is often the case. Faster classes like GT1, GT2, GT3, SP, EP, AS and ASC are often grouped together, as are classes like FA, FB, FC, FM, FS, ASR, P1, P2, S2000 and CS2000. This is to make sure all the cars on the track are running at fairly similar paces to mitigate congestion.
Our race was 12 laps and lasted about 25 minutes. As such, no pit stops were needed.
By pro standards that doesn't seem very long. Is it easy or tiring?
25 minutes may sound like a cakewalk to the uninitiated. Even if you're physically fit, it's surprising just how much stamina and concentration is required. Factors like heat inside the car, as well as the taxing nature of heavy steering and repeated hard braking will certainly take its toll on newcomers. It's not easy, but it is certainly rewarding. At the end, you will be tired, but it's the good kind of tired.
How difficult is it to manage traffic? How aggressive are the drivers?
While club racing isn't exactly a blood sport, drivers typically do not want to be passed if they can avoid it. It is challenging to pass, and it's also challenging to avoid being passed.
That said, most everyone is out there to have a good time. Drivers generally follow the rules, which limit metal-metal contact, especially drivers toward the back of the pack. In addition, most drivers own their own cars and realize that contact costs them money. Drivers in rented or borrowed cars seem to be a little more careless, but unfortunately you have no way of knowing this or who has a bad case of red mist.
In our race, novice drivers carried a substantial "X" graphic to help other drivers be a little more cautious and, presumably, polite. Of course, just like in high school, there may be some drivers who whose "welcome" is warmer than others. But for the most part, racers want new drivers to be there, especially if they drive consistently and with good awareness skills.
Since the race grid is determined by each driver's qualifying time, you'll find that traffic is actually less of an issue during the race than it is in the practice sessions and qualifying because the cars are lined up based on your pace. However, if you're much faster or slower during the race than you were during qualifying for some reason, this may not be the case. Similarly, if you happen to show up for a race in a big group on a short track it may be more common.
Are there trophies?
A podium finish (1st, 2nd or 3rd) will net you a trophy, and in some cases, some cash as well. While the winnings probably won't be enough to quit your day job, the bragging rights of a trophy on the mantle are incalculable.
With that said, in a field of 14 cars, 11 people aren't going to go home with a trophy. However, you'll quickly learn that the thrill of racing isn't held exclusively for those on the podium, and often times the battle for 9th place will be far more intense than the action going on at the front of the pack.
What did you learn?
Going as hard as possible isn't always the fastest way around the track. You learn that managing the heat in the tires and braking correctly becomes very important when it comes to lap times. The key is to find balance and consistency – overdo it, and you risk losing traction and carrying less speed out of the corner, understeering off your line, or even causing a spin. You will almost never make up time by simply plowing into corners harder and giving the car more throttle. On the other hand, if you're too cautious about braking and cornering, other drivers will take advantage of it and overtake you. Being fast is about finding your rhythm, understanding the car's limits, and staying consistent. Being fast is also about having a car that works, and a car you've put into the wall at 50 mph is a severely broken car that won't race again for a while, if ever. Trust us on this.
In hindsight, what is important and what isn't?
At this stage in the game, being the fastest guy on the track not only isn't important, it isn't even a realistic aspiration for most brand new racers. Inevitably you will be sharing the grid with other drivers who simply have more experience racing, and likely more track time on the course you're racing on. Their cars are also probably better prepared because of that same experience. There's really no substitute for experience, so use every lap for learning. Learn from your mistakes – and other's. As you get more familiar with the car, the course, and where you need to improve, you'll see your lap times improve. Frustration only leads to mistakes, and mistakes lead to slower lap times. Focus on running your own race and set your ego aside. You'll hear that 1000 times and once behind the wheel you'll probably struggle to do it, but it is still good advice.