The Four Key Elements of Endurance Race Preparation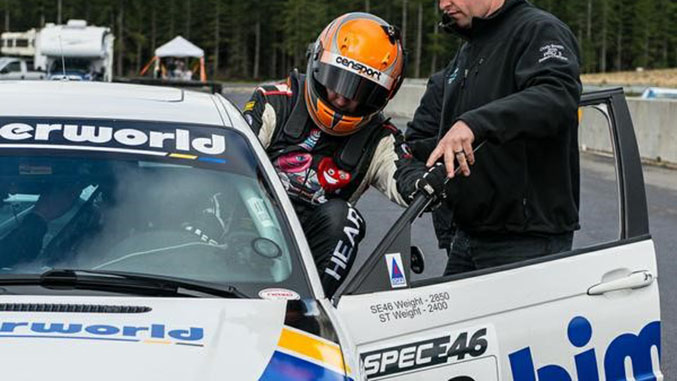 Between club racing, Chump car and Lemons, pro racing, and more, there seems to be an endurance race almost every weekend. And they're getting longer – Thunderhill's 25-hour race is nothing compared to the 38-hour race at VIR later this year. As James Colborn points out in his feature article this week, endurance racing requires a different way of thinking. -Ross
The phrase "to finish first, first you must finish" is by far the most important aspect of endurance racing. Without a diligent focus on the mechanical aspect of whether the racecar is mechanically equipped and prepared for an endurance race, there is little chance of competing for a win.
Today, however, this kind of preparation isn't what I'm going to be talking about. As racecars become more and more reliable, there is an aspect of endurance racing that, from my experience and observation, isn't taken into account enough. What happens if more than one car in your class is capable of finishing first? Said another way, have you prepared for the on-track battles than will ensue?
What kind of preparation am I talking about, then? In short, when I race an endurance effort, I like to prepare as best as I can for every environmental aspect of the race that I can understand or influence. In an effort to simplify that statement, I've broken it down into a four key areas of focus. You and your co-drivers, your racecar, your competition, and your actual event.
1. You and your co-drivers
Endurance racing has a team element to it unlike any other aspect of racing. Personally, I love racing with a group of drivers and crew who you understand (and who understand you). Individual ego has no place in endurance racing. This must be replaced with strong communication skills, setting expectations on what you can and can't do as a driver, and a mutual appreciation for each others' differing skill sets.
It is essential that you can answer some or all of the following questions: Who is the outright fastest? Who is the most consistent? Who dislikes driving at night? Who likes double-stinting? Who drives the best in the rain? Who is the lightest on equipment?
This information can shape many key criteria. Who qualifies, who starts, who finishes, who drives in what order, and who can be swapped or substituted for certain unexpected variations on track (e.g. co-driver's illness) should all be determined ahead of time.
The more you race together, the more you can plan ahead of time; it goes without saying that preparing weeks and often months in advance is a sure way to seeing success. If you've never raced together, ask as many questions of your co-drivers as you can and be honest about your abilities.

Lastly, modern data acquisition systems (such as an
AiM Solo
) will allow for even the newest of race teammates (through to the most established) to gather performance information that can give insight into so much about your race planning.
2. Your racecar (and crew)
Many club racers use the same racecar for sprint racing as they do for endurance racing. Most cars will perform differently as the time on track ticks by. By understanding the key aspects of a car's long run performance, a team will have critical pieces of information that will affect decisions come race time.
How long can your car go on a single tank of gas? How long will a tire last on a clockwise track vs. a counter clockwise track? Does your car burn oil and at what rate? How long will brake pads last? How long does it take to fuel the car? How long does it take to change tires?
These simple questions (and these are just a selection) are critical to know and to plan for. The more you know about your car's performance over long distances, the better you can match the cars expected performance with driver line-up and plan pit stops and driving order accordingly.
3. Your competition
Online race registration services (such as
MotorsportsReg.com
) has given racers a fantastic opportunity at some competitive research. The entry list will give a view into who you are going to be competing against. Even more appealing is that many teams have raced the event before; a quick visit to MyLaps (or your local club website) will give detailed information about the long-running performance of a competitor, down to the individual lap times. While this information doesn't necessarily guarantee accuracy (for example, weather conditions might be different from one year to the next and teams might be entering a different or improved racecar), it does give enough information to start to understand your competitor's performance.
How many laps did that competitor run before stopping for fuel? How many fuel stops did that competitor do? How long were that competitor's average pit stops? What were their average green flag lap times?
Once you know some of this basic information, it will help establish a baseline into how your competitors operate. This is particularly useful at long races when classes are a mix of faster cars that have to fuel regularly and slower cars that can run for a much greater distance.
One last factor of note is to ask questions of your competitors. Chances are you've raced with them before and a casual conversation can turn up a lot of information. Are they bringing a ringer? How many drivers are going to run the race? Any challenges with the car? Don't be afraid to ask but be warned, the smarter ones won't always give the most accurate of information!
4. Your event
Where you are racing has a big impact on how you plan your race. The more you know about your race event and location the more variables you can take into account when racing over a longer distance.
How long is a lap? Are there big braking zones? When was the last time the track was paved? Are there corners that will chew up tires? Is there a typical weather pattern or does it vary (will you need rain tires during the race)? If it rains, where does the track puddle? Is there a rain line?
In addition to the actual location, are there specific variables at this particular event? Have you read the supplemental rules and planned accordingly? ChumpCar, for example, has a maximum driver time of two hours. How does that affect your driver line-up? Can you fuel and change drivers or change drivers, then fuel? This information must be known up front and planned into the race strategy.
In racing there will always be surprises. I believe the best teams are surprised the least and can adapt the fastest to overcome the unexpected.
In conclusion, getting a car capable of finishing a race to an endurance race is of paramount importance. It is, however, highly likely that you won't be the only one with a car that can finish and the more you know and can plan for ahead of time, the stronger your race finish will be.
These are my personal observations from racing over the past five years and having witnessed and enjoyed the very best teams (such as
Advanced Auto Fabrication
and
BimmerWorld
) finish on the podium time and time again by ensuring that nothing is left to chance and any competitive advantage is utilized to maximum effect. While not everyone is racing on a world endurance stage, I hope there are some nuggets in here that any endurance racer will find useful.
– James Colborn
Twitter: @jamescolborn
Facebook: facebook.com/jamescolborn
Website: jamescolborn.com