The Awesome Lightship L1 Trailer – An All-Electric Camper with Self-Propulsion!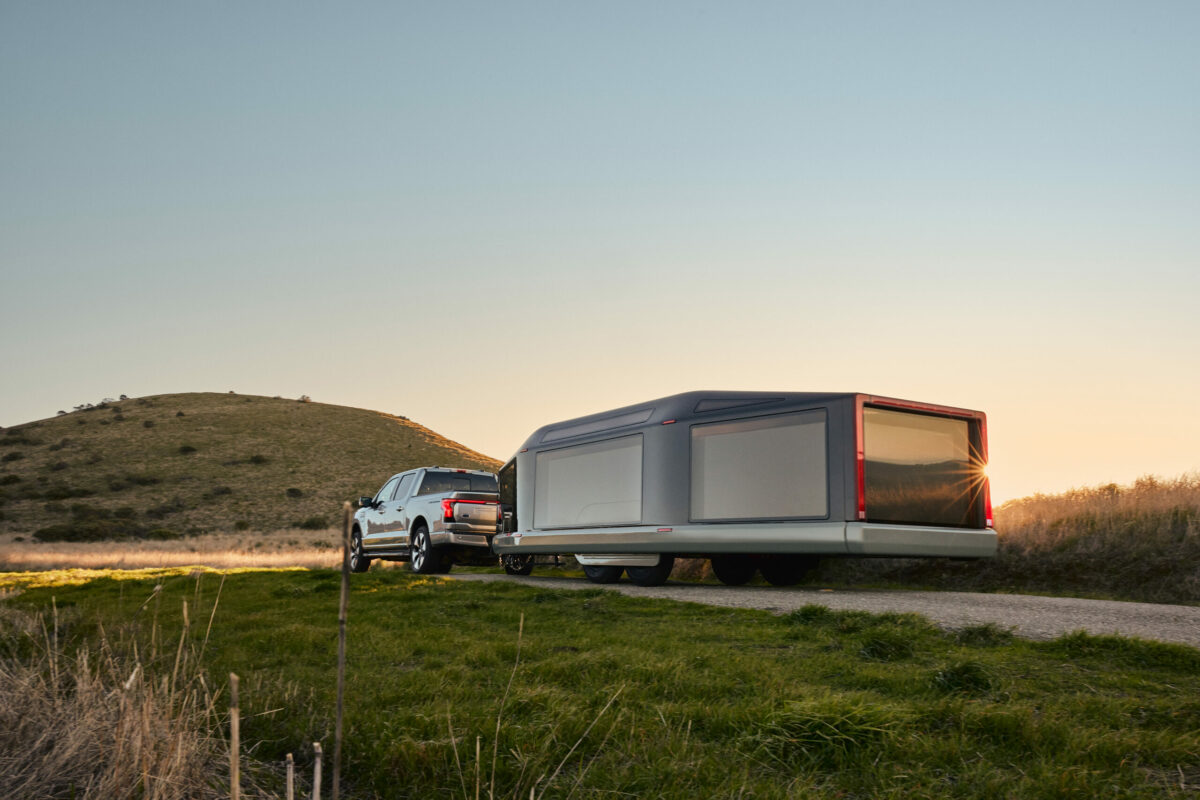 Fresh off the heals of Airstream/Porsche trailer news, the RV industry is finally seeing some innovation, thanks to the Lightship L1 Trailer. Lightship, America's first all-electric recreational vehicle (RV) company, aims to capitalize on a new market with the Lightship L1 Trailer.  The L1 Trailer is the first purpose-built travel trailer with a self-propulsion system, enabling almost zero range or mile-per-gallon efficiency loss for the vehicle towing it. The trailer is designed to deliver a clean, quiet, and sustainable camping experience while leveraging the expertise of former Tesla employees and alumni from other notable EV manufacturers.
Lightship's co-founders, Ben Parker and Toby Kraus, were inspired to create the Lightship L1 Trailer after seeing the RV industry's stagnation due to the market's domination by a few large companies. They aimed to create a product that was both efficient and reliable while removing the dependence on gas or propane generators.
The Lightship team used their expertise in automotive EV development and design to create the Lightship L1 Trailer's unique features. The travel trailer boasts a hyper-efficient design that is three times more aerodynamic than traditional travel trailers, giving it longer range and greater efficiency. This means that a 300-mile range electric vehicle (EV) used to tow it remains a 300-mile range EV, and a 25-mpg gas truck remains a 25-mpg gas truck.
The Lightship L1's electric powertrain has up to 80 kWh of onboard battery capacity, enabling the trailer to propel itself and achieve near-zero range or efficiency loss for the tow vehicle. The no-compromise battery system can provide a week of off-grid power without charging, coupled with up to 3 kW of solar power, making the RV self-sufficient and eliminating the reliance on fossil fuels.
Moreover, the Lightship L1 has a range of all-electric appliances, connected features, and modern amenities that make for a seamless camping experience. The trailer can comfortably sleep four to six people, depending on the configuration, and has a starting price of $125,000 or $118,400 after an available tax credit. It is available now for a $500 reservation at www.lightshiprv.com, with production expected to begin in late 2024.
The Lightship L1's impressive design and features have garnered the company recognition, with the trailer named a finalist in the 2023 SXSW Innovation Awards design category. The Lightship team showcased the prototype of the L1 at SXSW in Austin, TX, from March 11-13.
Lightship's investors include Victoria Beasley of Prelude Ventures, Andrew Beebe of Obvious Ventures, Congruent Ventures, My Climate Journey, HyperGuap, Alumni Ventures, Climactic, and Tony Fadell's Build Collective. Tony Fadell, iPod inventor, Nest founder, and New York Times bestselling author of BUILD, believes that the Lightship L1 is the RV revolution needed for those who love to explore the planet while making sustainable choices. Fadell believes that the L1 is not an "ancient RV that's been 'electrified,"' but rather, it has been entirely rethought for camping and towing for both EVs and standard ICE SUVs and trucks, changing the industry for the better.
The Lightship L1 has a length of 27 feet, a width of 8 feet 6 inches, a height of 6 feet 9 inches in road mode, and a height of 10 feet in camp mode. It has a gross vehicle weight of 7,500 pounds when fully loaded and a sleeping capacity of 4-6 people, depending on the configuration.
The Lightship L1 Trailer is a game-changer for the RV industry, providing a sustainable, efficient, and reliable option for those who love to explore the great outdoors.