Ten of Ford's Greatest Performance Hits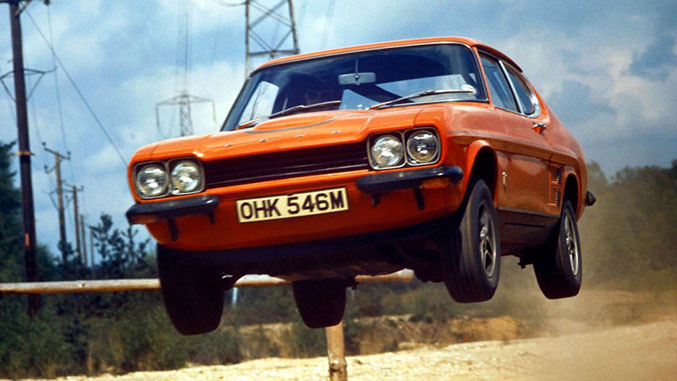 Rumors circulating around the auto industry indicate that Ford is preparing to storm into next month's Detroit Motor Show with no less than four high-performance models.
Citing insider intel,
Road & Track
reports
that Ford will present a track-ready variant of the
2016 Shelby GT350
that debuted last month in Los Angeles, a new
SVT Raptor
based on the aluminum-bodied F-150, a 300-horsepower Focus RS and, last but definitely not least, a range-topping supercar billed as a heir to the Le Mans-winning GT40 of the 1960s and the
GT
that was sold in limited numbers in 2005 and 2006.
All of these upcoming sports cars will be grouped under a new performance-focused sub-brand that might be called 999, a name borrowed from
Ford's first-ever race car
.
We'll have to wait until the Detroit Motor Show opens its doors to the press on January 12th, 2015, to find out exactly what Ford has in store. Until then, we're taking a look at ten of the greatest factory-built high-performance cars ever to wear the Blue Oval emblem.
Introduced at the 1969 Brussels Motor Show, the Ford Capri was billed as a pony car tailored to European tastes. One of its closest rivals on the market was the Opel Manta, but out on the track quickly faced stiff competition from the BMW 3.0 CSL.
In an unsuccessful bid to beat BMW once and for all, Ford built an evolution of the Capri RS2600 that was fitted with a Cosworth-massaged 3.1-liter variant of the time-tested Cologne V6 that made about 455 horsepower in its most powerful configuration. The coupe was appropriately christened Capri RS3100.
248 street-legal Capri RS3100s were built and sold in a handful of markets all around the world. In street tune, the 3.1-liter generated 148 horsepower.
Limited to just 300 units, the SVT Cobra R ushered the high-performance pony car into the 21st century. It was powered by a 5.4-liter V8 engine that made 385 horsepower and 385 lb-ft. of torque, though, in retrospect, many enthusiasts claim the eight-cylinder actually produced more grunt than Ford was willing to admit. Power was transferred to the rear wheels via a six-speed manual transmission.
The SVT Cobra R was only offered in Performance Red and it was only available as a coupe. To save weight, Ford removed the rear bench, the A/C system, the cruise control, the radio and the A/C. Recaro bucket seats came standard, as did a unique Borla dual side exiting exhaust system, while the R stood out visually thanks to an aggressive body kit with a front splitter and a large rear spoiler and five-spoke alloy wheels.
Visually, the Ford Escort RS Cosworth borrowed styling cues like a massive rear spoiler and two thin air vents on the hood from the larger Sierra RS Cosworth. The similarities were more than skin-deep as the Escort actually sat on the same floorpan as the Sierra.
Traction and handling were enhanced by a permanent four-wheel drive system that sent 34 percent of the engine's power to the front wheels and 66 percent to the rear wheels. The Escort Cosworth was raced both by Ford and by private teams in the 1990s, winning tough events like the Tour de Corse and the Rally Sanremo in 1993 and the Monte-Carlo Rally in 1994.
Karmann built a little over 7,000 street-legal examples of the Escort RS Cosworth between 1992 and 1996.
Billed as Ford's ultimate hot hatch, the limited-edition Focus RS 500 packed a 2.5-liter five-cylinder engine rated at 345 horsepower and 339 lb-ft. of torque. These figures made it the most powerful Focus ever built by a long shot.
The RS 500 was no wolf in sheep's clothing. Like the RS that it was based on, it boasted large multi-spoke alloy wheels, a sizable rear spoiler, two large exhaust pipes and an aggressive body kit that looked like it came from the parts bin of a WRC team.
As its name implies, Ford built just 500 examples of the Focus RS 500, meaning it instantly turned into a collector's item.
Ford famously tried to buy Ferrari in 1963. The deal was almost finalized but Enzo Ferrari, a man who was notoriously difficult to negotiate with, called everything off at the last minute and sent the Ford delegation back to the United States empty-handed. Furious, Henry Ford II decided that if his company couldn't buy Ferrari it would do its best to humiliate it on the track.
Ford set off to build a racer that could beat the Prancing Horse at the 24 Hours of Le Mans, an ambitious goal at the time. The project initially struggled to get off the ground but it became increasingly promising after Carroll Shelby got involved. The team's efforts paid off: the GT40 raced to a 1-2-3 finish in the 1966 edition of the 24 Hours of Le Mans and it took first in 1967, 1968 and 1969.
In addition to rumors pointing to a new GT, industry whisperings hint that Ford could return to the 24 Hours of Le Mans in 2016 to celebrate the 50th anniversary of its first victory.
The Mustang Shelby GT350 came to life because Ford wanted a more powerful version of its then-new pony car to compete in Sports Car Club of America (SCCA) races all around the nation. Ford couldn't design the car in-house so it commissioned Carroll Shelby to carry out the bulk of the work.
Starting with a stock fastback Mustang, Shelby created the GT350 by adding a quicker steering box, beefier brakes borrowed from Ford's large station wagons, a model-specific suspension setup and 15-inch Kelsey-Hayes wheels. A high-rising intake manifold and a four-barrel carburetor bumped the 4.7-liter V8's power output from 271 to a healthy 306 horsepower. A four-speed manual transmission and a limited-slip differential transferred power to the rear wheels.
The RS200 was designed to participate in the grueling
Group B category
of the World Rally Championship. In race tune, it was powered by a 1.8-liter turbocharged four-cylinder engine that churned out anywhere between 350 and 450 horsepower. These figures were promising on paper and the RS200 could have gone down as one of Ford's most successful rally cars but its WRC career was quickly marred by a tragic accident in 1986 that took the lives of three spectators and injured over 30. Group B was canceled altogether shortly after.
In accordance with Group B regulations, Ford had to build and sell 200 street-legal examples of the RS200 in order to be allowed to race it. The street-legal models retained the race car's 1.8-liter but it was detuned to 250 horsepower.
In the early 1980s, Ford approached tuner Cosworth about collaborating on the development of a racer capable of holding its own in the competitive Group A category. Starting with a stock two-door Sierra (better known as the Merkur XR4Ti in the United States), engineers added a Cosworth-tuned four-cylinder engine that made 204 horsepower and an aggressive body kit that was characterized by an oversized rear wing. Period reports indicate the wing was legitimately required to ensure all four wheels remained in contact with the asphalt at high speeds.
500 examples of the Sierra Cosworth were shipped to Aston Martin's Tickford division and converted to RS 500 specifications. The list of updates was relatively long and included a more responsive suspension system and a bigger turbocharger that boosted the four's output to 224 ponies. All RS 500s were right-hand drive and the model was exclusively sold in the United Kingdom.
Many automakers claim that they offer a street-legal race car, but Ford is one of the few manufacturers that can brag about building a street-legal trophy truck. Ready to tackle anything you can hurl at it, the SVT Raptor is based on the popular F-150 pickup but it features a plethora of off-road-focused modifications including a more aggressive look, a long-travel suspension and 35-inch tires.
Introducing the SVT Raptor was a shot in the dark for the Blue Oval, especially because its previous sport-focused pickup, the SVT Lighting, felt more at home on the road than off the beaten path. However, the Raptor proved massively popular and it remained a part of the Ford lineup for much longer than executives initially expected.
From a distance, one could be forgiven for mistaking the original Taurus SHO for a run-of-the-mill family sedan but a look under the hood quickly reveals that it's no ordinary front-wheel drive family car.
Shoehorned in the Taurus' engine bay is a Yamaha-tuned 3.0-liter V6 that sends 220 horsepower and 200 lb-ft. of torque to the front wheels via a five-speed manual transmission. The engine is instantly recognizable thanks to its eye-catching Medusa-like intake.
The SHO could reach 60 mph from a stop in 6.6 seconds, a figure that made it only 0.2 seconds slower than a 1988 Mustang GT (tested by Motor Trend in December of 1988). Ford planned on selling the SHO for a model year or two but high demand from buyers meant the hot-rodded Taurus struck around for three generations spread out over a decade.