SVT Contours Star At Spring Zing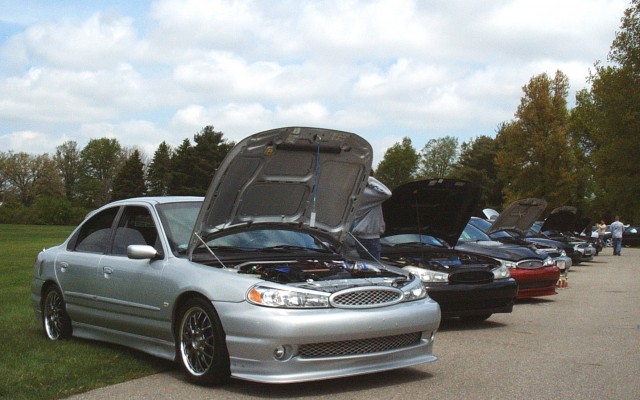 Ford's Tempo replacement in the mid-1990s only had a six-year production run, but when engineers from Ford's Special Vehicle Team (SVT) got their hands on the Contour for the 1998 model year, few people could've anticipated the cult following that would follow. Ford ultimately sold just 11,445 SVT Contours during the model's three-year run from 1998 to 2000, but it was enough for the Contour faithful to kick off an annual celebration of the car called Spring Zing. Initially a small, parking lot gathering in 1999, Spring Zing has since become the official convention for SVT Contour enthusiasts, hosted by the gearheads at www.contour.org and attracting owners from across the country for four days of racing, camaraderie, and celebration of what many consider to be the best-kept sport-sedan secret of the 90s.

This year's festivities ran from May 14-17 in the rain-soaked West Michigan countryside, and though attendance was slightly dampened by an imploding economy, over 60 cars made the pilgrimage to Kalamazoo, Michigan. Enthusiasts exploited the Contour's handling prowess with open track time at GingerMan Raceway on Thursday, followed by a rainy cruise and rained-out dragstrip event on Friday. Spirits rebounded Saturday thanks to a mobile dyno running in conjunction with the obligatory car show, all set against the country backdrop of the prestigious Gilmore Car Museum. The day capped with a catered banquet in which everyone in attendance received a modest door prize, with some lucky Spring Zingers winning such go-fast goodies as a cold air induction and nitrous kit in the after-dinner raffle. Convention-goers had an autocross at their disposal for Sunday, though most elected to begin the journey home and prepare for Spring Zing 2010, which is already rumored to be in the planning stage.

Show goers on Saturday were also treated to a different kind of show — or in this case SHO — thanks to a guest appearance by Ford with a 2010 Fusion Sport and a pre-production 2010 Taurus SHO. Mercury's muscle car Marauder not withstanding, the new SHO and Fusion Sport represent Ford's first effort to build a bona-fide sport sedan since the 2000 SVT Contour, and the Blue Oval would appear to be interested in capturing some enthusiast support. The initial reaction from the Contour crowd suggests Ford may be on the right track, but at the end of it all the question of the day was still, "Where's the manual trans?" A very good question indeed.