Support American Racing Talent: Alec Udell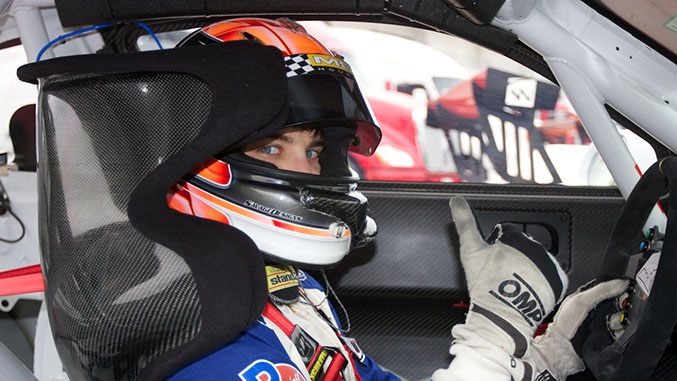 Something like this has probably happened to you: you're watching the 24 Hours Of Le Mans and the Porsche 919 is in first place overall driven by Nick Tandy. And you think "who the hell is Nick Tandy?" Maybe you remember him from ALMS or TUSCC, or maybe you don't. But he certainly isn't a famous driver like Fernando Alonso or Juan Pablo Montoya. He also isn't a boy genius like Max Verstappen is or Sebastian Vettel was.
Nick Tandy is British. He's a factory Porsche driver and is really, really fast. Tandy broke into the big leagues at the age of 28, after driving in Minis, then Formula Fords, then F3, then Carrera Cup. That "ladder", which we hear mentioned so often, is generally rather tall and usually takes many years and quite a bit of money. Not every talented driver has a family that can financially support the long early phase of a driver's career. Not every driver lives and races in Europe where attention is easier to get. And in the U.S., a large percentage of driver support is directed away from road racing. As a result, there aren't a lot of Americans on the middle and upper rungs of the sports car ladder where there's serious hardware and good exposure to big teams.
You can help rectify this situation.
A great example comes from Pirelli World Challenge driver Alec Udell. Alec started in World Challenge as the youngest driver ever, at age 15. He ran a Mustang Boss 302R in GTS class, scoring poles and making the podium many times. He also won the 2013 NASA American Iron championship. In 2015, at the age of 19, he moved into the GT class in World Challenge, running a Porsche in GT Cup. So Alec is in the middle of the ladder.
Right now, Alec is raising money to finish the 2015 season. To give you an idea how hard this is, GT Cup costs about $30,000 per weekend on top of a $230,000 car. But you have to race at this level to move further up, get noticed and be the next Nick Tandy or Bill Auberlen.
Now those costs apply if nothing goes wrong. But at St. Petersburg, an errant Lamborghini crashed on the standing start, bounced off a wall and drove into Alec's car, causing major damage to Alec's #17 white Porsche:
Alec is trying to recover financially from that incident and keep his career going. He has a crowdfunding campaign running this month with Dark Horse Pros:
The campaign ends on September 3. For a modest sum (like $10 or $30) you can be part of Alec's team and help build American racing talent. For a little more, you can also get some cool swag like PWC podium hats, a wheel from Alec's St. Pete crash, or the hood from his Boss 302R. If Alec doesn't raise his full amount, you pay nothing.
The way we look at it, that's an inexpensive and low risk to become a team owner.