Strategic Dice: Lead Or Follow To Get The Win?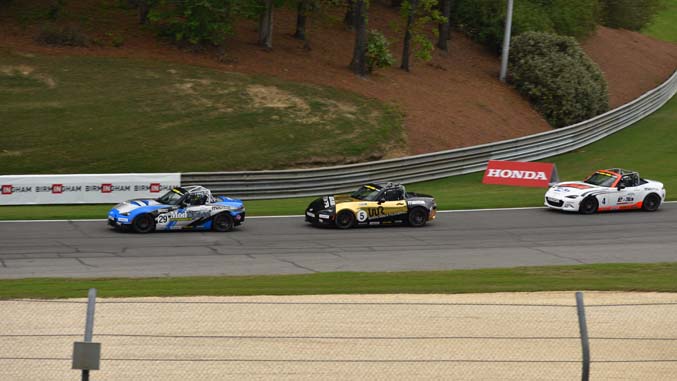 We were at Barber Motorsports Park recently for the opening round of the 2017 Battery Tender MX-5 Cup season. Our sponsored cars (#5 Mark Drennan/Winding Road @ Thunderhill, #21 Tom Martin III/WindingRoadRacing.com, #84 Todd Lamb/Winding Road @ ATL Speedwerks) had a good weekend. We finished 2nd, 6th and 13th out of 31 in Race 1 and 2nd, 8th and 14th out of 31 in race 2.
MX-5 Cup racing is heavily influenced by drafting, because the car throws off a huge aero wake. This gives some advantage to a car in P2 at the end of the race because, with the right timing, you can set up a run on the leader. Barber has one primary passing zone, so if you can get by in T5, you may be un-passable for the remainder of the last lap.
But, to show how difficult it is to make this actually happen, we noticed that WRR's Mark Drennan guessed wrong on these end of race strategies in both races. In Race 1, he stayed in P2, but was foiled by a full course yellow at the end of the race. So, in Race 2, he went to the lead (for 17 laps) and then got passed with the technique above at the end of the race. Still, P2 in both races is good and we're looking forward to the next race at Indianapolis in June.
If you want to see the races (totally worth it if you ask us):
Race 1:
http://www.ustream.tv/recorded/102391028
Race 2: