Speed Secrets: Simulation Software and Hardware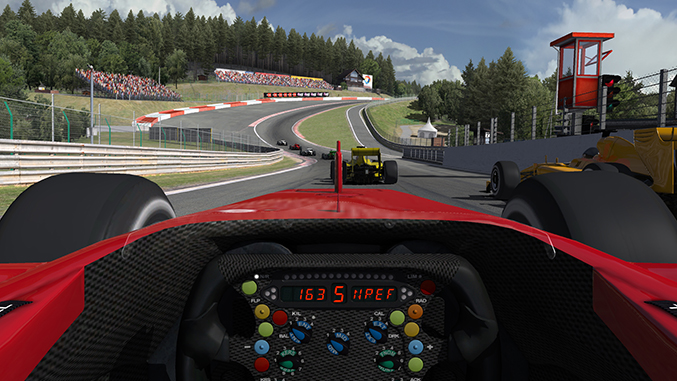 In my last article, I wrote about how sim racing can help you drive your real race car. Now I'll tell you what's out there today, as far as the actual software and hardware are concerned. These are only some of the possibilities, but the majority of sim-racers would point to the following as the best in terms of physics.
SOFTWARE
A/C, as it's known, is the newest offering from a small team of Italian developers, based out of the offices at the Vallelunga track in Europe. The focus is definitely on physics, but the graphics, sounds, and everything that goes along with it are all there. The sim is currently available at a discounted rate of $40, and content is being added every two weeks. I would suggest this sim as a GREAT place to start.
iRacing took the sim racing world by storm a few years ago, and it has only grown since. Here's a short list of drivers who use iRacing to practice (and they do so on their own initiative, not as a paid endorsement): Dale Earnhardt Jr., Adrian Sutil, Takuma Sato, Scott Pruett, AJ Allmendinger, Trevor Bayne, Travis Pastrana, Nico Hulkenberg, Memo Rojas, and Joey Logano. Ever heard of any of them? The physics are second to none, as are the car models and track models. There are no computer opponents to race against, so if you want to compete against other cars, you'll be racing against other humans, from all over the world. They have a very sophisticated ladder system, including their own world drivers' championship, which only the top 30 ranked iRacing drivers in the world qualify for each year. The winner takes home a check for $20,000. Not bad for pretend racing, right? It is a more expensive option however, at $99 per year. Not to mention the cars and tracks cost extra on top of that. I would recommend starting somewhere else to get your feet wet before taking on such a serious endeavor. As someone who has previously competed in the world drivers' championship, I can tell you there is real stress (and real emotions) involved with iRacing at all levels, so prepare yourself for some very intense highs and lows as you compete.
rFactor's second title is based mostly around user-created content called "modifications" or more commonly "mods." Some of the mods are incredible, some are not. The physics model in this simulator are also used by Porsche, Audi, and Mazda's motorsports divisions to test different aspects of their cars before and during development. I'm not sure on the price, but I think it's somewhere around that of Assetto Corsa. This sim has an online mode as well, so you can race other people, but has nowhere near the same intensity or structure that iRacing does.
HARDWARE
Ok, so you've got the three main titles laid out, now here's what you'll need to start driving. Although all of these titles allow you to use a mouse and keyboard or joystick to drive, don't bother. You will learn nothing, and even find yourself frustrated.
In the first section, I will recommend basic sim racing hardware requirements; in the second, I will give you the OPTIONAL (not needed at all) sim cockpit/wheel stand and seat options.
Basic Requirements:
You can get one of these from $200 to $300 online. Check Craigslist. This is the option I would recommend. The wheel/pedals are high quality, and durable. There are more expensive options out there, but for the cost, this setup really can't be beat.
These guys are awesome. They provide everything from a plug-and-play/simple wheel-and-pedal setup, to a completely over-the-top professional grade wheel, pedals that are nicer than most professional racecar setups, and sequential shifters that surpass the shifting mechanisms of most Grand-Am cars. As you might expect, you can pay as little as $250, or as much as $5,000 (yes, $5,000 USD) for the setup of your choice. I have used the whole range of their products before at a trade show and can tell you that although the $5,000 setup isn't at all required in any way, it is TOTALLY AWESOME and if you've got the money you should totally get it!
There really aren't a ton of choices as far as good wheels go, but there you have it.
Options:
I have only just recently upgraded to a Playseat. I have always just mounted my wheel to my computer desk, and put the pedals on the floor. That's what I'd recommend until you know for sure it's for you. But if you're interested, here are some options:
They offer some pretty cost-effective options, and the quality is pretty good, too. I would recommend this.
These guys are the real deal. You would use Virtual GT if you are totally into sim racing and have the cash for a top-of-the-line setup, or you're a professional racing team and you want some serious hardware for your drivers to use as a training tool. Expect to spend $20,000 – $70,000 (yeah, that much). I could go on for days about all the incredible technology these guys put into their setups, but just look at their website; they explain it better than I can.
*******
That's pretty much it in a nutshell! I am obviously a huge supporter of simulator racing as a way to improve as a driver, as well as a way to have a lot of fun! I'm always happy to help, and if you're thinking about getting into sim racing, let me know if you have any questions and I'd be happy to answer! If you're at the point of getting your wheel setup and your software downloaded, and are unsure what to do next, I'm happy to help with configuration and setup, too. Hope to see you guys on the virtual circuit soon!