Speed Secrets: Making The Jump To Pro Racing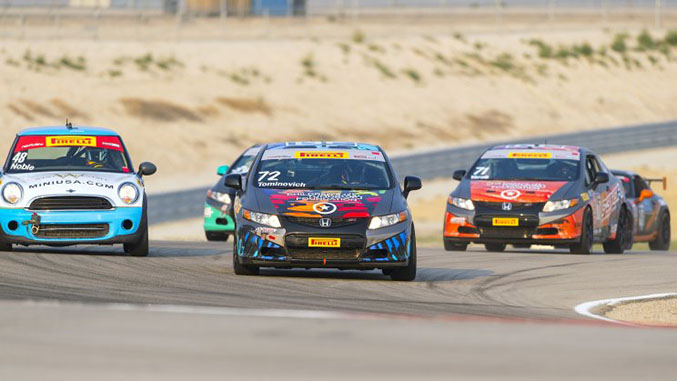 There are pro race drivers who dreamed of doing what they're doing for most of their life, and have worked hard at getting there. Then there are some who just seem to have ended up becoming pro racers. Of course, they worked hard, too, but it wasn't something they had in mind most of their life. The sport just kinda lead them there. ​This week's feature contributor, Van Svenson is just such a guy. Van says the progression from autocrossing, to participating in HPDE events, to club racing, to pro racing was driven by one purpose: to have fun and improve. -Ross
"Green! Green! Green!" That's what every racer likes to hear. It's the sound of new beginnings, the start of something fun, and a chance to prove yourself. It comes at the height of excitement – before you start worrying about a fluttering oil pressure gauge, managing your overheated tires, paying too much attention to a competitor in your mirrors, scolding yourself for missing that apex for the second lap in a row…. But it's all of these emotions combined that make racing such an exciting part of many people's lives.

I got my start with the 944 Cup series in 2012 after I bought an '86 944 prepared for the track. I had a bunch of HPDE and other PCA Club Racing events under my belt, but, instead of wanting faster and faster cars – like I did when I was starting out – I realized I wanted a slower car in a more competitive class. I hoped this would keep expenses in check and make me a better driver.
And I did become a better driver, but I also became a better mechanic, crew chief, engineer, travel agent, and every other chore that comes with being a team of one. I started getting podium finishes in classes larger than three! I even set a few lap records! Most importantly, I was making new friends, sharing stories, learning new tips, and participating in something I really enjoyed.
The 944 Cup series was devised by Dave Derecola as a way to create a low-budget "spec" class of racing. You just start out with a moderately-priced Porsche 944, strip out the interior and other parts that are for "convenience" or "luxury," do some performance modifications to the suspension, install some safety equipment, and then go racing. There is an additional class called 944 Super Cup for the turbo and later 3-liter models. Typically, the 944 Cup and Super Cup races are part of a Porsche Club Race event and they run in SP1, SP2, and SP3 classes. At the end of each 944 Cup season, there is a "National Race" where people come from halfway across the country to compete. Special awards from various series sponsors are given away, and the class champions win entry fees for the pro-racing series, the Pirelli World Challenge.
In 2014, I was the second-place finisher. I decided to put my half-season entry award to good use – I bought a car that was eligible for the lowest touring car class (TCB) and signed up! In truth, I actually signed up before finding a car. But, I was able to find a car in short order – a 2012 Chevy Sonic hatchback. It was nicely prepared and had been run the previous season in SCCA B-Spec (which is the equivalent class to PWC TCB). I had my 100 HP front-wheel-drive race machine – which is the newest vehicle I've ever owned – and I was ready for the big leagues!
Well, almost ready. I'd never driven this thing, so a few weeks before the season opener race at the Circuit of the Americas in Austin, TX, I mounted some snow tires on the rims and took it ice racing to shake it down. Afterwards, it was time to truck on down to Texas from New York – which was a welcome winter break – and see how I would stack up to a new group of racers. The cars' performance in TCB class is very closely matched; the field usually stays pretty bunched up for the duration of a whole race. The competition is fierce and the driving aggressive. I learned the track, found my rhythm, and came home with two third-place finishes.
In May, the action moved to Canadian Tire Motorsports Park (formerly Mosport) – the only track on the season calendar that I'd actually been to previously. I had tough luck, unfortunately, getting hit by lapping higher-class cars in each of the three races that weekend. I came home with a pretty damaged car and lousy results.
Road America, Wisconsin, was the third race of the season. I had a good comeback after the disappointments from Mosport. I qualified about mid-pack and managed to drive clean and smart, gaining several positions to finish on the podium in one race and take fourth place in another. In each of those races, I earned the "hard charger" award for passing the most cars. Now that I've participated in a few Pirelli World Challenge events, here are my biggest observations in comparing pro level racing with the amateur level.
First, racing enthusiasts are racing enthusiasts – regardless of what part of the country they're from and regardless of what kind of car they drive. I've easily become friends with all sorts of new racers by asking questions, admiring fabrication work, borrowing tools, and sharing a beer at the end of the day. I was somewhat hesitant to leave the Porsche Club people whom I knew so well. So you can imagine my surprise when I show up to the first race – about 1,800 miles from home – and recognize people I'd seen at the track before and met online friends in person for the first time. Racers are really a small community, and once you're part of it, you can feel welcome anywhere.
The second item is the difference in the amount of travel. I'm used to a race season that has nearly a race a month in one of the northeastern states (and Canada). I've never had to drive more than 8 hours to attend an event. To do the PWC races, I have to be prepared to go to all three coasts (East, West and Gulf!) and several races in between. The travel and transport becomes a huge part of the equation. Now I'm booking multiple plane tickets for each event for the crew, reserving rental cars, and booking hotel rooms to break up the drive. Not only does this take a lot of time to plan, but it also eats up a tremendous portion of the year's racing budget.

And, why do I have to make all of these travel arrangements? Well, a third difference is that now I need a real crew. No longer can I be a team of one. At a bare minimum, I need an extra person – an official crew chief – who manages radio communications with race control, who attends meetings to discuss protocol and procedures, who can get the car through tech inspection after a race if I'm lucky enough to get on the podium, and who can generally keep things organized. Ideally, in addition to the crew chief, it's also been very beneficial to have a mechanic – a person dedicated to preparing the car between sessions, to fix the body work when (not "if") it gets dented, and to also assist in tech inspection (at impound, in addition to post-race weight, they also check wheel camber, ride height, take a fuel sample, and download the car's data – and then, at random, they check things like restrictor plate size, gearing/differential, safety equipment, tire specs, and sometimes perform a dyno test). In short, there are a lot of rules to comply with and a lot to stay on top of. Having competent helpers dedicated to those tasks makes a race weekend go smoothly. Even if the crew people are my friends, I still need to cover their expenses, but sometimes, it just makes sense to hire professionals.

The fourth difference is the cost to participate. On average, a race weekend in the Sonic is about five times more expensive than a race weekend in my 944. To help cover the higher expenses I would be facing, I launched a crowd-funding campaign which brought me support and enthusiasm from family, friends, acquaintances, and even strangers (soon-to-be-friends). I proudly have all of their names on the car. I haven't been successful partnering with any long-term sponsors – if you have any ideas, give me a shout!
A fifth difference: did I mention that these are Pro Races? That means they're on TV! That means one can win prize money! This is the real deal! There are spectators everywhere and they come up and ask for my autograph! I'm sitting in meetings with some of the drivers I've read about in magazines, some of the drivers who are my heroes! (But I'm also sitting with some pimply kids who don't have their driver's licenses yet… who have graduated from karting and are looking to pursue a career in racing.)

All in all, my move to pro racing has been a fantastic experience, and an experience that I owe entirely to the 944 Cup series. Had I not won those entry fees, it wouldn't have ever occurred to me to take my racing to a higher level. But, now that I've done it, I feel my skills and growth have taken a big step forward. Now it's time to play the lottery to raise more racing funds!
– Van Svenson