Speed Secrets: How To Handle Your Car When It… Doesn't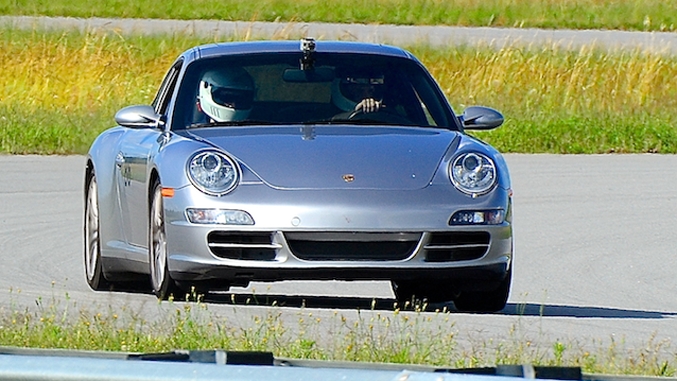 I recently had the pleasure of hanging out with Austin Cabot for a couple of days, when we recorded some driving tips and an interview for his SlipAngle podcast. Austin is one of these (young) guys who's getting out there and making things happen. In his relatively few years in the sport as a driver, Austin has learned a ton. I'm pretty sure I learned as much about driving from him as he did from me while we shared information. I was particularly interested in what he had to say about how to deal with running inexpensive cars, and dealing with the ones that don't do exactly what you want. -Ross
Everyone has been there before. You show up to the track all ready to go. You've got fresh fluids in the car and tire pressures are all right where you want them. The car is sporting a fresh alignment from the afternoon before, with some new specs you picked up from the forums. You even put new brake pads on both axles. You pull out on track for your first session and the car just isn't doing what you want it to do. You figure it's just cold tires or a cold track and you just run a few laps to get your bearings and bring the car in ten minutes before the session ends. Other drivers are doing the same. No big deal. You're here for the whole weekend, so one sub-optimal session isn't a big deal. You park the car, grab a water, and walk the paddock. As you walk, you overhear other drivers complain that the track was slick, that their tires just wouldn't get any heat in them. Some drivers are making adjustments to their dampers, others are already breaking out the toe plates to make sure everything is still in spec.

You walk down to where your friend is parked and get there right as he's pulling in. He stayed out the whole session. Getting out of the car he exclaims, "Man, what a great session. So much clean track." You reply, "Wasn't your car all over the place though?" "Exactly" he responds. "Those laps weren't fast, but I probably learned more in that session than I will the rest of the weekend."
To some of you, this situation may seem far-fetched. Nobody likes to drive their car on track when it just won't handle right. They're wasting money burning up tires and brakes with little to no benefit. You, as a seasoned track veteran, may think that they just don't know what they are doing. Dig into it deeper, and you may begin to realize that the people who stay out (even when the car isn't handling perfectly), just might be onto something.
We all strive for a perfect setup in the handling of our vehicles – a car that does what we want it to do, when we want it to, with little effort from us as drivers. I've found that for me, personally, when a car is set up well, it's easy to drive quickly and I can focus on things other than the direct act of making sure I make it out of the next turn unscathed. A well-set-up car is almost relaxing to drive. It's an extension of you as a driver, and you almost feel like a Jedi, being able to control it at your every whim.
But what do we do when the car isn't doing what we want it to do? There's a big difference between many of the fastest drivers I know and everyone else, and that's what they do when the car is "broken". Many of us will just bring the car into the pits (assuming we're at a track day) and attempt to fix the issue. There's nothing wrong with that. It's what we are all told to do to optimize the setup and get the car dialed in. Like I said before, a dialed-in car is easy to drive. We like easy-to-drive.
I think something is often overlooked: the benefit to you as a driver if the car isn't easy to drive – much like our friend at the beginning of this article. Yes, it might be frustrating, but you may actually be doing more harm to your driver development by only being satisfied driving a vehicle that's set up perfectly. By bringing a car into the pits as soon as you feel something wrong in the handling, you're missing a great opportunity to learn. If the car isn't handling the right way, but you force yourself to stay out and learn to drive around it, you start to increase your car control skills, and you learn to adapt as a driver.
Adaptation is one major thing that separates the truly fast drivers from everyone else. How do you learn to adapt? By driving in all conditions, with all levels of setup, and all different types of vehicles. While you might not have access to a lot of different vehicles, you can always spend time driving in all different conditions (rain included), and keep running laps, even though your car's setup might not be exactly where you like it. Look at any wheel-to-wheel racer, especially those at the highest level. Do they bring the car in during a race because it pushes a little bit more than they like? No. If you apply this idea to aviation, do you want your next flight to be captained by a pilot who has only flown in perfect conditions with no turbulence, and only during the day? You have to learn to adapt.
Sometimes, all we can do is learn to drive around an issue. We don't always have the option to change something on the car. I've been fortunate that many of my friends have offered me the chance to drive their cars on track. While there is an inherent risk involved, I often take them up on the offer. Most of the time, this means only one session on track, so what you get is what you get, (as far as setup goes). Often, after two to three turns at speed, you can tell how the car handles and if it's set up to your preferred driving style. If it is, great. If not, you learn to adapt. The brakes aren't always what you expect. That's okay, keep going. Learn to drive around the issues. Unless it's mechanical. You don't want to blow up the car! Bring that one in.
At a certain point, you'll realize that you don't need much in the way of car prep at all to have fun on track. You still enjoy the perfect setup, but after a while, the challenge becomes getting the best possible laps out of something you have to adapt your driving style to. You become a chameleon. You start wanting to drive slow cars fast and drive fast cars even faster – and you're able to. It's simple – if you stay out on track, even when the car isn't doing what you want it to do, you will have a better chance at becoming the best driver you can be – and that's something we all want to achieve.
​
– Austin Cabot