Speed Secrets: Fit To Drive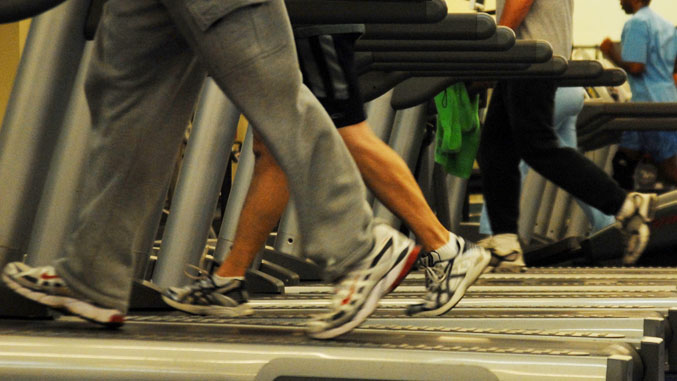 How does a professional driver's preparation relate to the gentleman driver, who is perhaps attempting to win his or her first race? We at Performance Physixx have worked with a wide variety of drivers and teams from Formula One, Indy Car to professional Sports Car Racing in the United States and worldwide. I may not be able to give readers a simple answer, but anyway, here goes!
When you begin training, it is important to put into context the time management and available resources for your long-term goal of, say, winning a club championship. A good trainer will meet initially with an individual to formulate a plan. He or she will look at what equipment, if any, is available, which will dictate what exercises can be used.
Because racing has some stresses unique to the sport, the particular areas most drivers need to work on include:
Core
Shoulders and back (including rear shoulders and upper back)
Neck
Arms
Cardio
Nutrition
As an example, Peter Aronson is an owner-driver for Elton Julian's DragonSpeed Inc. racing team. We designed a program for him which encompassed physical preparation to both reduce body fat and increase lean muscle mass in order to gain a performance advantage for the team's endurance racing program.
Pete is a successful account executive in Hollywood, and like many gentleman drivers, he had an issue I have heard many times before: "I don't have time to train." However, I believe it's just coming up with the right formula that will fit into one's life. We assigned Pete a professional trainer who helped him in his home gym. Some of the exercise crucial to his conditioning program did not even need the use of specialized equipment.
The following is a sample of Pete's routine.
Abdominals:
Each exercise movement 15-20 reps total. Build up slowly.
Straight Crunch – knees raised
Straight Crunch – arms straight and legs raised
Alternate elbow to knee with foot across non-target knee. Other arm is extended to floor
(See images).
Shoulders and Back:
Your shoulders and back muscles are critical for spinal stability. We've found a unique piece of equipment useful for work in this area. The Indian Club was originally developed in the Middle East and used by wrestlers, but it can be beneficial to race car drivers. The exercise below using the Club, shows a Side Plank which is useful in working the rear shoulder stabilizing muscles. This strengthens the supporting structures around the upper part of the spine. This is important. If you crash, you are more likely to walk away uninjured when these areas are stronger and more resilient. (A light 5-lb. dumbbell can be used in place of the Club).
Start by performing an ordinary Side Plank, with feet resting on the floor or even elevated on a flat bench.
Work to hold this position for up to 1 minute. (See images).
Then, you may want to try including the rear shoulder raise shown, with either a 3- lb. Club or 5-lb. dumbbell.
Neck:
One way to strengthen the neck muscles for cornering in the car (without cumbersome machines), is with a device called the neck hat or harness. This can be used with a cable machine or resistance bands. The video below shows its use on a basic stability ball, using the neck hat attached to a resistance band:
https://www.youtube.com/watch?v=ZscYk5T7deo
Arms:
Perform exercises incorporating independent arms such as cable and dumbbell exercises. For example, with the non-target arm held up at a 90-degree angle, providing constant tension, do a bicep curl with the target arm. Strengthening your arms in this way helps with the type of stress experienced when driving, particularly with cars that have heavy steering – especially ones with no power steering, such as an Indy Car.
(See images).
Cardio:
Any good fitness program should include cardiovascular training. Pete, for instance, did not like to run, so he focused on hiking. We recommend that you perform the cardio program that is most convenient to you, individually. Make it one you enjoy.
Nutrition:
It can be important to analyze your nutrition to see if what your diet is serving you well in your performance goals. I recommend talking to a sports nutritionist, especially if you feel your diet is lacking balance. Our clients work with Dr. Philip Goglia of PFC Nutrition. A former gentleman driver who has raced in the 24 Hours of Daytona, Dr. Goglia knows what he's talking about.
When clients follow programs unique to each person and not pre-designed, they can achieve better results. Pete, for instance, commented shortly after his first session in the race car that he felt much stronger, and used less energy during the race distance. He competed in the 8th annual Dunlop 24 Hours of Dubai and due to his increased physical conditioning, was able to achieve a personal success of 11th place overall.
This leads me to an important point: While not everyone reading this will have the wherewithal to have their own trainer and nutrition specialist, it's a very good idea to consult with one or both, if at all possible. With their help, you can avoid doing more harm than good.
Doing is more important than talking about getting fit! If you follow the basic recommendations outlined here, you will be better prepared for this season's driving, no matter what your level might be.
And remember – prior to commencing any new human performance program, consult your physician!
A personal performance program can help you achieve the results you want, as well. You'll be stronger, you'll last longer, and you'll feel better at the end of a race. It's worth the time and the effort.
– Simon Hayes