Speed Secrets: An HPDE Safety Reality Check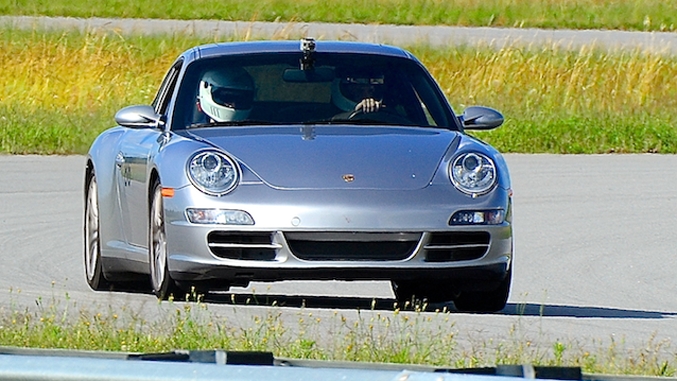 If you're an avid football fan, you can't go play a fun game of football in your favorite team's stadium. If you play tennis, the opportunity to play on center court at Wimbledon isn't available. But if you're a fan of Formula One, Indy cars, or any other form of racing, and if you're a fan of cars and driving, you can sign up to participate in an HPDE or track day event, and experience the thrill of driving on some of the same tracks that elite-level pro drivers do. That's the beauty of our sport. It's accessible. That's also the danger with our sport. Let me explain. -Ross
I'm pissed off. And sad, feeling very bad for the family and friends of a driver who was recently killed when participating in an HPDE event at Road Atlanta.
I understand that he died doing what he enjoyed, and that's a good thing. I'm all for that way of living life. I've done that for the past 58 years. I also get it, that stuff happens (last December, a blood clot from leg surgery a week earlier triggered a pulmonary embolism – causing me to die for about five minutes – so I really get that "stuff happens"!).
We can't eliminate all danger from our sport, or from our lives. And one can argue that we shouldn't eliminate all danger in our lives, for the right amount of it helps us feel even more alive. But too much risk, especially risk that is relatively easy to reduce, is something we should… no, must, minimize.
A few small changes could help reduce the risks involved in many motorsport events, and that would be a good thing.
For example, Motorsport Safety Foundation (
www.motorsport-safety.org
) is doing some really great work, like making head and neck restraint devices available on a rental basis to keep the cost down for low-budget and infrequent participants. That's the kind of smart thinking that will help reduce the number of injuries and even deaths.
I'm all for HPDE events being easy for participants to get involved in. That's their purpose: to introduce people to the sport, and help them learn how to drive better.
What doesn't make sense, and what pisses me off, is this: Street cars with little to no safety equipment are allowed to drive far faster than race cars that are fully-equipped with safety equipment.
Why is a fast car (you name it – an Audi S4, BMW M3, Porsche Cayman, Corvette, Viper, Mustang or Camaro…), with no more than its standard seat belts, allowed to drive at speeds of 40 MPH or more faster than a race-prepared Spec Miata, which has a roll cage, proper seat, harnesses, window net, and head restraints? Is the driver in the HPDE event (often wearing an open face helmet without a head and neck restraint), a more skilled driver? Possibly, but unlikely.
When a driver is hurt or killed driving a car that has as much safety equipment as we currently know of (like with a race-prepared car), then I feel as though we've done our very best to minimize the risks. But to send a street car, designed to handle highway-speed crashes, out on a track without any additional safety equipment is irresponsible.
And we must stop doing this!
I get it. HPDE events are meant to be entry-level events, with a low barrier to entry. They're not supposed to require participants to equip their car with roll bars, race seats and harnesses, and window nets. That's too much of an investment for someone who's just coming into the sport, and may not stay, to make.
So what do we do? It seems really simple to me. We either make cars have all the safety equipment, or we control speeds.
For most tracks, controlling speed would only need to be in one or two places – the highest speed places, the longish straightaways. Yes, it's going to require someone with some common sense to decide where these speed restrictions will be put in place, and how. But if we don't have someone with common sense running these events, then we've got another (bigger?) problem.
If an HPDE event – a High Performance Driver Education event – is not about education, then someone with common sense also needs to shut it down. And let me ask, how much education is going on when someone is driving over 120, 140, or even more down a straightaway? How much learning is going on? How much skill does it take to drive down a straightaway at high speed? Sure, it takes some, and I understand that the thrill for some drivers is seeing how fast their car will go on the straight. But after a driver has been down a straightaway very fast a few times, the thrill rubs off, and it's the twisty bits that are most fun and challenging. We all know that.
So, have two classes: one for safety-equipped cars with no speed restriction, and another for street stock cars with a speed restriction. Drivers have a choice:



1. Want to see how fast your car can go? Pony up for the safety equipment.
2. Want to work on learning to be a better driver, developing your road course driving skills? Then it's okay to drive a street stock car, but you'll have a restriction on how fast you can drive on the straightaways.



Controlling and enforcing straightaway speeds is not that difficult. One way is a simple chicane, set up with cones in the right places on the track. Speed limit zones at specific areas of the track, with the threat of being sent home from the event for non-compliance, works very well (I've run enough schools myself to know this works), especially in an HPDE environment where most drivers have an instructor on board with them. Or maybe it's time that HPDE event organizers purchased a simple radar/digital speed readout, along with a black flag for anyone driving above a set speed.
Straightaway speeds are not the only problem, but it's the place to start, as it's usually the area that leads to the biggest risk of heavy impact in a crash. Again, it takes someone with common sense, the balls to stand up for the safety of participants, and the ability to say, "Just because we haven't done this in the past, that doesn't mean we shouldn't be doing it now. We need to make changes. Cars have gotten faster, so we need to adapt the way we run our events to these cars." Those people are out there, and happily involved with our sport.
I know some event/school organizers are going to scream that putting these speed limitations in place will reduce the number of drivers coming to their events. Guess what? Drivers getting injured and killed also reduces participation numbers! (Imagine going home to your spouse after an HPDE event and telling him/her that a fellow participant was killed…).
And, excuse me! It's okay to put people at risk of death in the interests of having more people register to participate?
We assume that by limiting the speed that the drivers who choose not to equip their cars with safety equipment will not participate in HPDE programs. How do we know that? That's actually a pretty big assumption. Has anyone done a proper survey (and I'm not talking about a "survey of one")? There may be more drivers than we think who would actually feel better about having straightaway speeds controlled.
How many more drivers or instructors at HPDE events need to be injured or killed before we do something about it? Or before insurance rates, or track regulations make it so that event organizers can't afford to operate anymore? What impact will that have on the number of participants?!
Yes, the driver who was recently killed was doing what he enjoyed. But I can guarantee that he didn't sign up for what happened to him. Some will say that we accept risk every time we head out on the track, but that's a lousy excuse. Sure we do, but that's not an excuse for not doing what we can to minimize the risk.
Some will say that the driver who was killed was unlucky that a car had blown its engine and put oil down on the track, and stuff happens. But that's a lousy excuse, too. Why not do whatever we can to minimize risks, to reduce what happens when stuff happens?
My condolences to the driver's family and friends.
What do you think? I'd love to hear your thoughts on this critical topic. Or more important, who's willing to stand up and take this on?
– Ross Bentley