Speed Secrets: A Simple Way to Get in the Zone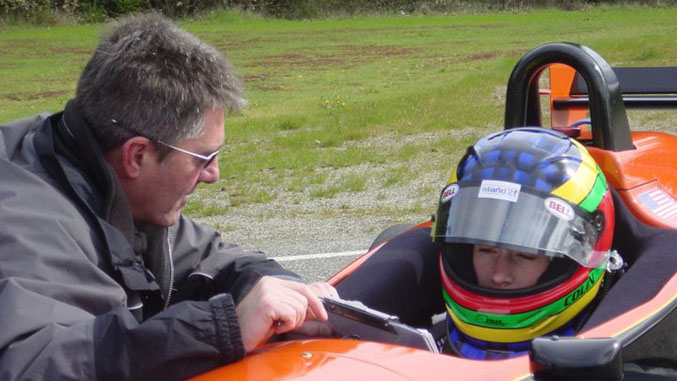 Robert Cornish is an accomplished racer himself, but for the past couple of decades he's focused on business leadership coaching, specifically to business owners/leaders who are active or former motorsports racers.
Robert is one of the first true coaches I know – someone who embraced the power of coaching (and not just teaching) before most people did. And he studied coaching from many angles, generating results for clients on the track (a 1st, 2nd, and 3rd at the SCCA Runoffs, for example), and in business. Robert has discovered that performance is performance, and improving it in any discipline is possible.
In today's Speed Secrets Weekly, Robert shares a simple, but incredibly effective way of getting into the zone more often. — Ross
Did you dream of being a racecar driver when you were young? It certainly was my dream. The quote above is one that has stuck in my mind ever since I read it in the book "The International Grand Prix Book of Motor Racing," edited by Michael Frewin. It was a Christmas gift given to me by my Aunt's housekeeper when I was fifteen years old and dreaming of being a race car driver (at the time, I'm sure my family expected I would grow out of that crazy desire. Although they never discouraged me, they certainly wanted me to do something else with my life).
Now, after having been a racecar driver for twenty-five years, the quote has deeper meaning from having truly experienced what it describes. Let me explain what I mean, relevant to the highest performance potential it could produce for you.
In all the races I've competed in, I have some memories of driving that are so vivid in my recollection, it's almost as though I had just experienced it. What's interesting is that those vivid memories occurred in track sessions that had no significance towards the outcome of the race event.
The most vivid memory occurred in a warm-up, session at Sonoma for a SCCA National race. Typically in a warm-up I go out with the intention to get myself in the mindset to go fast and make sure everything with the car feels good and working properly. Somehow that mindset to go fast became a pure awareness of feeling, throttle, and line. There was no thinking about what I was doing with the car or about anything other than carrying speed. It was an amazing feeling.
When I came off the track and checked my lap times with my crew, I was two seconds under the lap record! Didn't go that fast again on that track, ever. (Don't recall how I did in that race event other than I know I was in contention to win.)
Another time I had that experience was again in an early morning warm-up session at Laguna Seca (in its original 1.9 mile higher speed configuration). In this case, the early morning fog was still hanging around and the Stewards were concerned about the hampered visibility.
When they released us onto the track, the fog really did limit visibility, yet for me the limited visibility had the effect of compelling me to engage that hyper-present state. It was truly surreal to be going as fast as I was in those conditions. It was intoxicating to be focused on going faster when you could barely see the track far enough ahead. I had no thoughts of the risk or anything other than going fast and I certainly was going fast!
Have you had any 'hyper present' experiences like I've described? There is clearly the potential for vastly superior performance if we can enter that state at will. As a coach, that's my challenge not only in racing, but it can apply for many life and business situations.
There are some areas to try that can shift performance. The common component in the examples I've shared is that I was not doing any analytical conscious thinking about what I was doing. Essentially I was being simply aware and intuitively responding to that awareness to be fast.
I've learned a lot from Tim Gallwey reading his several "Inner Game of…" books and Sir John Whitmore Both are pioneers in coaching performance and the coaching profession (Whitmore is a racer who co-drove with Bob Bondurant – winning at Le Mans in a Cobra in the 60's). The primary point in all of Gallwey's work is essentially to find a way to take the conscious mind out of the picture to keep it from interfering with our subconscious mind which is actually performing the task (whatever it might be).
A way to do that is to give your conscious mind something to track that is important to your desired result, such as being fast. I've used edge of the track awareness with new drivers by having them simply call out the distance from the outer edge of the tires to the edge of the track surface at the entrance, apex, and exit of each turn. It's amazing how quickly learning the line on a new track takes place by doing this; even giving a number from one to ten on how hard you're gripping the steering wheel will do the same thing.
In an Inner Game of tennis demonstration, I actually attended with Tim Gallwey, he simply had people who had never played tennis before call out "bounce" when the ball hit the ground and "hit" when they thought they would hit the ball. In ten minutes, these non-tennis players were volleying with Tim effortlessly, including back hand shots when Tim hit the ball to their backhand side. There was no instruction from Tim on how to hit the ball. Calling out "bounce – hit" keeps your conscious critical mind occupied and the subconscious learns quickly by observing and doing the activity. The important thing to remember in choosing what you track is that you avoid any judgment value of being right or wrong, simply what you saw, felt, or heard.
You are invited to try this technique of giving your conscious mind something to focus on when you're on track next. Let me know what worked for you.
​
– Robert Cornish