Spec MX-5 SimRacing Challenger Driver Profile: Jonathan Dekuysscher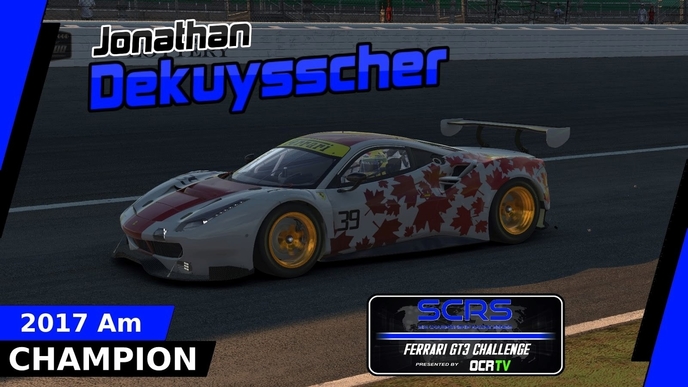 What's your name and where are you from?
Jonathan Dekuysscher, and I live in Smiths Falls, Ontario Canada.
What line of work are you in?
I am a field service technician for a construction company; I take care of their heavy equipment at various job sites.
How old are you?
38
What was your motivation for participating in the Spec MX-5 SimRacing Challenge?
Whenever I see a chance to earn seat time in a great car, I can't pass that up. I figured that because of the prizes this would draw out some of the best. This is a great challenge and learning experience.
Do you have any previous non-virtual motorsports history?
I do not.
Do you feel virtual motorsports is becoming a valid starting point for participation in actual motorsports?
I feel that we will see more and more people get into it, and see people make the jump from sim to real race cars. The sims are becoming so good, that real programs are able to spot new talent at a much cheaper cost.
Are you a 'gamer' or do you mostly only sim-race?
I mostly sim race but do play a few other games to unwind after an evening of racing.
Do you consider sim-racing a game?
I do not. With how much effort is put into scanning and the physics, I think they have come a long way from what was once called a "racing game."
How long have you been sim-racing?
I have been sim racing for just over 2 years now.
Are you very active in sim-racing?
I am extremely active on iRacing, I'm on almost every evening!
Do you run in many leagues?
I currently run in 2 leagues.
What's your favorite car or series to compete in?
I love the endurance event: the prep work that is involved makes it a ton of fun. But to just go out and sling something around the track: the Nissan GTP is hard to beat.
How much time would you say you put into sim-racing?
I drive every night if I can.
How do you rate your chances of winning the driver development test at the end of the season?
There is some really strong competition in this series; my chances of taking top spot don't look great. But I'll keep practicing and see what I can do. It's a long season.
Anything else of interest you'd like to share?
I'd just like to thank everyone involved who makes an opportunity like this possible