Spec MX-5 SimRacing Challenge Driver Profile: DJ Alessandrini #91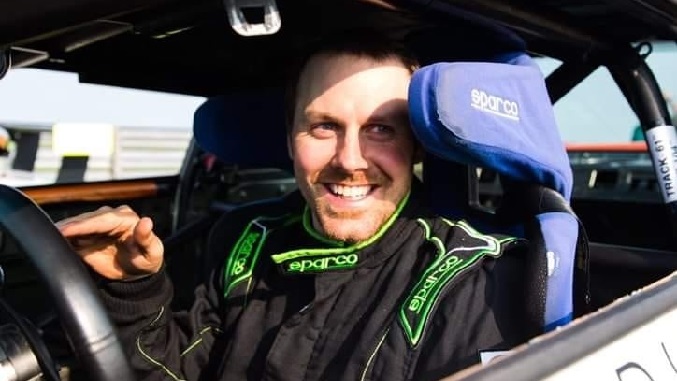 Follow along as DJ shares his background in autocross and iRacing, as well as competing in the 2019 GRIDLIFE Touring Cup.
What's your name and where are you from?
DJ (David) Alessandrini Jr. I'm from Lakewood, Ohio.

What line of work are you in?
I'm a medical equipment technician. I've started getting into driver coaching and I'd say it's going really well so far and have a few really positive testimonials! I'm going to keep exploring this avenue to support my racing addiction!
How old are you?
31.

What was your motivation for participating in the Spec MX-5 SimRacing Challenge?
I love competing! The spec nature of the series is a great way to see how I stack up against the best in the country.

Do you have any previous non-virtual motorsports history?
I have been hooked on autocrossing since 2016. I went to my first national event (Toledo Pro Solo) and saw the levels of competition and that was my first introduction into real competitive motorsport that mattered and I was hooked! Not just that, but I loved everybody's flavor of crazy there, it felt like I found my people! After two years of traveling around the country competing nationally in autocross, the highlight of which was winning 6 national events in a row in 2018, I felt like the amount I was learning from autocross was starting to slow down. My favorite part of motorsports is that the learning curve is a never-ending mountain that gets steeper with every foot forward, and I'm always looking to climb that never-ending mountain as fast as I can, and I knew I'd have to start road racing to continue my ascent. I thought this would take years of saving to finally become a reality, but through the generosity of Peter Lier I was given a car to start racing earlier this year.
Having been given this great opportunity, I felt deeply that I had to do something with it right away. So, I spent the winter making final preparations to start racing my new race car as soon as I could, and when Spring rolled around, I signed up for the first competition school I could find, 7 hours away at Summit Point. Now, here's a little secret: I had only done 2 track days before showing up to Summit Point and I was absolutely terrified! I felt completely out of my element and the little voice in the back of your head telling you that you don't belong was hard to block out.
Though, as I started to get more and more comfortable playing in traffic it felt more and more like iRacing, which I had spent hours doing every night of every week of every month over the winter. By the end of comp school, I felt like I was right at home sitting on my sim rig, hitting my marks.
Wait, back up, you were given a race car?
This is, by far, one of the most fortunate things that has ever happened in my life. Peter Lier posted on a popular road racing/autocross forum that he wanted to give away his racecar to an aspiring racer. Some of the Gridlife guys and autocrossers I've been sim racing with nominated me. Fortunately, Peter requested an application from me! I spent a long night building that application, with the help of Rob Wilkinson, to try and best give Peter a glimpse of my passion for motorsports and my willingness to do whatever it takes without seeming too crazy. When I hit submit on the email to send my passion-on-a-page to Peter, I thought of it much like a lottery ticket you'd buy; It's fun to daydream about but it will never happen. Two weeks later I received a phone call from Peter congratulating me and giving me condolences on my new and first race car! It was so unbelievable I had to sit down at work during that phone call. I was shaking! Someday I hope to be in the same position as Peter and give this car away to someone else with the right kinds of crazy flowing through their veins.
Do you feel virtual motorsports is becoming a valid starting point for participation in actual motorsports?
Almost everything I've learned about racing is from iRacing. The actual racing itself is just like racing in real life. The more track time I get the more it feels like iRacing actually! I hope that trend continues as I've had pretty awesome success in iRacing so far.

Are you a 'gamer' or do you mostly only sim-race?
I used to travel the country competing in Halo 3 tournaments. Video games has always just been a vehicle to channel my competitive drive. Competition is the greatest way to find the very best version of yourself!
One time I was driving home from a business trip and traffic was so bad I was going to miss a tournament my team was signed up for. So, I set up my Xbox in the work truck and competed in an online tournament on the side of the road using a cell phone connection. My will to compete is insatiable, even in traffic!

Photo: Joey Navarre
Do you consider sim-racing a game?
It really depends on how you use it. When I sim race, I'm specifically working on weaknesses I have as a driver/racer. I will say I was surprisingly calm taking my first ever green flag at Mid-Ohio in my first ever Gridlife Touring Cup (GLTC) race. It felt like I've done this a thousand times before. The way the cars moved, the way the racing happened, it was all very familiar. Only iRacing could have made me this comfortable. I actually get more nervous for an iRacing race than I do for any race in real life! The racing in the sim is so pure and intense!
How long have you been sim-racing?
I started sim racing back in 2016 to try and get better at autocross during the off season as sitting around and waiting to get better for an entire winter seemed like a cruel form of torture. I started off playing Assetto Corsa and quickly joined a league on reddit. Assetto Corsa is a great sim but isn't known for world class competition, which is what I most yearn for and, what I feel, brings out my best self. I was always told that the best competition was on iRacing, so I just had to make the jump. That was about a year and a half ago and haven't looked back.
Are you very active in sim-racing?
It's such great practice I can't help but be active. I just want to be the best driver I can possibly be and for the amount of practice you are able to get nothing compares to sim-racing as far cheap affordable practice!
Do you run in many leagues?
I run in the WDCR SCCA, Gridlife iRacers and whatever other league I think will force me to learn new things about driving and myself.
What's your favorite car or series to compete in?
My favorite series to compete in is the Gridlife iRacers series. The competition is so strong! And at the same time the people are so friendly, off the track. A close second is the WDCR league just because the racing is the cleanest in the service!
How much time would you say you put into sim-racing?
Not as much as I'd like. Road Racing is not cheap on time or money. So, a lot of my time is taken up trying to be as ready as I can for each race weekend. Whether that is by picking up overtime at work or wrenching on the car. I've gotten two 4th place finishes in GLTC so far which is not satisfactory, so I'm really working hard with the little I have to try and start taking the fight to the leaders. My car currently lacks a lot of go-fast bits and I have zero clue on how to build a fast car, but I'm learning and improving the car/myself every day and that's what I love most about all of it.
How do you rate your chances of winning the driver development test at the end of the season?
I honestly haven't thought about what my chances are to win. I'm currently leading the series by an entire race worth of points so the chances are obviously good. I'm just going to try and bring the best version of myself to every race. If my best wins this thing, then awesome! If not, I gave it all I had; you can't do more than your best!
Anything else of interest you'd like to share?
I'd like to thank my fiancé Christine for her never-ending love and support for me to chase these race car dreams. She is my confidence when I have doubts and my voice of reason when I'm unreasonable.
I'd also like to thank my mom and dad. My dad has been helping me get the race car to the track for each race weekend and bought me a differential when I couldn't afford one on my own. My mom bought me a set of tires after witnessing me cut one at Mid-Ohio and watching how uncompetitive I was on old ones. I thanked them a million times already but here is another one in case they forgot!
Thank you to the Gridlife crew for letting this complete newb join them on track and supporting me in all the ways that they do. Thanks Adam, Eric, Brad, Rob, Promo, Derek, Nick and a million others I pepper with questions because I have way too much to learn!
Thanks to Ido for bouncing ideas off of and being another brain full of ideas!

Thank you to Ben for providing a competitive ride for autocross this year!
Thank you to the Spec MX5 and its Admins for the amazing opportunity that this league provides
Thank you to Peter for making this the most incredible year yet with his generosity.
If you'd like to follow my racing shenanigans check out my Instagram! https://www.instagram.com/alessandrini_racing