Spec MX-5 Challenge Central Series Finish Sets Up Battle For $100k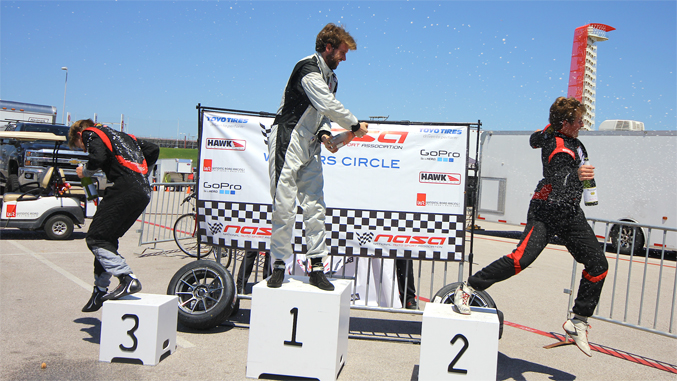 The Spec MX-5 Challenge central series recently completed its regular season with Races 9 and 10 at Circuit of The Americas in Austin. An overview of the racing action from those races is here.
With all races complete, Tom Martin III, of Austin, emerged as the top points winner. Martin scored 176 points, after subtracting the one race points drop allowed by the series. Martin was followed in points by Noah Grey of Dana Point, California, who tallied 168 points. Matt Million of San Mateo, California, with 166 points rounded out the regular season podium.
Martin won 6 of the 10 regular season races, with wins at NCM Motorsports Park, Road Atlanta, and COTA. Million won two races and Grey one race, with Harry Voigt of Lone Tree, Colorado taking the final race.
Martin said, "the competition in this series is exceptional and I had super-tight, race-long battles in almost all my races." He also mentioned that "I really appreciated the wheel-to-wheel car control and clean racing from my competitors; we had a few bumps here and there, but considering that we made hundreds of passes and so much time was spent running inches apart, things went down amazingly well."
The east series will complete its regular series at Monticello Motor Club in New York on the weekend of September 29 and 30. The east champion and Martin will each carry 20 points into the national finals to be held in November at Road Atlanta. There each of two races will count for 20 points, so the final winner of the $100,000 Spec MX-5 Challenge scholarship is far from determined.
2019 Season Information
We have received many enquiries about the 2019 season. We are accepting applications while we put the finishing touches on our plans. To help prospective drivers learn more about the 2019 series and possibly submit a preliminary application, the series provides the following materials:
Spec MX-5 Videos:
Visit the Spec MX-5 YouTube Channel for more videos.
Spec MX-5 Challenge Driver Application.
Race Photos:
Interested in participating in the Spec MX-5 Challenge, but have questions? Contact us.