Showroom Hot List: Volume 2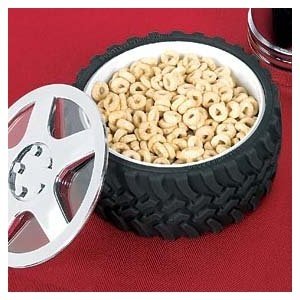 As we continue to build the Winding Road Showroom, we come across lots of cool products that we geek out over, whether it's a cool automotive accessory, watch, gadget, book, or art. Here, we have gathered a few that we found to be particularly interesting or desirable, and we think you'll like them, too.
The HitchSafe Key Vault is such an astoundingly good idea we're actually pretty upset we didn't think of it. Basically, this solid metal safe fits inside your standard two-inch hitch receiver. In it, you can hide a spare set of keys, some emergency cash, or any other essentials you want to keep safe. The lock uses a four-number combination, making it extremely secure, and a cover fits over the back to keep it looking inconspicuous.
Winding Road is structured thusly: we have two offices, one of which is located in Austin, Texas, and one that is located in Ypsilanti, Michigan. Why is this important? Besides being in football-crazy Texas, Austin is home to the University of Texas. Ypsi, meanwhile, is a mere stone's throw away from the University of Michigan's campus. Both schools have some serious football tradition, so it should come as no surprise that we all enjoy a spot of tailgating. Next time we go out, we want these tables that can be mounted to a standard two-inch receiver hitch. They're perfect placing a small grille or other food item on, or for a rousing game of beer pong.
Getting your kid interested in cars isn't necessarily a difficult thing. Often, a few strategically purchased Hot Wheels/Matchbox cars will get them on board with your favorite brands. What happens when they resist though? Do you give up, or cram automotive trinkets into every aspect of their lives, including but not limited to breakfast time? Obviously, it's the latter. This rubberized tire bowl has a six-inch diameter, is rubberized on the outside to resemble an off-road tire, and features a chrome wheel that snaps and locks in place to act as a lid.
Using GPS and an internalized list of tracks from around the world, the AIM Solo is the perfect data-logging tool for your next track day. The system even works on closed circuit roads, so it's a great aid if you are doing a time-speed-distance rally or some other on-road racing. There is also a set of pre-programmed performance metrics, for measuring acceleration. If you want to be as fast as possible on the track, then knowing where you are fast and slow is a big help.
You know you are crazy about cars when even your chess set is made from used auto parts. Using a variety of parts in a variety of conditions, this set delivers an automotive twist to the King's Game. What's interesting about this set is that each one is unique, depending on the parts used and how they are finished.
Motorcycles aren't known for being the safest way to get around, but there's no denying the fun that comes with two wheels. Still, you need to protect yourself, and this carbon fiber helmet will do just that. It's DOT approved, and has been tested in a wind tunnel to guarantee solid aerodynamics and excellent venting, keeping you cool on your ride.
Earlier in this list, we mentioned the Winding Road crew's fondness for tailgating. This is the kind of item that we'd really like to have once the season rolls around. It's a portable speaker that'll hook up with your phone's Bluetooth, allowing you to stream music to something a lot more potent than your iPhone's crummy speakers.
Salute the great Carroll Shelby's legacy with this 1/6 replica of the Shelby Cobra's 427-cubic-inch engine. Based off of a Ford 427, the most potent Cobra's featured a modified variant of this big-block engine. This particular model features working mechanicals and moving parts.
There are big Formula 1 races, and there is Monaco. Often called the crown jewel of F1, the Monaco GP has been run for decades using roughly the same layout year after year. It's been won by some of the best, and has also seen some of the worst accidents in F1. This book covers all of that, telling the story of Monaco in pictures.
There's something undeniably cool about racing seats. Maybe it's their purpose-built looks, or the fact that they are darn good to have if you are a) driving aggressively or b) have a crash. The problem is, they aren't really all that comfortable on the long haul. Unless of course you opt for something like these Sparco Evo 2 Plus seats. The "Plus" is important, as it denotes that these seats are wider and taller than the normal Sparco Evo 2's. That should allow you to remain slightly more comfortable, while still delivering plenty of support and good looks.